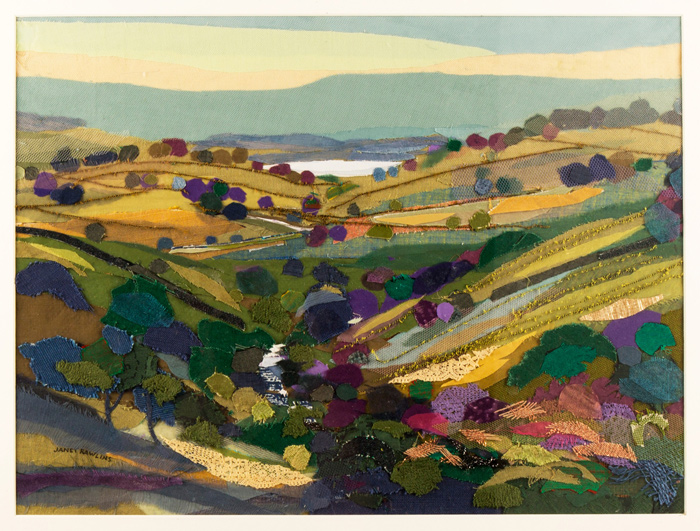 COLLAGE ON VIEW
Janet Rawlins: Life in the Dales
at the Vernon Street Gallery at Leeds Arts University in Leeds, England
13 September-1 November 2019
Janet Rawlins is an artist and illustratior and an alumna of Leeds Arts University. Rawlins was born in 1931 in Horsforth, Leeds and studied for a National Diploma in Design (NDD) and the Art Teachers Diploma (ATD) at Leeds College of Art (now Leeds Arts University) from 1947-1952. She draws her inspiration from the Yorkshire Dales where she lives and works, and is known for her Dales landscapes in fabric collage and watercolour.
A prolific artist, her illustrative work includes her instantly recognisable fabric collages for Waddingtons Jigsaw puzzles made during the 1960s and 1970s, as well as several illustrated children's books. Publications include A Dales Countryside Cookbook (1992) and A Grass Rope to Catch a Unicorn: Wensleydale Wild Flowers and Other Illustrations (2014), and she has produced numerous drawings and cover paintings for the Dalesman magazine.
From 1971 to 1982, Rawlins created 39 double-sided collages for the Leeds Permanent Building Society, now part of Lloyds Banking group, with a local theme for each branch. Sadly all but the Malvern and Ripon Leeds Permanent Building Society collages are now believed lost. The University and Janet Rawlins are appealing for any information about the missing collages. If you think you can help or would like to know more please contact Rachael Hickson Pearce at alumni@leeds-art.ac.uk or 0113 202 8142.
"Life in the Dales" is a celebration of Janet Rawlins' career, showcasing a selection of her work in the same building she studied in over 60 years ago. The exhibition also provides the opportunity to see work by two recent graduates, Sonia Moran (Leeds Arts University, 2018) and Rosa Hackett (Glasgow School of Art, 2019), who have responded to Rawlins through their soft sculptural practices.
(text for adapted from the university's press materials)
---
INFORMATION
Leeds Arts University, Vernon Street Gallery
2 Vernon Street
Leeds, West Yorkshire LS2 9AQ United Kingdom
+44 113 202 8000
Hours:
Monday-Friday, 10AM-4PM