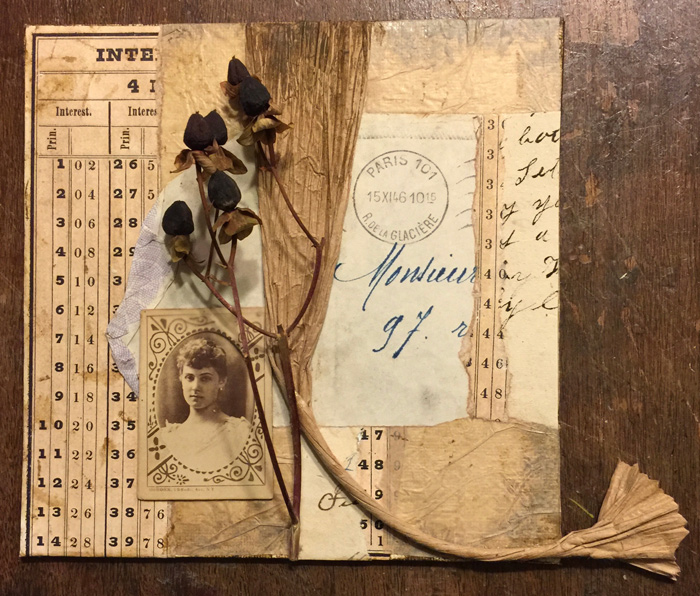 Lost and Found: Pat Laffin and Gail Martin
May 2017
Pat Laffin has gathered some of her most cherished pieces of unique "junk" that had been lost, now found, to once again, create a number of both meaningful and humorous mixed media pieces, assemblages for your enjoyment.
From her vast collections of eighteenth and nineteenth century ephemera and antique papers, she creates many forms of altered art, including yet not limited to: collage work, assemblages, altered books, and decoupage. Her artwork is created from a number of found objects, original or colour reproductions of various antique papers, photographic images of days gone by, along with any other interesting and eye-catching materials that she can acquire.
Gail Martin filters fragments of the everyday to create images in watercolour that express the quirks of her brain and body, personal visions expressed in abstract forms that encourage viewers' own interpretations. Health challenges in 2016 slowed her down physically and caused her to become more visually introspective, to experiment, and develop skills and colors to express abstractions. The process is one of discovery for her, and she seeks to share that opportunity with others through her work.
(adapted from the venue's press materials)
---
INFORMATION
Tourterelle
3629 Ethan Allen Highway
New Haven, Vermont 05472 USA
(802) 453-6309
Hours:
Call (802) 453-6309 for information and reservations
Image: (top)
Monsieur G.F.
by Pat Laffin
assemblage