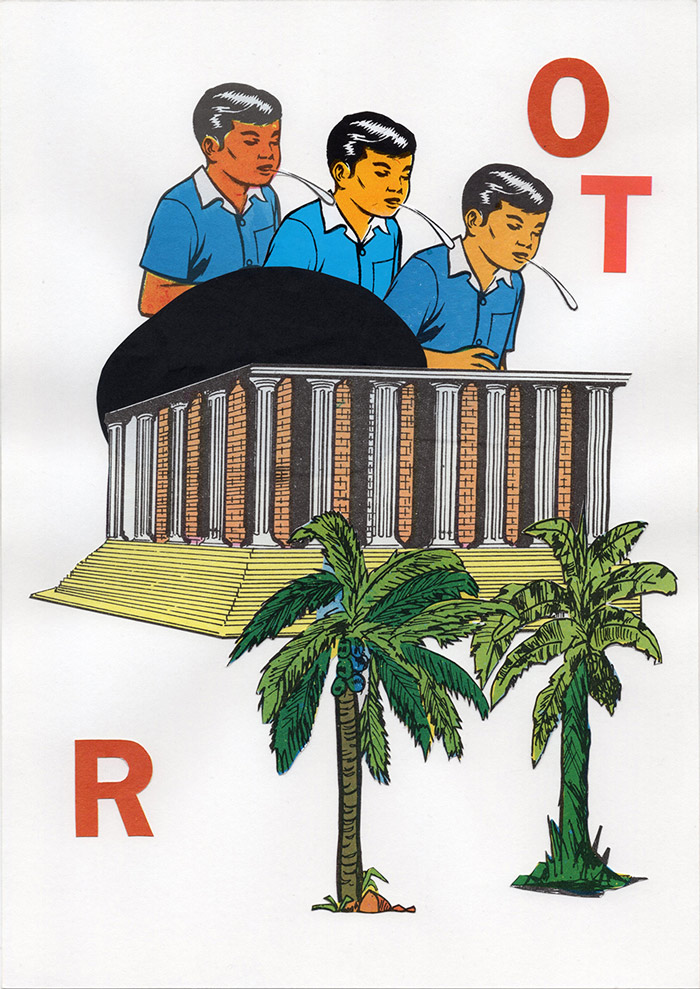 COLLAGE ON VIEW
Dina Gadia: "Malady of Association"
at Owen James Gallery in Brooklyn, New York, USA
13 October-12 November 2017
Dina Gadia is a multi-media artist based in The Philippines, working primarily in collage, but also paint and zine publications. She creates strange and humourous worlds that often utilize both image and text. These elements are culled from or reference vintage print material including comics, lifestyle magazines and advertising.
With her new series of collage works, Gadia continues to show us a world that is filled with vague threats and surreal disturbances. In earlier work the artist tended to insert text or characters into an existing landscape or environment image. The new narratives differ in that they are constructed out of the collage elements themselves and are set upon a clean white background. This development allows Gadia additional freedom in the development of her strange juxtapositions.
In the "Living Area" series, the settings are primarily domestic. These "living rooms" are not the comforting, safe places we normally use to retreat from the outside world. Instead, one gets the impression that the home is dangerous territory in its own right. Disasters, both mundane and surprisingly unfortunate, lurk among the shelved books and between the couch pillows. The source material for the figures seems to come from delightfully outdated illustrations for nature-survival manuals, or medical education textbooks. Gadia has placed black text outside of the collage construction, but in the bottom margins. Some of this comes from 1968's Modern Guide to Health, a textbook that her mother gave her long ago. The sentences increase the unease, as they relate facts about germs, viruses, flies and parasites. In the scenes above the text, the figures seem oddly calm and composed. They have a blandness about them that only adds to the menacing undertone.
In another series, "Signs for An Institution", Gadia constructs images that are more symbolic, or totemic, and are mostly devoid of text. These might be collections of disparate elements, centralized collections that have the balance of an emblem. In one example, we see a combination of spitting triplets, neo-classical architecture, palm trees and scattered letters. Other collages appear to be designs for the fabric banners that the artist sometimes makes. They have a hint of heraldry about them, or the symbolism of importance. The series' title keeps the viewer a little off-kilter. What sort of institution are these signs for? A mental institution? A university? A branch of government? One often attaches a sense of security to an institution. However, one can also find a suffocating orthodoxy, or a paralyzing bureaucracy. The fact that Gadia gingerly hints at all of this, while confirming none of it, lets us remain amusingly trapped in the paper twilight zone that she has created for us.
(adapted from the gallery's press materials)
---
INFORMATION
Owen James Gallery
Suite 315
61 Greenpoint Avenue
Brooklyn, New York 11222 USA
(718) 395-4874
Hours:
Wednesday-Sunday, 11AM-6PM
Image:
Signs for an Institution #7
by Dina Gadia
collage
Courtesy of Owen James Gallery, Brooklyn, New York