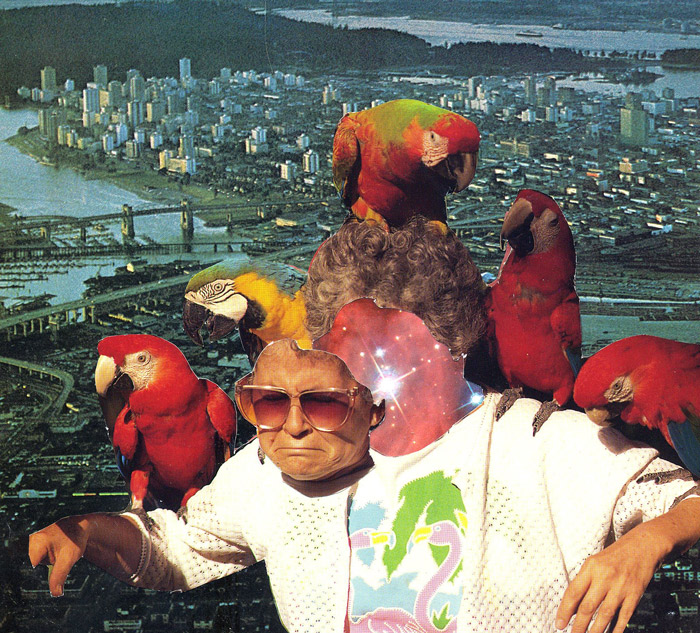 COLLAGE ON VIEW
Marmelade Dreams
in The Lab Gallery, Brentwood Arts Exchange in Brentwood, Maryland, USA
8 September-24 October 2020
Online Watch Party via Facebook Live: Saturday, 24 October, 2PM
Dafna Steinberg says about her solo exhibition, "Marmelade Dreams":
Two weeks before he died on March 4, 2020, my father asked me to teach him how to make a collage. He told me that he loved watching me cut up magazines and create new pictures with the pieces I had found. He didn't think he would be able to do it, but he really wanted to try.
I have been working as an artist for over 15 years. My parents have been avid supporters of my career. They came to so many of my exhibitions, sat through so many of my artist talks. But never had my dad asked me to show him how I actually made my work.
His first collage was made from two pieces of paper he picked out of a pile of materials I set in front of him. He carefully cut an orange tabby from a book of cat pictures before choosing a background from a book of space photography. Carefully, he ran a glue stick over the paper before gently placing the cat in its new galaxy home. When he was finished, he held his first collage up proudly, asking me to take a picture to send to my mom, who was out of town. He then asked me if I would help him make her one.
Most of these works were made after his death, while I was sheltering in place in my childhood home. These collages are about the sudden feeling of social disconnection as well as the experience of living with grief during a pandemic. Many of them were inspired by the night I taught my dad how to collage. He has always been and continues to be one of my greatest muses. Teaching him how to make a piece of art was a beautiful gift for which I am forever grateful.
This exhibition is dedicated to the memory of my father, Dr. Bory Steinberg, whose love and adoration helped me in finding my own magical world.
The exhibition will be physically installed in the gallery and presented digitally for online viewing. There will be a virtual tour and an artist talk on Saturday, October 24th at 2 PM via a Facebook Watch Party.
---
INFORMATION
Lab Gallery
Brentwood Arts Exchange
3901 Rhode Island Avenue
Brentwood, Maryland 20722 USA
(301) 277-2863
HOURS:
Monday-Friday, 10AM-7PM
Saturday, 10AM-4PM