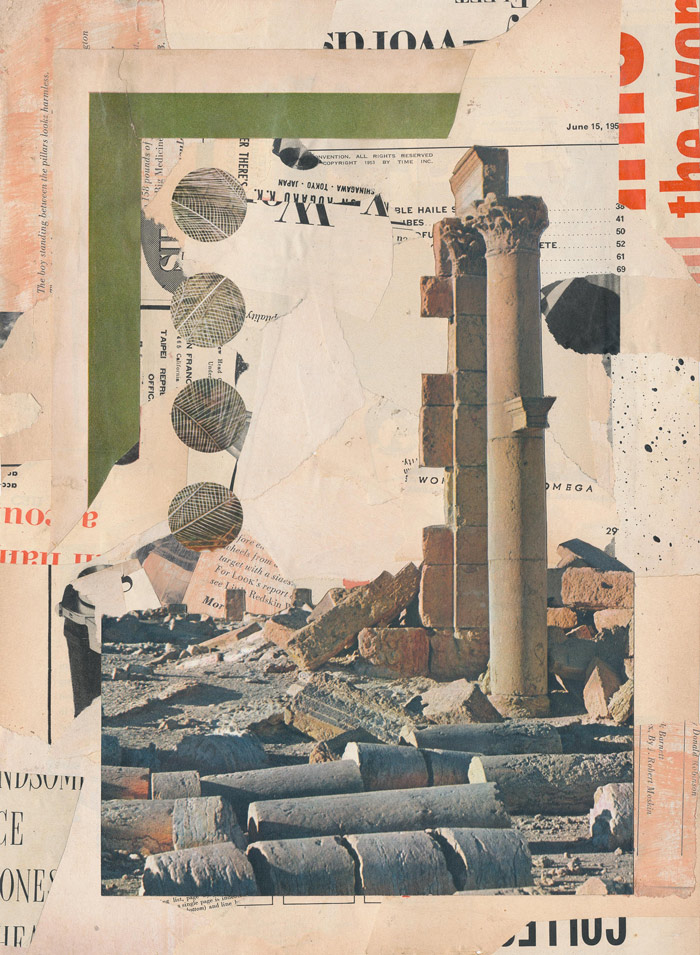 COLLAGE ON VIEW
Melbourne Collage Now
at Off the Kerb in Collingwood, Victoria, Australia
"Melbourne Collage Now" is a survey of contemporary collage by members of the Melbourne Collage Assembly, a group of artists who predominantly work with collage and assemblage. Originally scheduled to take place in March and April, the show was cancelled after the mandatory shut down due to the COVID-19 pandemic. But art finds a way. Now you can visit the gallery's website and take a virtual tour of the gallery to view this show, as well as two others, without having to leave the couch. You can also download the show's online catalogue.
From Picasso to Rosenquist to the DIY album art of Punk icons, collage's influence has been present in many Twentieth Century art movements and subcultures. Yet despite its use from Cubism to Post Modernism, it remains a subversive art form often overlooked.
These artists source materials through a process of chance discovery and the obsessive collecting of print ephemera. Working with mainly analog techniques they each apply different approaches to the possibilities of the collage medium making this a rare insight into the local scene.
The exhibition features works by Melbourne Collage Assembly artists Aaron Ashwood, Morgan Campbell, Simone Esterhuizen, Mel Lineham, Aylsa McHugh, Lee McKenna, Kieran Madden, and Max Malone.
(text adapted from the collage assembly's press materials)
---
INFORMATION
Off the Kerb
66B Johnston Street
Collingwood, Victoria 3066 Australia
+61 (3) 9077 0174
Hours:
Thursday-Friday, 12:30-6PM
Saturday-Sunday, Noon-5PM