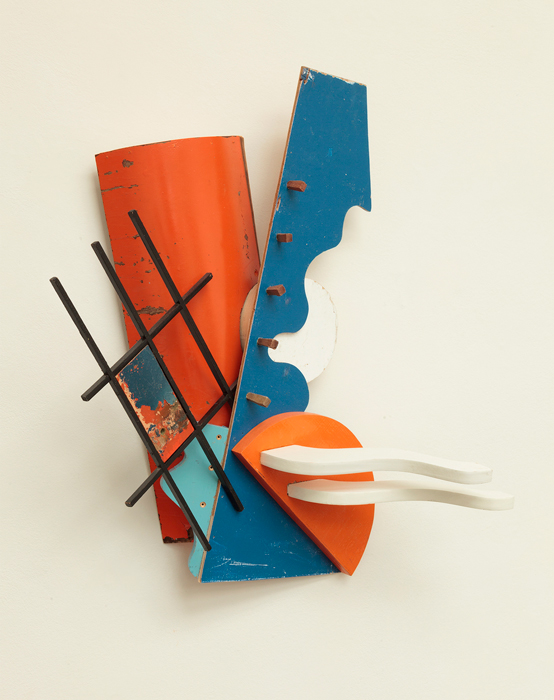 11-24 July 2014
Mike Wright: New Work
Since her debut at Alden Gallery in 2013, Provincetown sculptor Mike Wright has had quite a year. She was awarded a prestigious Pollock-Krasner grant, had her work exhibited in "All About sEVEn" at the Cape Cod Museum of Art, curated several shows at the Provincetown Art Association and Museum, and had a short film about her artistic process, Inside Motherwell's Dumpster, included in the Provincetown International Film Festival.
Wright said, "I walk the beaches and town streets searching for painted pieces of Provincetown, carry the wood to my studio, pull old nails, sort and stack according to colour. I then wait for the wood to tell me what it wants to be. My subject matter–the sea, fishing vessels, architecture, natura morta–along with inspiration from early Provincetown Modernists Blanche Lazell, William Freed, and Lillian Orlowsky, place me on the artistic continuum of Provincetown."
Wright's work is being shown together with new landscape paintings, inspired by Google Maps, by Paul Kelly.
(adapted from the gallery's press materials)
---
INFORMATION
Alden Gallery
423 Commercial Street
Provincetown, Massachusetts 02657 USA
(508) 487-4230
Hours:
Daily, 11AM-5PM and 6-10PM
Image:
Seascape #1
by Mike Wright
24″x22″x8″
found painted wood
Courtesy of the Alden Gallery, Provincetown