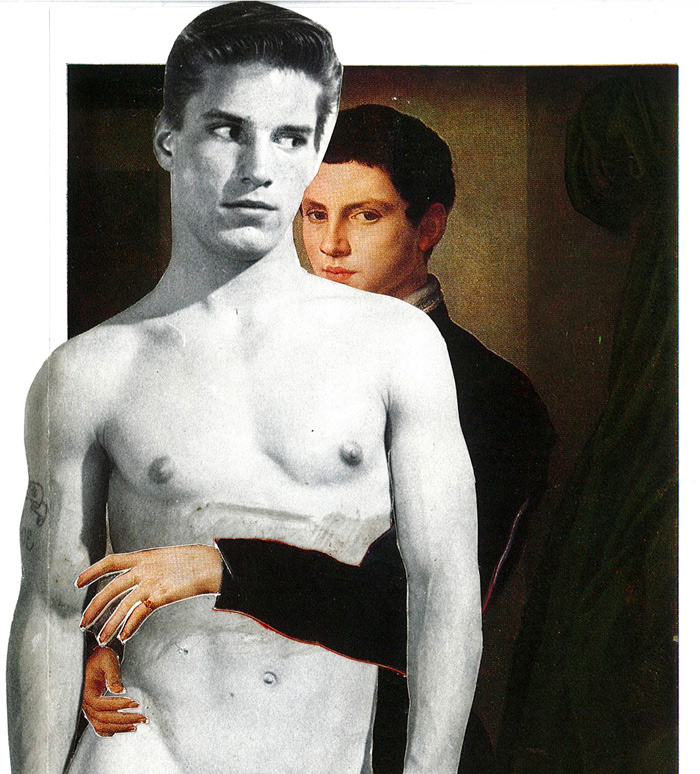 Alex Urso: "Musée de l'Oubli, Eight Collages by Monsieur G."
10-25 November 2016
Opening reception: 10 November, 7PM
This exhibition is part of the 1st Worldwide Apartment and Studio Biennale.
Alex Urso's "Musée de l'Oubli" project is eight collages made by Monsieur G., an unknown French artist whose true identity Urso does not know. The collages, signed on the back, date back to 1979. In 2014, Urso found them in a street market in Warsaw: they were placed on the ground among other priceless objects and second-hand junk. Intrigued, Urso decided to save them. After having bought the whole series, the artist spent time cleaning each piece, rearranging them, mending the ruined parts and, finally, giving them a new life.
The entire project, therefore, is a sort of archaeological operation, a process of giving life back to something extinct and forgotten by the time. By rescuing these art pieces from oblivion, Urso translated his act of "creation", proper for an artist, into an act of "rehabilitation". The final intent is to create a tribute to the mysterious Monsieur G. and, on a broader level, pay homage to all artists which art history considers unworthy of attention and memory.
Italian artist Alex Urso lives and works in Warsaw, Poland. He works predominantly in collage and assemblage. In his practice, Urso often interacts with artists from the past. Through the dislocation of forms and figures of the Tradition, he brings forth fragments of past artworks into the present, creating an "anachronistic" interaction with them. With each of these elements (artists or scraps of works), he plays with irony, interacting to create a dialogue that calls into question the authenticity of art history as it has been passed down, namely as a succession of certain and creditable events.
(adapted from the artist's press materials)
---
INFORMATION
DZiK
First Floor Gallery
Ul. Belwederska 44a
00-594 Warsaw, Poland
+48 513 368 138
Hours:
Tuesday-Saturday, Noon-8PM
Image:
untitled from "Musée de l'Oubli"
by Alex Urso
collage
2014
Courtesy of the artist