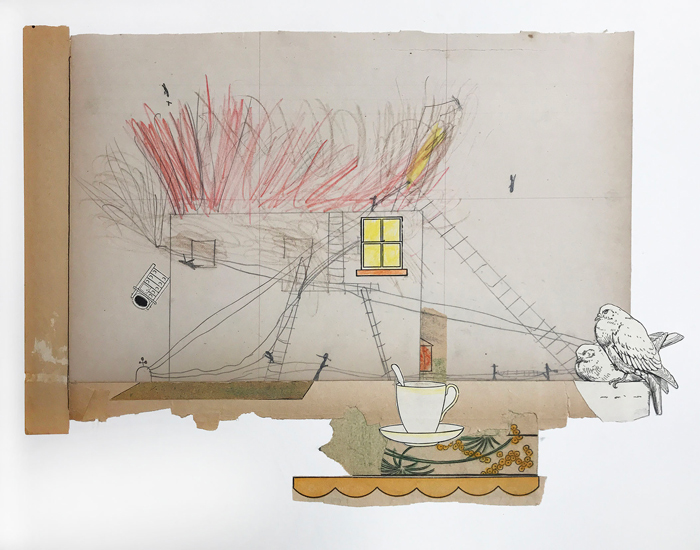 COLLAGE ON VIEW
"New Territory": John O'Reilly
at Howard Yezerski Gallery
in Boston, Massachusetts, USA
9 March-10 April 2018
"New Territory" is John O'Reilly's 17th solo exhibition at the gallery.
O'Reilly has had a remarkable career as one of America's premier collagists. He is best known for combining Renaissance and Baroque paintings with male pornographic material. His collage has found its way into the collections of Museum of Modern Art, New York, the San Francisco Museum of Modern Art, and the Museum of Fine Art Boston. At age 88, he continues to explore new territory, as evidenced by this exhibition at Howard Yezerski Gallery where, incidentally, the artist was one of the inaugural exhibitions when it started in 1988 and where O'Reilly has been showing every two years since.
Howard Yezerski says about O'Reilly and "New Territory": "In 1985, the Addison Gallery of American Art in Andover, Massachusetts showed the work of John O'Reilly. Having had a gallery in Andover since 1968, I often frequented the museum and was introduced to his work. In 1988, I decided to take the plunge and move the gallery to Boston, where John was one of my inaugural exhibitions that fall. Moving forward, we did an exhibition every two years.
"In talking about a title for this group of pictures, John and I remembered a mention by Roberta Smith in the New York Times (16 October 2015) of an exhibition he had in New York City: '"John O'Reilly: Montages 1968-2015″ reviews the work of one of our greatest living artists of mysterious, erudite, confounding photomontages and shows him, at 85, moving into new territory.'
"'New Territory' shows that at 88, O'Reilly continues to make 'mysterious, erudite, confounding' work that gives us all hope."
(adapted from the gallery's press materials)
---
INFORMATION
Howard Yezerski Gallery
Unit A16
460 Harrison Avenue
Boston, Massachusetts 02118 USA
(617) 262-0550
Hours:
Tuesday-Saturday, 11AM-5:30PM
Image: 
Home
by John O'Reilly
16.5″x19.5″
paper, pencil, colored pencil, crayon collage
Courtesy of the Howard Yezersky Gallery, Boston