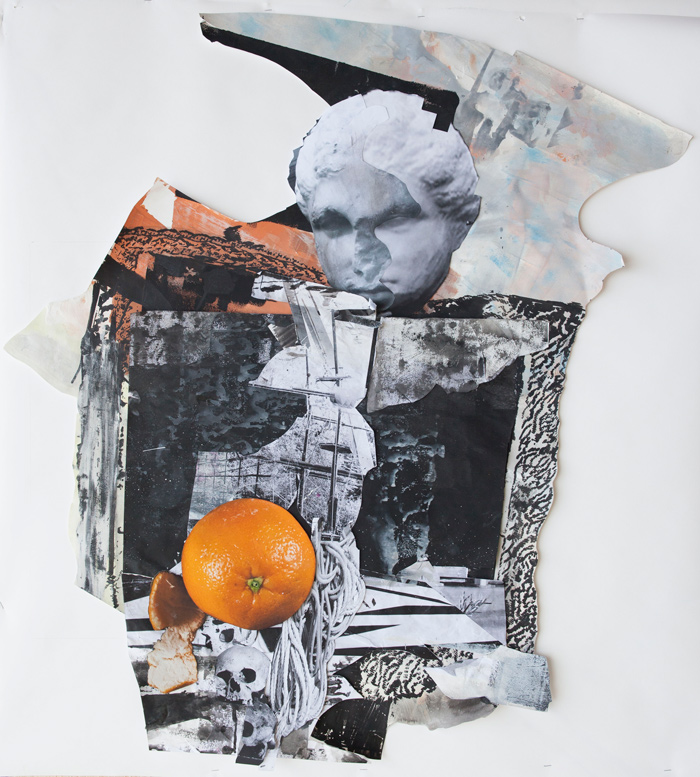 COLLAGE ON VIEW
Martin Golland: "Now, as Before"
at Galerie Antoine Ertaskiran in Montreal
29 November-23 December 2017
"Now, as before" is a solo exhibition by Martin Golland. His paintings present a fictional meeting point between a built environment and the natural world, resulting in imaginary architectural spaces. Golland's work is created from a broad range of painting techniques that respond to the contradicting history of representational painting. Using these subjects gives the artist a way to question the act of looking. This blurs the transition between imagination and reality, the bizarre and reverie.
About collage, Golland says on his Kolaj Magazine Artist Directory page:
My approach to collage is to present a meeting point of conflicts: digital manipulation and painterly blending; cut-up image and the painted subject; voids and presences. Each work attempts to expand upon these contradictions in the process of creating illusions that both falter and persist.
Martin Golland was born in Montpellier, France in 1975 and lived in Turkey, Puerto Rico, Miami, and Toronto before moving to Ottawa. Golland received his MFA in 2006 from the University of Guelph. He has exhibited nationally and internationally. Solo exhibitions include "Imaging Disaster" at the Museum London in Ontario; "DARK TOWN" at the Felix Ringel Galerie in Düsseldorf, Germany; "What is said and what is meant" at the MacDonald Stewart Art Center in Guelph, Ontario; Human Nature at the Carleton University Art Gallery in Ottawa, Ontario. He has received the prestigious Honorable Mention Prize at the 11th Annual RBC Painting Competition and exhibited in various museums and galleries across Canada, including the National Gallery of Canada, the Power Plant Toronto, the Musée d'Art contemporain de Montréal, and the Contemporary Art Gallery in Vancouver. Publications include the 2012 catalog Lush Life: The Painting World of Martin Golland with an essay by critic James D. Campbell.
(text adapted from the gallery's press materials)
---
INFORMATION
Galerie Antoine Ertaskiran
1892 Rue Payette
Montreal, Quebec H3J 1P3 Canada
(514) 989-7886
Hours:
Tuesday-Saturday, 10AM-7PM
and by appointment
Image:
The Gift
by Martin Golland
46″x38″ (appox.)
mixed media collage
2017
Courtesy of the artist