COLLAGE ON VIEW
Mathieu Lacroix: Parties composantes
at McBride Contemporain in Montreal, Quebec, Canada
24 February-8 April 2023
Mathieu Lacroix's work occupies a unique space in the conceptual art sphere, combining complex intellectual procedures with handmade DIY aesthetics, and the idea of the "sketch" as a central organizing principle. In this exhibition, Lacroix has created a comprehensive accounting of his practice so far and achieved a summation moment of his artistic interests, a fusion of seemingly disparate notions, feelings, and states.
A new body of work in drawing centers the show, and the combination of lovely, unassumingly skillful, and formally dynamic qualities in these works mixes perfectly with their purposeful ambiguity as to space, location, objects, identity, interactions, and meaning. Indeed, this ambiguity, to a large extent, is the meaning. Lacroix brings the viewer's attention to various important and serious aspects of life, from the issue of consumerism and overconsumption, to the sort of personal emotional dislocations we all experience, to the racial alienation of minorities, including but not limited to the black community, and other social ills, shared experiences, and ethical tears in the fabric of our cultural unity as human beings.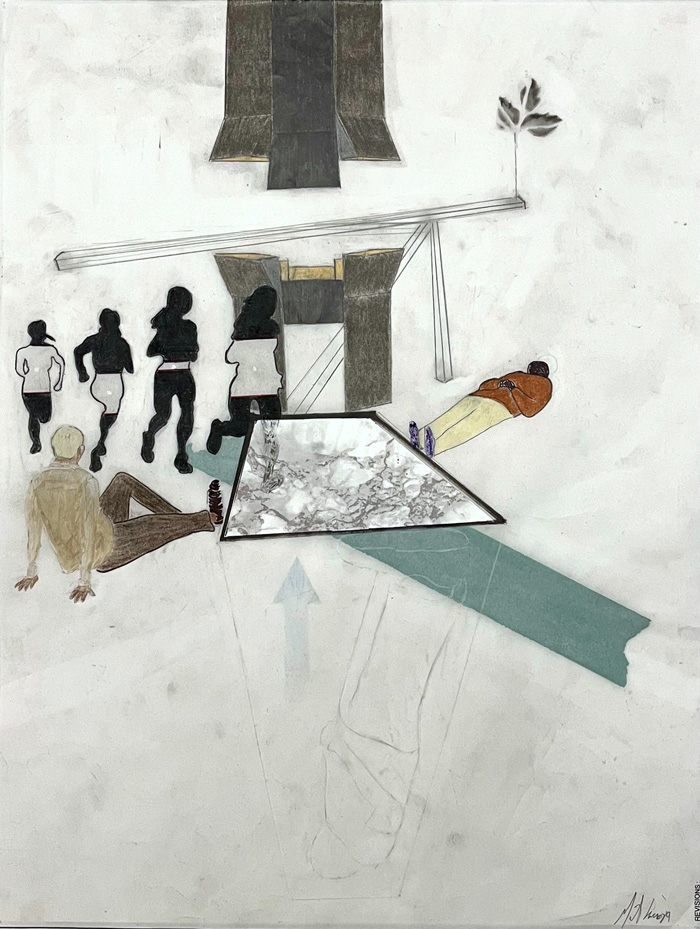 But Lacroix chooses to do so in a carefully phrased and framed manner, one which slows down the viewer's responses and invites us both to consider these questions from many different perspectives, as well as offering us the possibility of concentrating our attention on the visual and formal aspects of the works first and foremost. We are not told how or what to interpret. Lacroix does not wish to confront the viewer with a single message or to compel any particular response. Rather, he is at pains to achieve complexity through the use of numerous individually simple elements and ingredients–both conceptually speaking, and in his media, which are drawing; collage, frottage, and papier découpé; photography, sculpture, and installation. Also a practicing and experienced performance artist, Lacroix's project is a powerful but subtle vehicle for social and philosophical research and exploration, for looking at and responding to the cultural dynamics of individual and collective interactivity. In "Parties composantes", the
artist has created his strongest and most succinct grouping of artworks to date.
(text adapted from materials provided by the gallery)
---
INFORMATION
McBride Contemporain
Suite 414
372 Sainte-Catherine Street West
Montreal, Quebec H3B 1A2 Canada
(514) 878-0940
Hours:
Wednesday-Saturday, 11AM-5PM