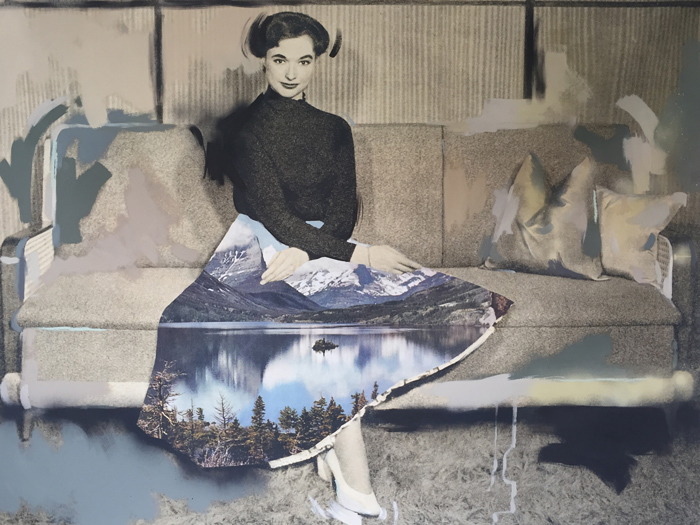 COLLAGE ON VIEW
Pastime/Time Passed: Lizzie Gill & Ciara Rafferty
at Roman Fine Art in East Hampton, New York, USA
26 May-27 June 2018
Colour-splashed retro imagery, glamourized nostalgia and leisure studies of bygone eras comprise Lizzie Gill and Ciara Rafferty's hyper-stylized representations of wholesome values and pleasures of "The Good Old Days". Gone is the time of The Great American Vacation, with its novelty of futuristic hotels and motels that brought families together with blithe poolside lounging and Atomic Age idols. Drawing inspiration from the 1950s and 60s, a time that for many Americans represented hope, freedom and Americana portrayed through wholesome values and Hollywood romance, Gill and Rafferty explore the richly nostalgic context of the spaces and icons of these bygone eras that now exist in a liminal space: a passed-time. These sensibilities of carefree summer fun and untroubled leisure occupy the dreams and desires of our modern sensibilities as the contemporary world flies by in hyper-speed.
Gill's work presents retro American figures and activities in undefined spaces and times, floating in ether, surrounded and interrupted by shapes and colour. Magazine-friendly bodies and faces are cut out of their time capsules and transposed into an undefined context that prompts an unexpected exploration of passed-time innocence. Her paintings and collages put a face to this nostalgia, connecting past, present and future in liminality.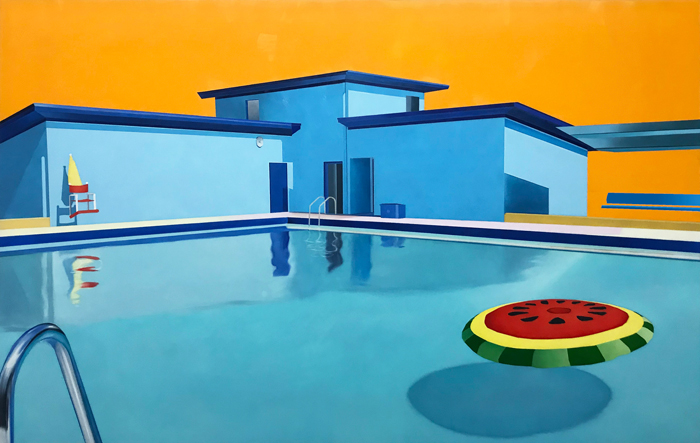 Rafferty indulges the spaces left behind by an evolving and increasingly careless society, where innovative design and accessible indulgence have been cast away over time in favor of lavish international expense. These public spaces, particularly the hotels and motels of the 1950s and 60s in Palm Springs, Hollywood and Miami, were designed to evoke a hopeful future by the architects who designed them and the American people who visited them. A shadow of the picture-postcard fun filled heydays that they once were, they evoke a desire to immerse oneself in the pleasure that they were created to give but remain sad and empty, stuck in time.
(adapted from the venue's press materials)
---
INFORMATION
Roman Fine Art
66 Park Place
East Hampton, New York 11937 USA
(917) 797-8931
Hours:
Sunday-Friday, 11AM-5PM
Saturday, 11AM-8PM
Images: (top to bottom)
Poised & Ready
by Lizzie Gill
46″x60″x1″
oil and mixed media on canvas
2017
Pool with Watermelon Floatie
by Ciara Rafferty
28″x44″
oil on Perspex
2018
Images courtesy of the artists and Roman Fine Art, East Hampton