COLLAGE ON VIEW
Patterns of Power
at Empty Space in Bronx, New York, USA
22 January-19 March 2022
"Patterns of Power" recontextualizes patterns found in the decorative arts and addresses power structures, social and environmental issues. The desire to destroy the genteel trappings of modern life that underhandedly rewards greed, patriarchy and short-sightedness is articulated through deconstruction and maximalism.
The resplendent qualities inherent to artworks in this exhibition, like the Pattern & Decoration movement, are equally beautiful and deceptive through their critical aims. Deconstructed wallpaper, prints and drawings that are accumulative and highly ornamental exist outside of the bounds of the familiar; their uncanniness is a potent signal to action.
Elizabeth Castaldo is an artist, printmaker, and bookbinder living and working in Peekskill, New York, and New York City. She works with collage, drawing, and printmaking to create works on paper and artist's books that explore the connection of feminine sensuality to nature and its manifestations in modern culture. Based in New York City, Rachel Sydlowski is a visual artist and educator who creates large-scale installations informed by decorative arts, history, and nature.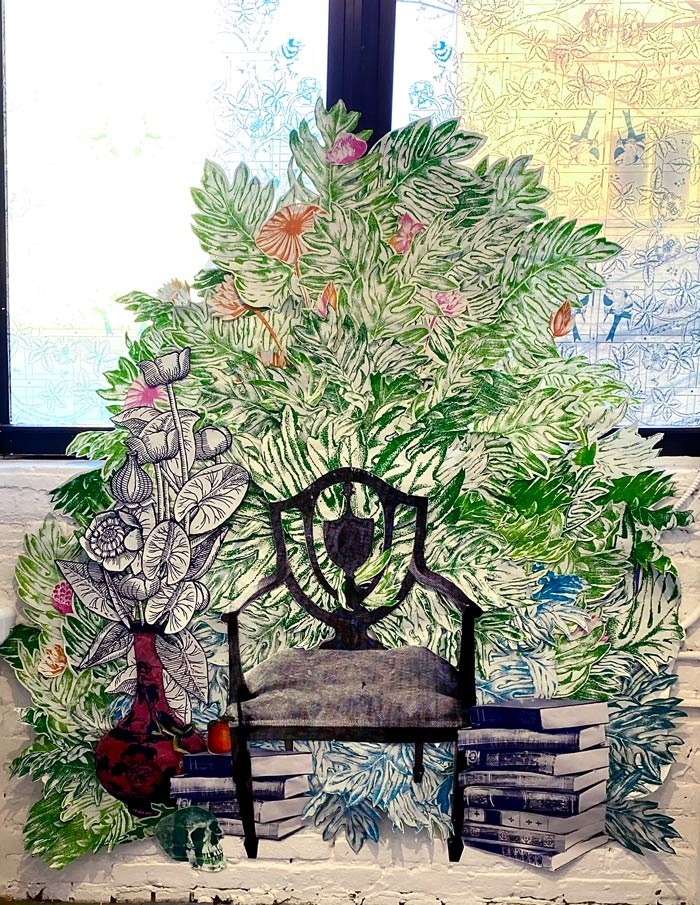 Elizabeth Alexander is an interdisciplinary artist specializing in sculptures and installations made from deconstructed domestic materials. Sarah Morejohn grew up in rural Oregon and currently lives and works in Emeryville, California. In 2011, she earned a BFA in painting and drawing from the University of Oregon.
(Text adapted from the gallery's press materials.)
---
INFORMATION
Empty Set
Suite 10D
860 East 136th Street
Bronx, New York 10450 USA
emptyset.gallery@gmail.com
HOURS
Open by appointment. Email the gallery or send a DM via their Instagram page.