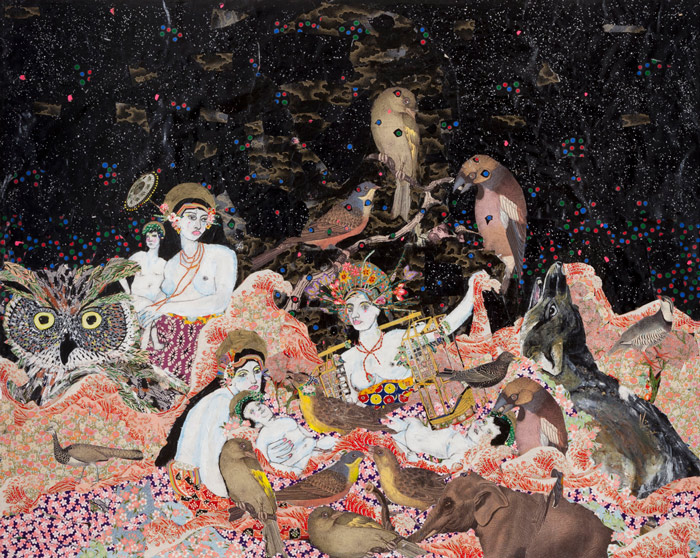 COLLAGE ON VIEW
Radical Love
at the Ford Foundation Gallery in New York, New York, USA
11 June-17 August 2019
"Radical Love" is presented in the newly opened gallery space at the Ford Foundation Center for Social Justice. The exhibition, curated by Jaishri Abichandani and Natasha Becker, is the second in a trilogy of exhibitions. Through the theme of "Utopian Imagination", the three exhibitions create a trajectory toward a more just future. The first exhibition, "Perilous Bodies" (4 March-11 May 2019), examined injustice through the intersecting lens of violence, race, gender, ethnicity, and class. "Radical Love" responds to the first show by offering love as the answer to a world in peril. Love, in the context of this exhibition, is defined by a commitment to the spiritual growth and interconnectedness of the individual, their community, and stewardship of the planet. Guided by the powerful words of bell hooks, "Were we all seeing more images of loving human interaction, it would undoubtedly have a positive impact on our lives."
The works in "Radical Love" are grounded in ideas of devotion, abundance, and beauty; here, otherness and marginality is celebrated, adorned, and revered. Featured artists offer work that is deeply rooted in their love for their own communities and of humanity: Visitors will encounter Faith Ringgold's soft sculptures from the 1970s, depicting everyday black folks; and can explore Thomas Lanigan-Schmidt's glitzy installation of the complex intersections of sexuality, class, and religion; artists Lina Iris Viktor, La Vaughn Belle and Jeannette Ehlers, Omar Victor Diop, Bradley McCallum & Jacqueline Tarry make visible ordinary and extraordinary acts of human agency. Employing everything in their arsenal, they create enchanting works that transform disabled, black, brown, indigenous, and queer subjects into protagonists of new narratives of love and redemption.
Throughout the exhibition, artists demonstrate that when the world deems your existence unworthy, casting yourself as a subject is an act of radical love. Understanding the regenerative impact of this love, their work is an antidote to our collective pain.
Exhibiting artists: Sue Austin (United Kingdom), La Vaughn Belle (Tobago/US Virgin Islands) & Jeannette Ehlers (Denmark), Maria Berrio (Colombia/United States), Raúl de Nieves (Mexico/United States), Omar Victor Diop (Senegal), Vanessa German (United States), Jah Grey (Canada), Baseera Khan (United States), Thomas Lanigan-Schmidt (United States), McCallum & Tarry: Bradley McCallum (United States) & Jacqueline
Tarry (United States), Rashaad Newsome (United States), Ebony G. Patterson (Jamaica/United States), Jody Paulsen (South Africa), Thania Petersen (South Africa), Lina Puerta (Colombia/United States), Faith Ringgold (United States), Athi-Patra Ruga (South Africa), Nep Sidhu (England/Canada), Rose B. Simpson (United States), Imani Uzuri (United States), and Lina Iris Viktor (United States/England).
(adapated from the gallery's press materials)
INFORMATION
Ford Foundation Gallery
at the Ford Foundation Center for Social Justice
320 East 43rd Street (enter on 42nd Street, east of Second Avenue)
New York, New York 10017 USA
(212) 573-5000
Hours:
Monday-Saturday, 11AM-6PM