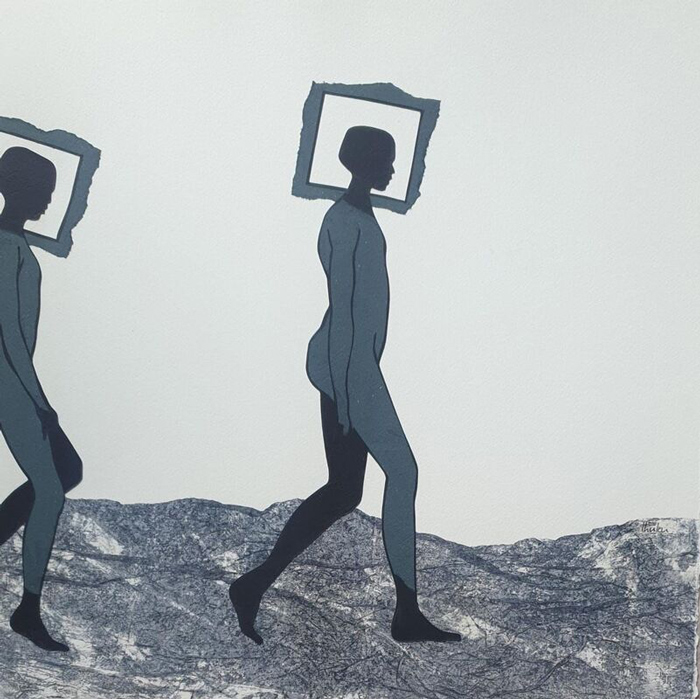 Still-In Motion
at One Off Contemporary Art Gallery in Nairobi, Kenya
30 November 2019-12 January 2020
This body of work or rather, collection, is a representation of a character in search of a niche (an archetypal character in motion and empty seats). This character is depicted in different yet closely similar poses/motion poses, in a sequential manner to create a feeling of movement. The character moves in different spaces to exist or to make the space exist; the spaces change the character, or the character changes the appearance of the space. Within the collection, there are empty seats as an invitation for temporary comfort (or a niche) as the character keeps moving on.
Thuku says "I am trying to depict the existence of humans, using myself as a study, how we move in different spaces in search of temporary spaces/positions or niches."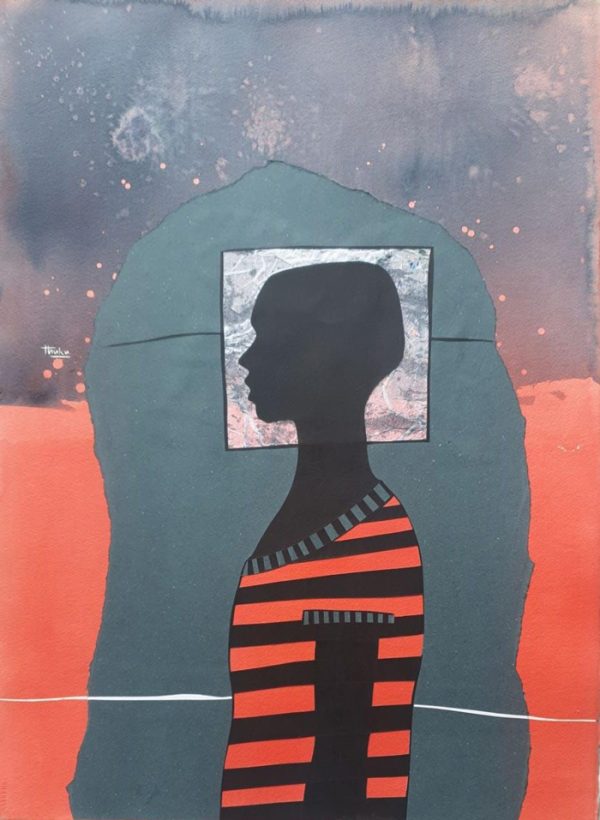 A recipient of the Langalanga Scholarship Fund (a U.K based Charity Organisation that supports the education of young, bright and needy Kenyan kids), David Thuku is a Diploma graduate from the BuruBuru Institute of Fine Arts in Nairobi.
In 2013 he co-founded Brush-Tu Art Studio, a creative arts collective providing artists with studio space and collaborative exchange. He has exhibited extensively in Nairobi, and recently participated in international Art Fairs including 1:54 Contemporary African Art Fair, Young International Art Fair, Drawing Now Paris and Also Known As Africa Art Fair (AKAA).
Thuku works in a variety of media, from conventional oil paint on canvas, to a more recent focus on paper. He cuts and peels paper away to reveal carefully constructed images. These works on paper explore the nature of social structure, identity and urban migration through semi-abstract portraits. They analyse the everyday space we occupy, peeling layers away to uncover hidden dimensions. He uses repeated motifs to indicate a spatial environment and character. Pattern has particular significance in his work. It creates a sense of space, perspective, comparison and signifies continuity.
(text adapted from the gallery's press materials)
---
INFORMATION
One Off Contemporary Art Gallery
#16 Rosslyn Lone Tree Estate
off Limuru Road
Nairobi, Kenya 00621
+254 722 521870
Hours:
Tuesday-Sunday, 11AM-5PM