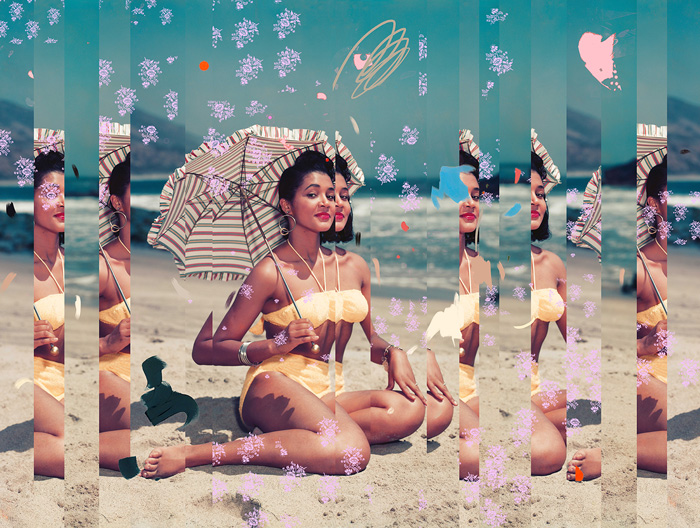 COLLAGE ON VIEW
Summer Solstice: Lizzie Gill
at Montauk Beach House in Montauk, New York, USA
13 June-1 July 2019
Since prehistory, the summer solstice has been seen as a significant time of year in many cultures, traditionally marked by festivals and rituals. The word "solstice" is derived from the Latin words sol (Sun) and sistere (to stand still). The longest day of the year demarcates the passage into Summer as the Spring fades and the temperatures rise, bringing forth a sense of nostalgia and excitement for the future often viewed through the lens of Summers past.
Working with vintage found imagery, Gill explores this moment of stillness and contemplation of memory, calling to question how we recall the past as well as the ability to create something new, transforming our own sense of personal history. Gill's found images punctuate her discoveries as the mid-century meets the millennial, and in this continuity, mothers become daughters, become sisters, coming into view at different indices of refraction through a web of memory and projection. The works don't truncate, sever, or splay: rather, they open into and onto new vistas showing not just where we are, but will be.
Lizzie Gill's "Summer Solstice" at the Montauk Beach House is presented by Roman Fine Art and Artmatic.
(adapted from the artist's press materials)
---
INFORMATION
The Montauk Beach House
55 South Elmwood Avenue
Montauk, New York 11954 USA
(631) 668-2112
Hours:
Open daily
Image:
Summer Solstice III by Lizzie Gill
35″x40″
hand embellished, unique archival print on Hahnemuhle paper
edition of 5
2019
Courtesy of the artist