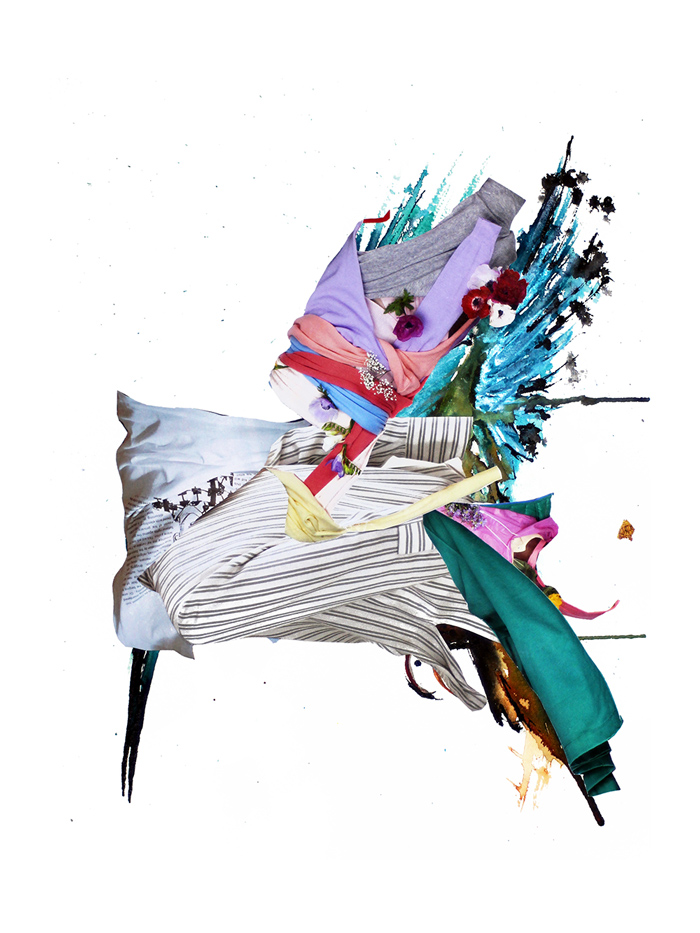 Nina Fraser: Taxis Derma
at the Museu Nacional de História Natural in Lisbon, Portugal
3-29 September 2019
Animals are always observed. The fact that they can observe us has lost all significance. They are the objects of our ever-extending knowledge. What we know about them is an index of our power, and thus an index of what separates us from them. The more we know, the further away they are."
Combining painted depictions of birds with collaged fragments of magazines, the series of bird portraits presented in this exhibition explore the relationship between man and animal in contemporary consumer culture. Using cloth as a symbolic material to drape, decorate and cloak the head and body of the animal, the viewers connection with the subjects gaze is interrupted. Utilising photographic imagery from fashion magazines, a lived moment of a body imprinted in the contours of the fabric confronts the interstices between different sets of the visible.
Considering the exhibitions proximity to the taxidermy collection, presentation methods associated with the museum are referenced and if applicable adopted. Taxidermy preservation gives the animal a presence that is difficult to ignore. One enters the room and is directed, through display cases and lighting, to detail that would be difficult or impossible to see in nature. The animal is poised, as if aware of the viewers gaze.
The technical definition of the word taxidermy means to arrange a skin, deriving from the Greek roots taxis (arrangement) and derma (skin). Collage as arrangement maintains a careful process of elimination, selection, collecting, cataloguing and chance. Working with the contours of the skin or the cut of the photographic material, both art forms are urging life into the subject. The act of collage is to re-align the unexpected, and redistribute consumer societies debris. Taxidermy can also be seen as a form of recycling. The transformation of value and property takes place through the applied reconstruction of the artists eye.
From the idealised glamour preserved in a fashion photograph to the specimen in the cabinet, nothing has been left to decay, to age, to complete its cycle. Forcing the outside indoors, into our homes and onto our bodies, we look through the lens of captivation, consumption and conquest. Birds are arguably the greatest symbolic references to freedom that we have, crossing linguistic and territorial boundaries, yet the birds in the exhibition cannot fly, and cannot see. It has taken less than two centuries to replace animals with machines and expel them from our society. We are asked to question our own outdated value system relating to animal as a commodity or as a companion, and perhaps to examine our role as an individual and as a collective identity within in society.
…Therein lies the ultimate consequence of their marginalisation. That look between animal and man, which may have played a crucial role in the development of human society, and with which, in any case, all men had always lived until less than a century ago,  has been extinguished. Looking at each animal… the visitor is alone."
Both quotes are from John Berger, Why Look at Animals? (1977)
(adapted from the artist's press materials)
---
INFORMATION
Museu Nacional de História Natural
Rua da Escola Politécnica 56/58
1250-102 Lisbon, Portugal
+ 351 213 921 808
Hours:
Tuesday-Friday, 10AM-5PM
Saturday-Sunday, 11AM-6PM