COLLAGE ON VIEW
The Faraway Nearby: Kristina Corre
at Pineapple Lab in Manila, The Philippines
12-21 May 2018
"The Faraway Nearby" in an expansion of a Kristina Corre's "Arrivants" series first exhibited at Studio Sixty in Ottawa. This series marked the artist's early explorations into the stories and characters of her Filipina ancestry and the Filipinx diaspora. "Arrivants" is a term photo-based artist Jin-me Yoon used regarding her experience as a Korean-born Canadian, and the identity she formed after arriving on this land. For Corre, to arrive is to declare one's identity, to take into account what one has brought with them, and to consider the possible futures. At Pineapple Lab, Corre has enlarged the pieces from the "Arrivants" series into larger-than-life mixed media murals, which marks an evolution in her practise to large scale three dimensional work.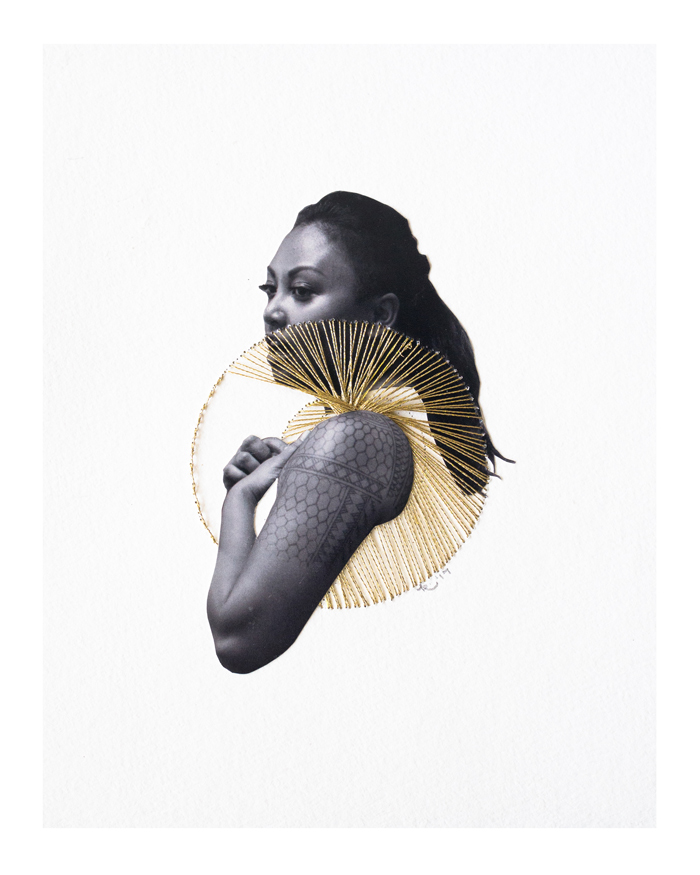 On World Collage Day, 12 May, Kristina Corre presents a Collage Power Portraits workshop. For the Manila event in this worldwide celebration of collage, Corre will be leading a hands-on collage workshop that will encourage participants to explore her elegant, minimalist approach to the art of collage. Along with her own techniques, creative process, and influences, Corre will present the principles and elements of design and how to use these tools of composition to build up narratives and powerful portrait images from disparate parts.
Participants will collect images from free catalogs, architecture, gardening magazines, and more (!), then carefully cut, compose, and paste their findings to create minimalist collage stories. Kristina will also introduce a the technique of embroidery on paper as an additional graphic element to collage.
(adapted from the artist's press materials)
---
INFORMATION
Pineapple Lab
6053 R. Palma Street
Barangay Poblacion
Makati City, 1210
Metro Manila, Philippines
EMAIL
Hours:
Tuesday-Sunday, 11AM-6PM
Image:
The Faraway Nearby
by Kristina Corre
8.5″x7″
original photo and thread
2017
Courtesy of the artist
Original available for purchase at studiosixtysix.ca