COLLAGE ON VIEW
The Money $how
at Saint Kate – The Arts Hotel in Milwaukee, Wisconsin, USA
10 April-12 September 2021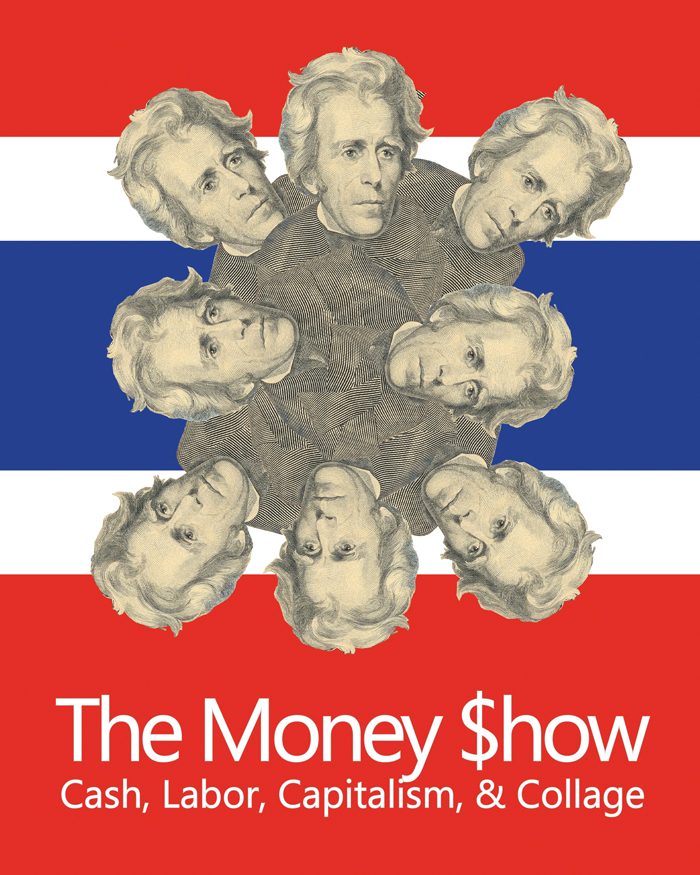 "The Money $how" in the AIR Space of the Saint Kate – The Arts Hotel takes guests on a tour of late-stage capitalism. Each artist in the exhibition uses collage to unpack ideas about money and its influence on our culture. Artworks speak about Black wealth, immigrant remittances, and how mid-20th century advertising informs present-day attitudes. Artists collage dollar bills into flowers and mine material remnants to tell stories about home economics. The exhibition is co-curated by Frank Juarez, the publisher of Artdose Magazine, and Ric Kasini Kadour, the editor of Kolaj Magazine.
The curators start from the premise that money is an idea that shapes contemporary life and present works that invite viewers to consider cash, labor, and capital. "To speak about money without using cliches is nearly impossible. It makes the world go round. Another day, another dollar. Worth its weight in gold. And so on. Money is ultimately an idea. A symbol of value we can use to exchange goods and services. Money is capital and debt, something to save and something to spend. In this sense, it is a fundamental part of humanity. At its best, a crisp ten dollar bill inside a birthday card from one's grandmother, it is delightful. At its worst, it is an excuse for deep cruelty, a permission to allow suffering to go unaddressed. At the beginning of the 21st century, late-stage capitalism has allowed money to become a powerful social force that influences nearly every aspect of our lives," says Curator Ric Kasini Kadour.
Featured artists are Max-o-matic (Barcelona, Spain), Michael Koppa (Viroqua, Wisconsin), Gavin Benjamin (Pittsburgh, Pennsylvania), Mark Wagner (Lancaster, Pennsylvania), Patricia Leeds (San Rafael, California), Carey Watters (Milwaukee, Wisconsin), Paola De la Calle (San Francisco, California), and Terie Leicht (Fredonia, Wisconsin).
In addition to the exhibition, Saint Kate – The Arts Hotel will host a series of events. On 17 April 2021, as part of Gallery Night MKE, the hotel will host the curators in a virtual talk. In celebration of World Collage Day on 8 May 2021, Saint Kate Curator Samantha Timm will lead tours of the exhibition. On 22 May 2021, exhibition co-curator Frank Juarez will host the Artdose Social Club in the gallery. From 30 July to 1 August 2021, Kolaj LIVE Milwaukee takes place at Saint Kate-The Arts Hotel. Kolaj Institute published a companion book, The Money $how: Cash, Labor, Capitalism, & Collage, in May 2021.
For full event announcements, follow Saint Kate – The Arts Hotel, Artdose Magazine, and Kolaj Magazine on social media.
---
INFORMATION
AIR Space
Saint Kate – The Arts Hotel
139 East Kilbourn
Milwaukee, Wisconsin 53202 USA
(414) 276-8686
Hours:
Open during hotel business hours