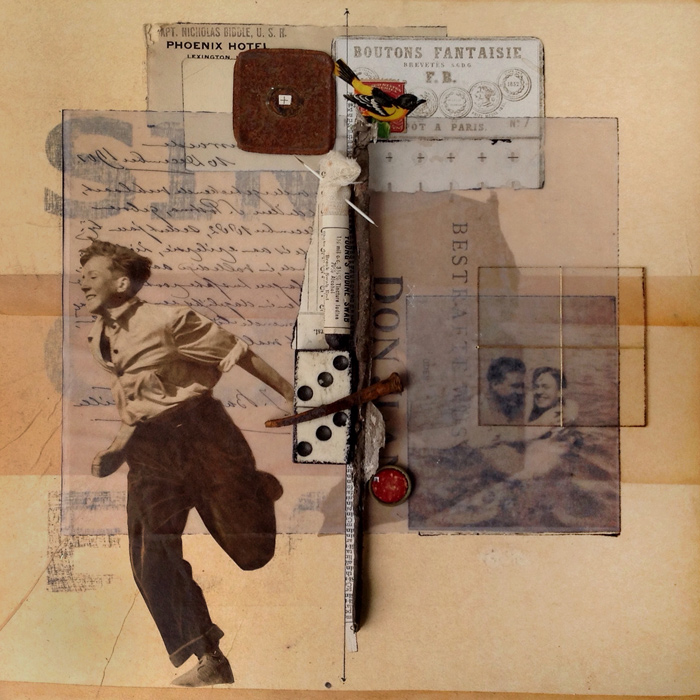 "Correspondence: The Reason I Am Writing to You": Deb Goldstein
28 July-16 August 2017
Artist reception: Friday, 28 July, 7PM
Why do we write to each other? Deb Goldstein uses antique ephemera and found objects to explore the many aspects of correspondence. An avid letter writer herself, Goldstein is fascinated by situations where two people create an intimate in-depth history and memory of their lives and relationship. From the tongue-in-cheek Putting the Sin in Sincerely, to longing and absence in Come Back and Take A Chance On Me, to the magnetic draw of terms of endearment in First She Wrote, Deb's sophisticated pieces reflect on our emotional pull to connect through correspondence.
True to the concept of the show, she asked several accomplished artists to create a piece of mail art that is directed to a person or object that was significant in their life. She then integrated it into a larger piece to extend the narrative.
Deb Goldstein was awarded an Artist in Residence in Farnese, Italy in May 2013. Working as collage and assemblage artist for more than 20 years, her work is in many private collections.
(adapted from the gallery's press materials)
---
INFORMATION
Rice Polak Gallery
430 Commercial Street
Provincetown, Massachusetts 02657 USA
(508) 487-1052
Hours:
Daily, 11AM-10PM
Image:
Putting the Sin in Sincerely
by Deb Goldstein
12″x12″
paper ephemera and mixed media
Courtesy of the artist and Rice Polak Gallery, Provincetown