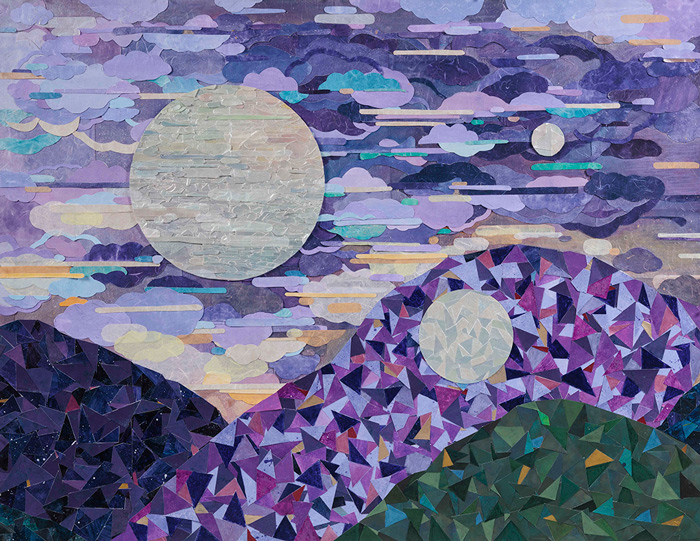 COLLAGE ON VIEW
Saya Woolfalk: The Woods Women and Other Works
at Leslie Tonkonow Artworks + Projects in New York, New York, USA
25 October-23 November 2022
Saya Woolfalk creates works of art that combine elements of her African American, Japanese, and European heritage, with allusions to anthropology, feminist theory, science fiction, and Eastern religions. During the past decade, in numerous multimedia exhibitions, installations, performances, and screenings, she has created the story of the Empathics, an elaborate fiction that she has woven around a community of female plant-human hybrids who possess extraordinary abilities to understand the feelings, desires, and motivations of others.
In her third solo show at the gallery, Woolfalk introduces "The Woods Women", a secret society that predates her Empathic Universe. The exhibition includes the artist's newest works on paper, inspired by her study of the renowned Hudson River School and herbarium collections at The Newark Museum of Art where she was the Artist-in-Residence in 2019.
In each of the four related collages entitled The Woods Woman, a silhouetted head is adorned and subtitled with a medicinal plant (Goldenrod, Meadowsweet, Sassafras, and Cannabis ), as well as "jewels" that the artist has meticulously cut from silver and gold papers.
In the two largest works in the exhibition, Birthing a New Sky: Manuscripts 5 and 6, Woolfalk addresses the "speculative fiction" of the American landscape tradition exemplified by the idealized landscapes of nineteenth-century artists such as Frederick Church and Thomas Cole. Also drawing inspiration from the Afro-Native American painter Richard Mayhew, and his concept of the "mindscape," she posits an alternative American creation myth in her reimagining of the earth and sky. While appearing to be simple abstractions, these works are quite complex, composed of hundreds of intricately pieced and layered elements created from handmade Japanese papers that she has painted and stained with watercolor and gouache, Japanese silver foil, and acrylic medium.
Other works on view include sculpture created from found objects, prints, collages and a painting on paper.
(text adapted from materials provided by the gallery)
---
INFORMATION
Leslie Tonkonow Artworks + Projects
Suite 411
401 Broadway
New York, New York 10013 USA
(212) 255-8450
Hours:
Tuesday-Saturday, Noon-6PM
and by appointment