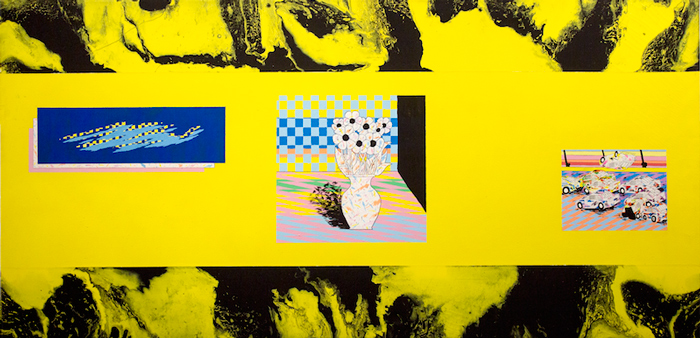 Eric Miranda: "The Zone"
4 March-1 April 2017
The objects that exist in "The Zone" represent an idea of pseudo opulence and a manipulation of desire that confuses personal present and past aesthetic dispositions. The exhibition concentrates on subjects corrupted by their position within contemporary culture. Addressing contrasting parameters within culture and design, Miranda gauges the idea that objects, surroundings, environments, and culture itself are at all times subject to change. Through a slight shift of perspective, a new set of values, ideas, and dialogues can be established around whatever the subject matter is.
Eric Miranda was born and raised in Los Angeles. He graduated from Emily Carr University with a BFA in 2014. In the same year, he founded the international clothing brand Booyah Patrol. His background is strongly based in that of painting, sculpture, and design, with applications of surfboard shaping, and sign production and installation. These processes inform his practice and are at times utilized to control certain outcomes in his studio production. He is a third generation surfer, and a present and active member of the Vancouver skateboard community, which fosters a focus in his work to examine the representation and misrepresentation of sub cultures.
(adapted from the gallery's press materials)
---
INFORMATION
FIELD Contemporary
17 West Broadway
Vancouver, British Columbia V5Y 1P1 Canada
(604) 315-0501
Hours:
Friday, Noon-5PM
Saturday, 1-6PM
or by appointment
Image:
A Zone
by Eric Miranda
41.5″x81″
acrylic and tempera on canvaas
2016
Courtesy of the artist and FIELD Contemporary, Vancouver