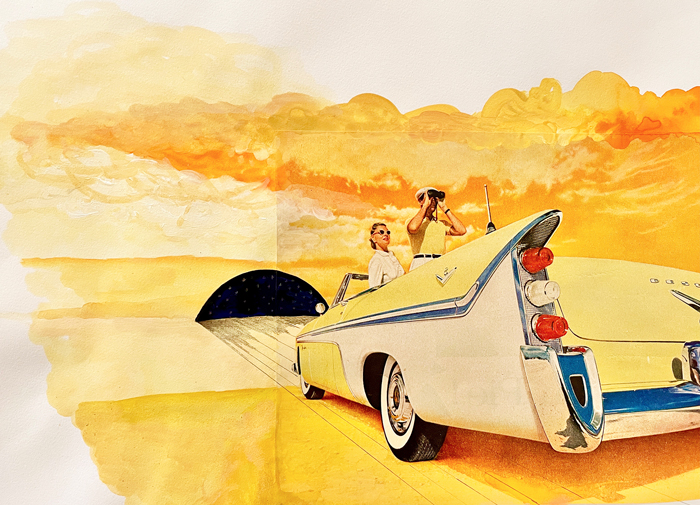 COLLAGE ON VIEW
Erin McCluskey Wheeler: This Color Reminds Me of You
at Creighton University's Lied Art Gallery in Omaha, Nebraska, USA
21 January-1 March 2022
"This Color Reminds Me of You" is a collaborative collage project with Creighton students and artist Erin McCluskey Wheeler, along with Wheeler's own works.
McCluskey Wheeler makes artwork about memory, language and color, and will be working with Creighton students during the University's Founder's Week, 7-11 February 2022, on a collaborative collage project in the gallery. The collaboration, "For the Birds", will be exhibited alongside her "Glitter Highways" series of paintings with vintage cars and other works on paper.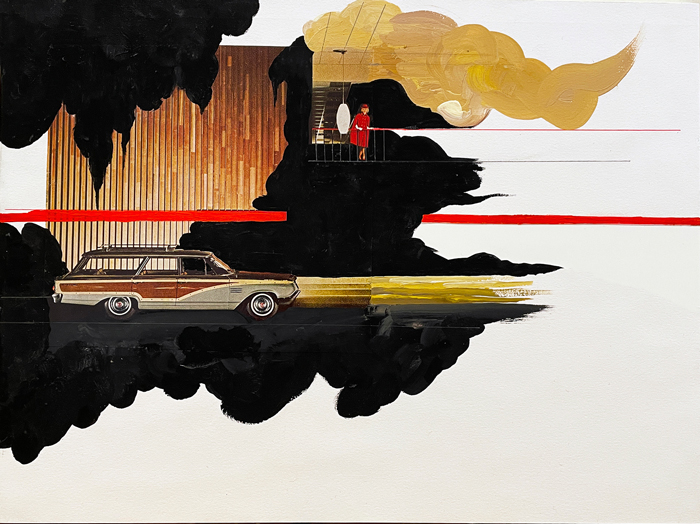 McCluskey Wheeler's work is about reinvention and restoration. She cuts up, groups and rearranges her paintings on paper and found papers in a process of transformation–an intentional act of breaking apart and putting things back together. The process starts with color and texture and is additive and iterative–letting the pieces determine the final composition and shape of the pieces.
McCluskey Wheeler is a painter, collagist, writer, curator and teacher based in the San Francisco Bay area. She is a faculty member of the 92nd Y School of the Arts in New York City and teaches collage and mixed media classes throughout the Bay area.
Erin McCluskey Wheeler is the 2022 World Collage Day Poster Artist.
She has shown extensively in galleries across the country, and her work is also licensed and sold through West Elm, Minted, Samsung and Target. She has won multiple awards for her visual art and poetry including top prize for poetry from Northwind Arts in Port Townsend. In 2018-2019, she was the Artist in Residence for The City of El Cerrito's Recycling Center. McCluskey Wheeler earned her bachelor's degrees in studio art and art history from Beloit College and a Master of Fine Arts degree from California College of the Arts in San Francisco.
(text adapted from the gallery's press materials)
---
Lied Art Gallery
Lied Education Center for the Arts
Creighton University
Corner of Cass and 24th Streets
Omaha, Nebraska 68178 USA
(402) 280-2700
Hours:
Monday-Friday, 8AM-8PM
Saturday-Sunday, 10AM-4PM