COLLAGE ON VIEW
We the People: American Art of Social Concern
at Ulrich Museum of Art in Wichita, Kansas, USA
20 January-25 March 2018
We live in a time of heightened awareness of the broad injustices within our society. Despite the fact that the United States of America was theoretically founded on the principle of equal rights for all citizens, the definition of those who were considered as citizens has shifted over history. Race, gender, and ownership of property have been some of the qualifiers used to deny people equal rights and protections under our Constitution.
Since the mid-19th century, artists have voiced the need for greater awareness and progress toward addressing social concerns such as sexism, economic inequality, and political corruption. The works of art presented in "We the People" span from the McCarthy era of the 1950s and continue to the social issues of today.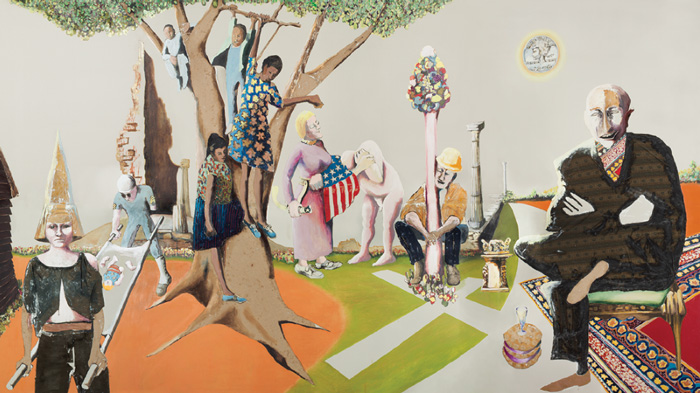 One of those works is Symbol, a large, 1970s oil and collage work by Benny Andrews (a detail of which appears here).
The exhibition is drawn from the extensive permanent collection of the Ulrich Museum (now numbering almost 7,000 works of art) and is collaboratively curated and presented by Ulrich Director Bob Workman, Wichita State University School of Art, Design & Creative Industries Assistant Professor Dr. Brittany Lockard and the eleven students in the Fall 2017 class Realism/Activism/American Art.
(adapted from the museum's press materials)
---
INFORMATION
Ulrich Museum of Art
Wichita State University
1845 Fairmount Street
Wichita, Kansas 67260 USA
(316) 978-3664
Hours:
Tuesday-Friday, 11AM-5PM
Saturday-Sunday, 1-5PM
Images:
Symbols
by Benny Andrews
96″x432″
oil and collage on canvas
1970
Gift of Mr. Milton Ratner
Courtesy of the Ulrich Museum of Art at the Wichita State University, Kansas