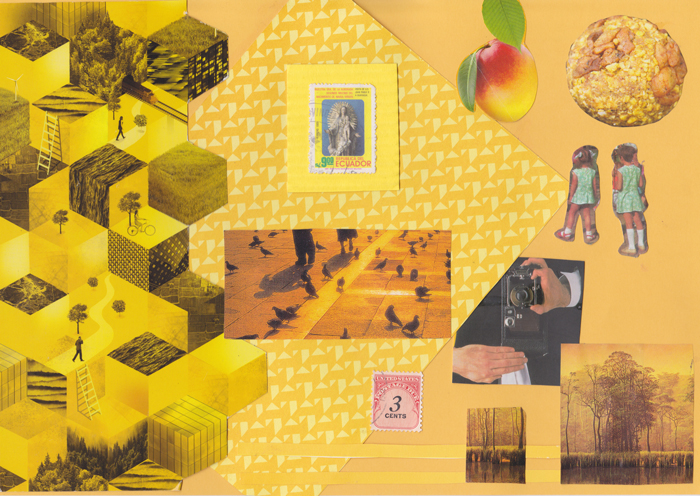 COLLAGE ON VIEW
Where the Sun Casts No Shadow: Postcards from the Creative Crossroads of Quito, Ecuador
at the Knoxville Museum of Art in Knoxville, Tennessee, USA
6 January-19 February 2023
Wrapped around the eastern slopes of the Pichincha volcano, in the Guayllabamba River basin, Quito, Ecuador is a 16th century city and a thriving modern day metropolis. In the city's La Floresta neighborhood, artists and writers mix with entrepreneurs and digital nomads. "Where The Sun Casts No Shadow: Postcards from the Creative Crossroads of Quito, Ecuador" brings together the in-camera collage works of Stephen & Eve Schaub, the murals of Mo Vásquez, documentary photographs of PLAYhouse in Quito, the poetry of María Clara Sharupi Jua in Spanish, English, and Shuar; and art from Quito's El Club de Collage.
The collage, poetry, and photographs in "Where The Sun Casts No Shadow" touch upon themes as wide-ranging as the role of murals and poetry in Latin American culture to issues of the safety of women to how indigenous people are shaping their country's future. The exhibition traces the role collage plays in art community building and offers a counternarrative to the portrayal of Latin America as in a state of constant crisis. "Where The Sun Casts No Shadow: Postcards from the Creative Crossroads of Quito, Ecuador" is a testament to the power of artist communities.
The exhibition is a project of EveNSteve, Kolaj Magazine, and Kasini House. The exhibition is curated by Ric Kasini Kadour.
EveNSteve
EveNSteve is the creative team of author Eve O. Schaub and artist Stephen Schaub. They met at Rochester Institute of Technology's photography program in 1995 and have been working side by side ever since, each creating their separate projects, but always in consultation with each other. In 2019 they formed EveNSteve and began collaborating on monumental artworks that incorporate both photographic imagery and handwritten text.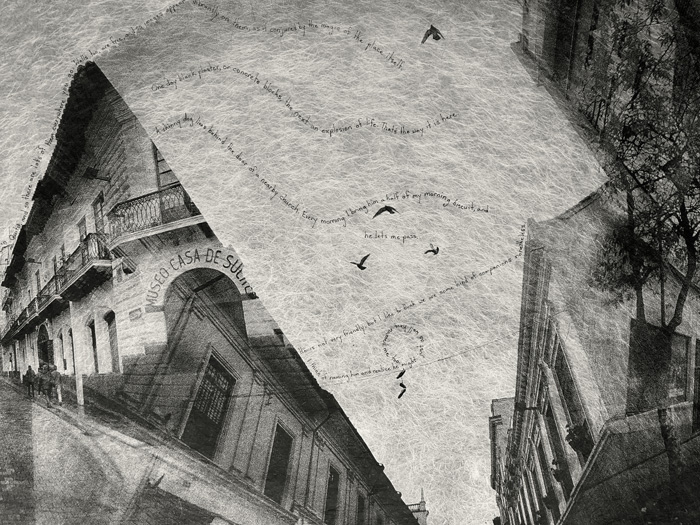 Stephen M. Schaub's works have been described as "art dreaming about itself." In his Vermont studio, he combines monumentality of scale with light-sensitive techniques and the presentation of works on paper, to create each unique work of art. Schaub's works have been exhibited around the world, including New York City, the Hamptons, Vermont, New Orleans, Singapore, Paris, Scotland and are part of the Polaroid Collection. Most recently his work has been on display at Helmholz Fine Art in Manchester and The Artist Book Foundation at MassMOCA in North Adams, Massachusetts. Stephen Schaub traveled to Quito from May 25-June 3, 2019. www.stephenschaub.com

Eve O. Schaub is the author of Year of No Sugar (2014) and Year of No Clutter (2017). She has been featured on USA Today, The Huffington Post, and The Boston Globe among others. Her essay "Our Year of No Sugar: One Family's Grand Adventure" for Everyday Health has been viewed over a million times. Her writing has also appeared in Vermont Magazine, Vermont Life, VTDigger, and The Boston Globe Online. She holds a BA and BFA from Cornell University, and a MFA from the Rochester Institute of Technology. www.eveschaub.com
The Schaubs live and work in Pawlet, Vermont, USA. To learn more about their collaboration visit www.evensteve.com.
El Club de Collage Quito
El Club de Collage Quito started meeting in 2017 when some of the members found a bunch of magazines on the street one night. The club is working to open a cultural center called La Nube where they expect to expand their work in collage with others. Members are Ariana Sánchez Romero, José Andrés Gallardo, Guillermo Segovia, Juliette Jara, and Juan Fernando León. Learn more at elclubdecollage.wordpress.com.
María Clara Sharupi Jua
Poet María Clara Sharupi Jua was born in the town of Sevilla Don Bosco in the Ecuadorian Amazon. Sharupi studied sustainable development at Universidad Politécnica Salesian and is part of the Institute for Ecodevelopment in the Amazon Region, an organization that represents indigenous people in Ecuador and she works as a translator and broadcaster for several radio and television outlets. She is an active member of and principal spokesperson for the Centro Shuar Consuelo. She has presented her work both nationally and internationally, including Italy, Venezuela, the United States, Mexico, Chile, Colombia, Guatemala and Peru. She was recognized in 2009 by Petroecuador's Production Assistance Workers for her constant struggle for oil workers' rights. In 2011, she served on the committee that translated the Constitution of Ecuador from Spanish to Shuar. In 2012, she was named Woman of the Year in Literature by Revista Hogar (Home Magazine). She is active with the World Poetry Movement and presented at the first International Colloquium of Indigenous Women Writers. She was the 2016 winner of the Ostana Prize-Writings in the Mother Tongue and was invited to speak on Shuar literature at the University of California, San Diego. She was named the first Shuar woman corresponding member of Ecuador's National Academy of History in 2017. Her poetry often draws on the traditions and imagery of the Shuar people. She writes in Spanish and Shuar and her poems have been published in two anthologies, Amanece en nuestras vidas and Collar de historias y lunas as well as numerous literary journals. In 2019, Ediciones Abya-Yala in Quito published Tarimiat, book of stories and poems with rescued photographs of the Shuar people from the Sixties and Seventies.
Mo Vásquez
Born in Quito, Monica "Mo" Vásquez has at various times worked in or studied scenography and costumes, visual communication, art direction for cinema, art history, drawing, painting and design both in Ecuador and Argentina. In addition to maintaining a fine art practice and teaching workshops on creativity, recycled and organic art, Vásquez brings art into the public space through her mural work, with a focus on nature and the environment. She has been selected to participate in urban and visual arts festivals in Ecuador and internationally and has exhibited her work in solo and group shows in Mexico, Argentina, Colombia, and Ecuador. Vásquez' work has been reproduced in books and catalogues and is held in several private collections. www.movasquez.com
PLAYhouse
Quito's PLAYhouse was founded in 2018 by three dreamers from Ecuador, Venezuela and India who met while couchsurfing in 2015. PLAYhouse is the first co-living space in Ecuador and is an international co-working space focused on digital nomads, artists, and entrepreneurs. They advocate and promote women's empowerment, gender equality and sexual diversity through creating spaces for artistic expression, training and networking events. Learn more at www.playhousequito.com.
---
INFORMATION
Knoxville Museum of Art
1050 World's Fair Park Drive
Knoxville, Tennessee 37916 USA
(865) 525-6101
Hours:
Tuesday-Saturday, 10AM-5PM
Sunday, 1-5PM