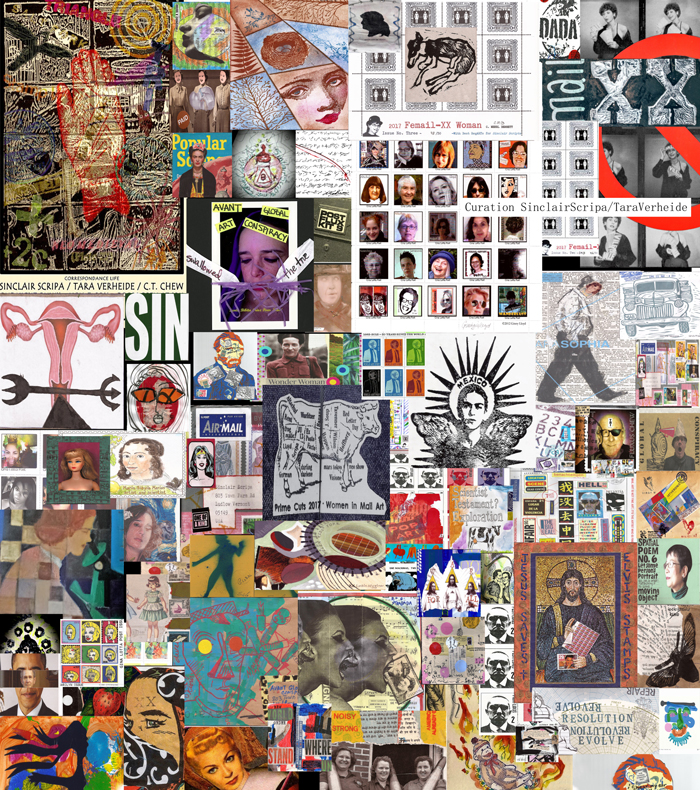 The Global Postal Art Show:
Women Art Scientists in the Avant Garde Now
9 September-1 October 2017
"The Global Postal Art Show: Women Art Scientists in the Avant Garde Now" is a multi-national art exhibit featuring the work of over 200 artists who mailed in artwork from over 20 countries. The show is prolific, taking up all 3 spacious galleries of what was a historic, stone church, now Stone Valley Arts in Poultney, Vermont, USA.
The work ranges in style, media and size: from large posters, paintings and collages, to smaller assemblage, assembling boxes, artist books, documents, 'zines, altered photos, Dada-objects, Flux-boxes, Flux-scores, original postcards, to unique rubber-stampings and artistamps. All works are exhibited along with the envelopes and packaging they arrived in. Conceptually and intellectually, the works cover a broad range of topics and ideas that frequently humour and often surprise the viewer.
The majority of postal art included in the show is the result of 2 separate open calls to artists posted on Facebook and other social media by curator Tara Verheide under her moniker, Sinclair Scripa. The calls requested work with the themess of "Women Art Scientist" or "Avant Art in the Global Conspiracy of Now". Anyone and everyone was invited to interpret their theme of choice by making and mailing an original art work to Verheide, with the understanding that no artwork would be rejected or returned. Each work remains in the calls' permanent archives. Open art calls are a standard practice amongst mail artists, and the calls for this exhibition yielded fantastic results with unique perspectives and novel approaches to the themes. Also installed in the show are many personal artworks, artifacts, 'zines and texts taken from the curator's personal archive of postal art, which made for a comprehensive survey of the formats, modalities and art genres (e.g., Fluxus, Dada, Neoism) that postal artists typically touch upon or utilize to expand their "network" of collaborators or correspondents.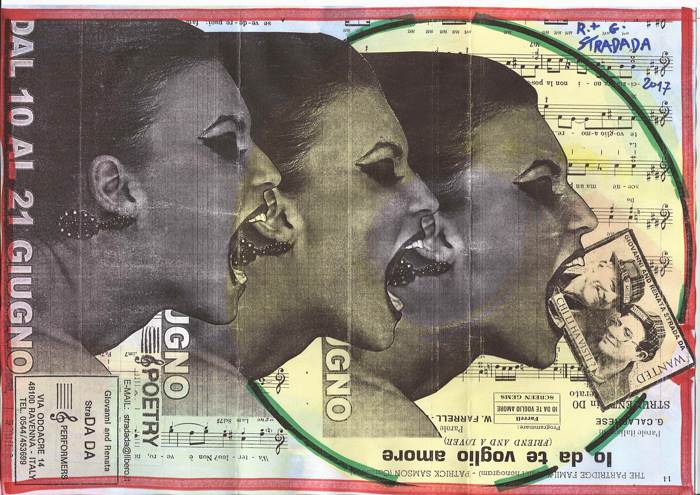 The exhibition is of special interest to all people interested in the promulgation and augmentation of artwork done by women. On the first (9-10 September) and last (30 September-1 October) weekends of the show is a series of special events to celebrate women artists, including the opening reception on 9 September; a Forum on 10 September (3-5PM); and intermedia performances on 29 and 30 September, starting at 7:30PM.
(adapted from the curator's press materials)
---
INFORMATION
Stone Valley Arts at Fox Hill
145 East Main Street
Poultney, Vermont 05764 USA
(802) 884-8052
Hours:
Most Sundays, 1-4PM
Image (centre):
work by Giovanni and Renata Stradada