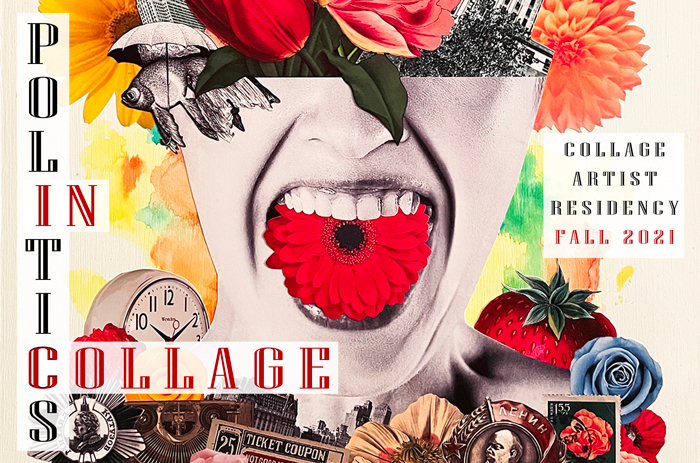 COLLAGE RESIDENCY
Kolaj Institute Announces Artists Selected for the Politics in Collage Residency
Kolaj Institute is pleased to announce the twelve artists selected to participate in the Politics in Collage Residency.
Collage as a political art form has a particular relevance to today as well as a strong historical context. From its roots in the European anti-facist and Russian revolutionary movements in the early 20th century to its expressions during the U.S. Civil Rights era to its current manifestations in the fight for social justice in South America, collage is used by artists around the world as an impetus for social and political change.
In four virtual meetings over four weeks and through ongoing, online discussion, artists will examine contemporary social and political issues as shown through collage. Artists will hear from a variety of guest speakers about the historical context of this genre; how to articulate complex political subjects both in their work and in promotions of their work; and explore how we can continue to inspire meaningful engagement with difficult topics through collage.
Artists in the residency will conceptualize and begin work on a piece exploring a political or social subject of their choosing. Although the works may not be completed by the end of the residency, they will be regularly critiqued and discussed by the group throughout. Artists will write an artist statement that documents and provides critical context for their work. The completed work and texts from the residency will result in a book published by Kolaj Institute and an exhibition, whether in-person or online, to be determined at a later date.
G.E. Vogt will be leading the residency, shedding light on her own work as a political collage artist, as well as moderating discussions and sharing resources with artists. Ginger Sedlarova will speak about Friedl Dicker-Brandeis, an Austrian-born Jewish artist who successfully worked in a variety of mediums, including her agitprop photomontages in response to the rise of the Nazi movement in Austria and Germany, but may be best known for teaching art to the children in Terezin. John J Heartfield will discuss the history of his grandfather, John Heartfield, and how his work was not only a crucial part of the resistance to fascism in World War II, but is still impactful in today's world. Wendy Parker will take the artists through a broad history of political collage, how it has engaged with and influenced different socio-political movements. Teri Henderson will speak on curating political collage in the contemporary art world, overcoming the challenges of doing so by creating new spaces for artists to be heard. Liucija Dervinytė will use her experiences as a collage artist, gallery owner, and creative space director to discuss the practical aspects of working as a political collage artist.
The goal of this residency is to help collage artists who are creating social/political work, or interested in doing so, to grow and expand their practice. By the end of the residency, the participants will be able to practically apply to their own work what they have learned from lectures and discussions with historians, curators, and working artists.
---
PARTICIPATING ARTISTS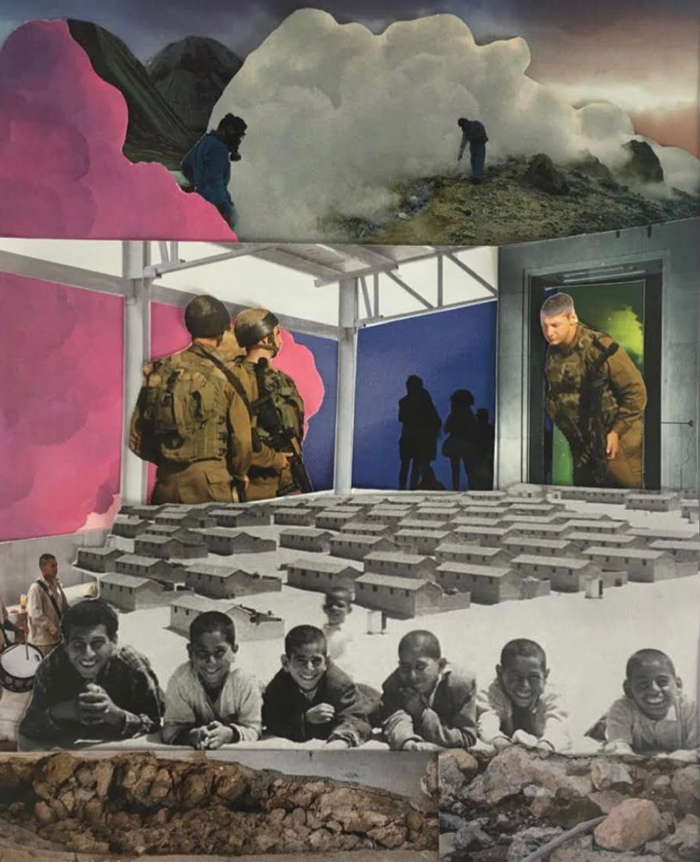 In 2015, Nola Abboud started doing collage art in Beirut, Lebanon, after dealing with severe depression stemmed from the political and social circumstances in the Middle East and her daily exposure to news. Nola writes, "It was as though I had my stored 10 years of working in the political field go into a vicious battle to be heard and seen. I scared old and new paper to glue my wounds that came from my exposure to war, injustice, stigma, violence, trauma, and inequality that targeted the community I mostly associate with." Rather than seeing loss and ruin, Nola chose to see an opportunity to create work that echoed her feelings, experiences, and thoughts. Nola graduated with a BA in Public Administration in 2012 from the America University of Beirut. She started her career as a political analyst reporting on societal, political, cultural, and economic changes that were unfolding in the Middle East. In 2018, Nola did her Masters in Southeast European Studies at the National and Kapodistrian University of Athens and was enrolled in art classes at Iris Art Center. The summer after her move to Athens, Nola travelled to Salzburg to do a residency at the International Summer Academy of Fine Arts in Salzburg, where her art was exhibited. Nola seeks to further strengthen her artistic skills to be able to better send those difficult messages.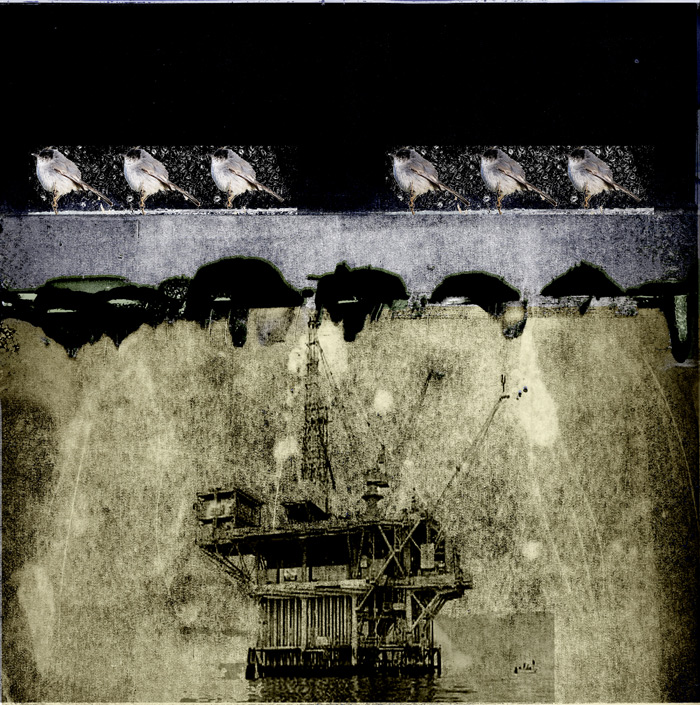 Jana Zimmer is a Santa Barbara artist and writer who has exhibited in solo and group shows for fifteen years locally, across the U.S., and internationally, in Spain, the Czech Republic, Germany, Bulgaria, China, and New Zealand. She is a member of the Santa Barbara Printmakers, the Los Angeles Printmakers, and the Southern California Jewish Artists' Initiative. She also served on the Santa Barbara County Arts Commission. International exhibits include the 34th International Miniprint in Cadaques, Spain, and a three woman exhibit, with a Czech and a German artist, in Freiberg, Germany, entitled "We Are Still Here", and exhibits in Prague and the Terezin Ghetto Museum, in 2007. In September, 2015 and October, 2019, her work was included in the Jerusalem International Biennale. She was a presenter in March of 2015 at the Conney Conference at the University of Southern California, at Kolaj Fest in New Orleans (2018) and Montreal (2019) and is also an author of an art book, with fiber artist Sharon Marcus, entitled Collaboration. She has also authored the first "coffee table law book", Navigating the California Coastal Act (Solano Press, 2018), which contains ten of her digital collages. Jana's work includes monotype, collage, assemblage and mixed media on the themes of historical and political responsibility and memory.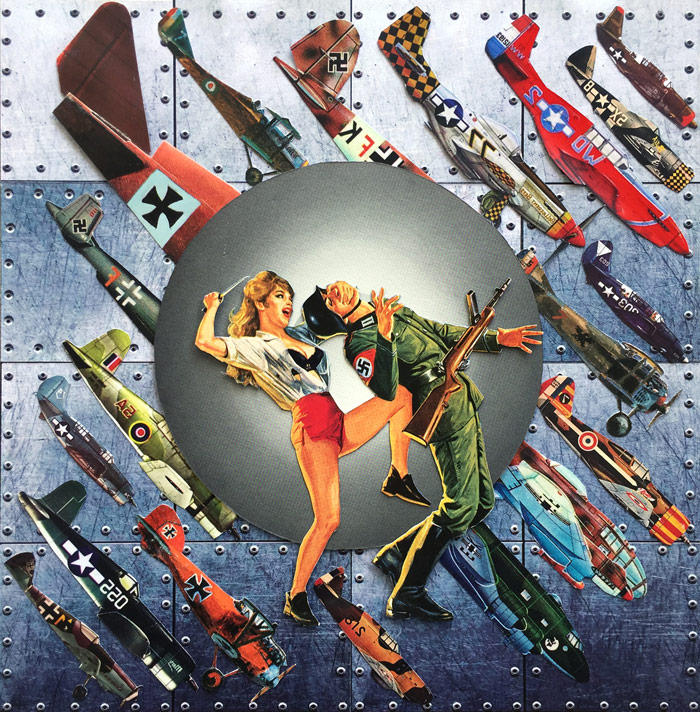 Kike Congrains is a self-taught artist living and working in Lima, Peru. He works primarily on paper, either analog collage, sculpture or paper toys. He has participated in various group exhibitions around the world, including Norway, Argentina, Scotland and Spain. He participated in Kolaj Fest New Orleans 2018 and 2019. Through his Collagewave project, Congrains offers collage workshops to adults and children throughout Peru.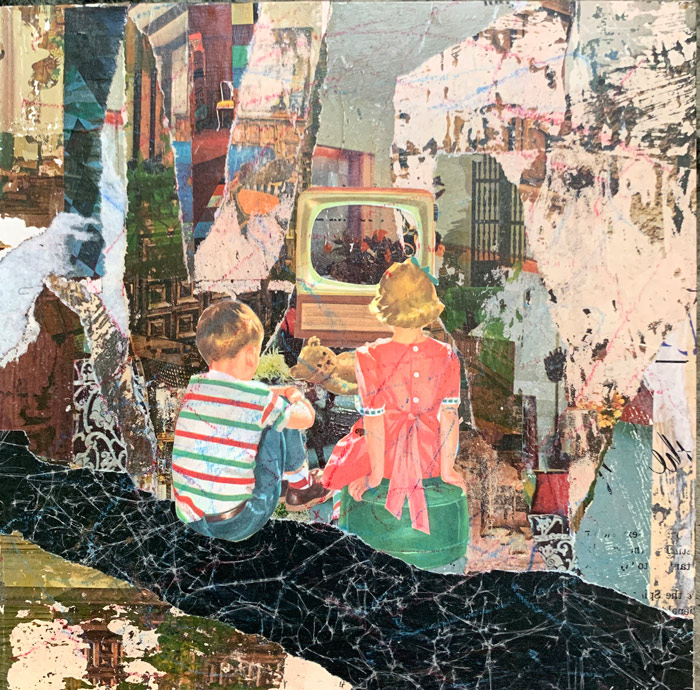 Phyllis Famiglietti is an award winning film and video editor, working in the field for over 35 years. Famiglietti started off as a news and documentary editor at NBC, and then opened her own shop where she edited films for numerous clients including photographer and filmmaker Bruce Weber. Working with Bruce's incredible imagery helped to inform a layering style that became a signature of her video work. Famiglietti has also been snapping stills and experimenting with photography since childhood. As the medium advanced from analog to digital she created imagery combining color and black & white photos collaged and manipulated in photoshop. Famiglietti then felt a pressing need to go beyond the constraints of video and photography and so ventured into the world of analog collage. The work she now produces utilizes the genres she know so well, but in a much more tactile way. She appreciates the freedom of using her hands to break away from computer screens and physically manipulate image and form. Famiglietti's work has been shown in galleries in Brooklyn, Chelsea and Westchester, NY. She is a member of Upstream Gallery in Hastings-on-Hudson, NY and was featured in the World Collage Day 2019 Special Edition from Kolaj Magazine. A former New Yorker, she now lives and works in Boston.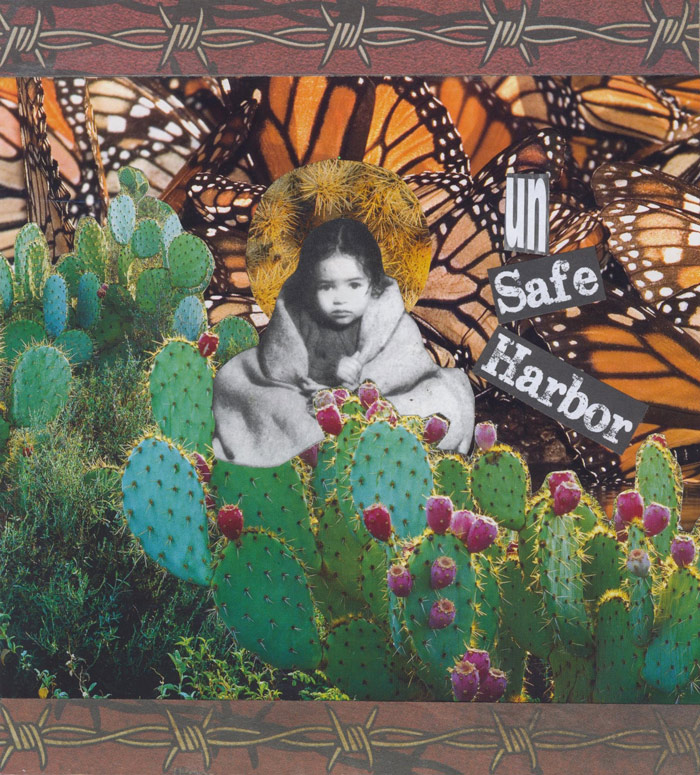 MaryHope Lee is an artivist. Born and raised in San Diego, California, Lee currently lives and works in Phoenix, Arizona. From 2008 to 2010 she was a member of Artist Resistance Movement for Dignity (ARMD), an artist collective inspired by Zapatismo. She embroidered silk-screened patches. Lee has also been involved with The Migrant Quilt Project as an embellisher and finisher, and with Fuentes Rojas as an embroiderer and finisher. She has been experimenting with collage since the early 1970s when she bought the inaugural issue of Essence magazine and began collaging images of African-American women. Lee writes, "I was so happy to see black women in magazines other than Ebony or Jet that I made two large collages for the living room wall and collaged the top of a coffee table made from a plywood door and two industrial wooden spools." Nuclear Waste, a deeply personal exploration in poetry and collage, addresses the lived consequences of family violence. It is a hand-made, hand-sewn cardboard-covered book with a chapbook edition. The Border Lights Candles series is a collection of collages on 7″ glass votive candles. These images directly address the day-to-day violence occurring along the US/Mexico border. Lee's work has also appeared in Superstition Review. Whenever possible, Lee donates her work to community fundraisers for silent auctions.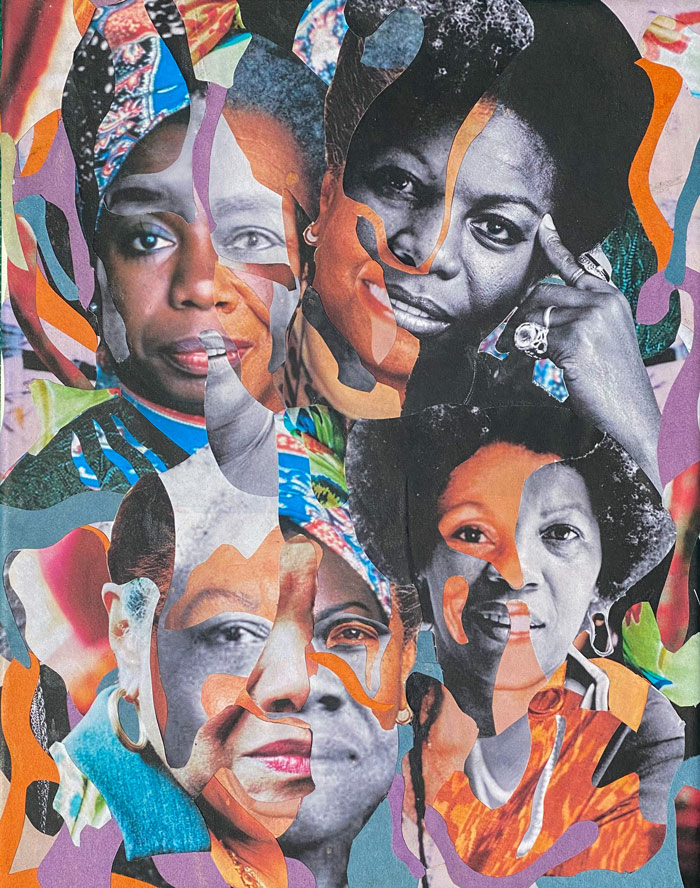 Jordan Fobbs is a Black queer non-binary artist from the Bay Area. They currently live in Santa Barbara, CA where they attend UCSB, majoring in Black Studies and Sociology, with a minor in Art. Fobbs has been an artist all their life, but only began to take their art seriously once they got to college. After a long hiatus, Fobbs began their current practice in 2019, fueled by the culture shock of their environment. Experiencing anti-Blackness, as well as new revelations with their gender identity, urged Fobbs to use their voice, not only through student leadership, but through art as well. In Fobbs' art practice, they cut portions of faces (historical/political figures, celebrities, or even themselves) and collage them to create entirely new subjects. The intention is to illustrate something in common among the individuals depicted, to imply a shared struggle, cause, or ideology, emphasizing the actions of the collective rather than the individual. These figures are a simulacrum of ideas, systems, and movements, meant to be critiqued and refigured through viewership. Fobbs' work, Shattered Prisms Prelude, was exhibited at the California Institute of the Arts on February 15th, 2020. This gallery was a series of five works (three collages, a mixed media piece and poem) intended to serve as a prelude to their current project, Shattered Prisms. One of Fobbs' collages, Harlem re:naissance, was commissioned as the logo banner for the UCSB Black Feminist Futures Initiative.
Bryan Robertson is a visual artist based in Prescott, Arizona, USA. He holds an MFA in painting and drawing with distinction from the University of Washington, Seattle. Robertson has received several university and non-profit grants to support his research and held solo exhibitions in commercial and non-profit spaces. He has presented at national conferences, including the College Art Association, Foundations in Art: Theory and Education, SECAC, and the New Media Caucus. His recent exhibitions include digital paintings at the CICA Museum in Gimpo, South Korea, and experimental sound and video work at Wavelength Projects in Kearny, New Jersey. Currently, he is an Associate Professor of 2-D visual arts at Yavapai College in the mountains of central Arizona. Direct yet conceptual. Provocative and engaging. Robertson's paintings and digital art are poetic visual language. The rhythmic quality of his palette and mark-making beat on the aesthetics humming below the surface of human experience. Concerning today's digital experience, Robertson seeks content that explores the Internet's ability to amplify cultural fractures and reinterpret conventional social narratives.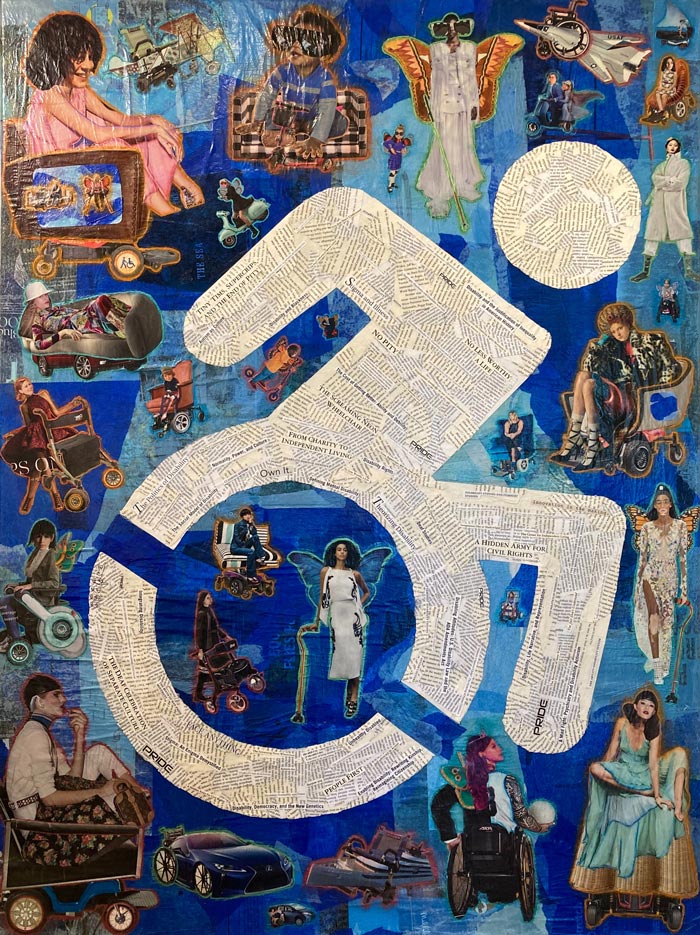 Emily Tironi was born and raised in Cambridge, NY in 1996. She was born with a muscle disease causing weakness and fatigue and the use of a wheelchair for long distances. She enjoyed all types of art since childhood and grew up entering her art in the Washington County Fair. Throughout high school, she loved art class and used drawing, painting and collage as an outlet for her struggles and a way to express herself. After graduating high school in 2014, she attended SUNY Adirondack and pursued a degree in media arts. Here, she discovered photography and began to photograph nature around her. In 2016, several of her photos were published in SUNY Adirondack's literary magazine, Expressions. She also received SUNY Adirondack's Parnassus Award in Graphic Arts. She graduated and transferred to CUNY School of Professional Studies in 2016 to pursue a degree in Disability Studies. While studying disability in cultural and societal aspects, she began to use her experiences as a person with a disability in her art. Studying Frida Kahlo in college, Emily was inspired by her surrealist style and expression of disability and self in her work. She was inspired to do larger, more layered works after taking an online workshop with outsider artist, Anne Grgich. She combines layered paper images and bright colors to create complicated pieces with unique messages. Her collages have been shown at area galleries and published in art publications. Her work was selected for the 31 Women exhibit at the Sedona Arts Center and she was part of the Emerging Artists 2020 exhibition at Limner Gallery in Hudson, NY. In August 2020, Emily had her first solo exhibition at Southern Vermont Art Center in Manchester, VT. Throughout the pandemic, she has participated in several online artist residencies and exhibitions. Emily currently lives in Cambridge, NY and works on her collages daily.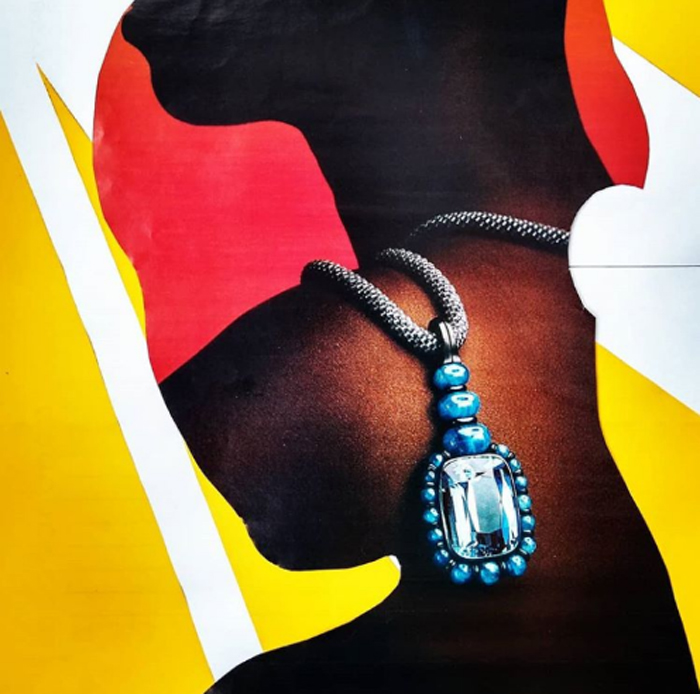 Gayathiri Kamalakanthan is a self-taught collage artist, queer activist and arts-based educator, living in the South of England. Whilst studying Hindu Theology, Gayathiri started creating decolonial artwork for Cambridge University's student newspaper. Since then, they have had 7 years' experience working in arts-based education. Gayathiri currently leads "Queer Collaging" workshops with the School of Sexuality Education where collage is used to challenge colonial constructions of being and beauty. Gayathiri uses collage as an educational tool to unpack political issues including European beauty standards, body image, diversity in the media, queer identities and self-talk. Gayathiri works with Decolonising Contraception, facilitating culturally specific workshops, giving underrepresented young people the opportunity to see themselves as both artist and subject, in the UK's largely middle-class and white-dominated arts sector. This act of collective collaging empowers participants to craft back narratives, explore cultural relativism and redefine pleasure within a supportive, POC network. In 2020, Gayathiri founded Inclusive Tamil Arts (ITA), an online community space for people of all sexualities and genders, to create and celebrate inclusive Tamil arts and culture. Through interdisciplinary, creative workshops, ITA works towards the dismantling of and healing from colonialism, displacement, anti-Blackness and queerphobia within Tamil communities. Supported by Arts Council England and African Health Policy Network, ITA offers itself as one solution to a lack of meaningfully tailored and inclusive programming in the UK's arts and culture sector. Gayathiri's artwork is featured in work by Studio Voltaire, Decolonise Fest, Drawn Poorly Zine, ANBU UK, and Kolaj Magazine.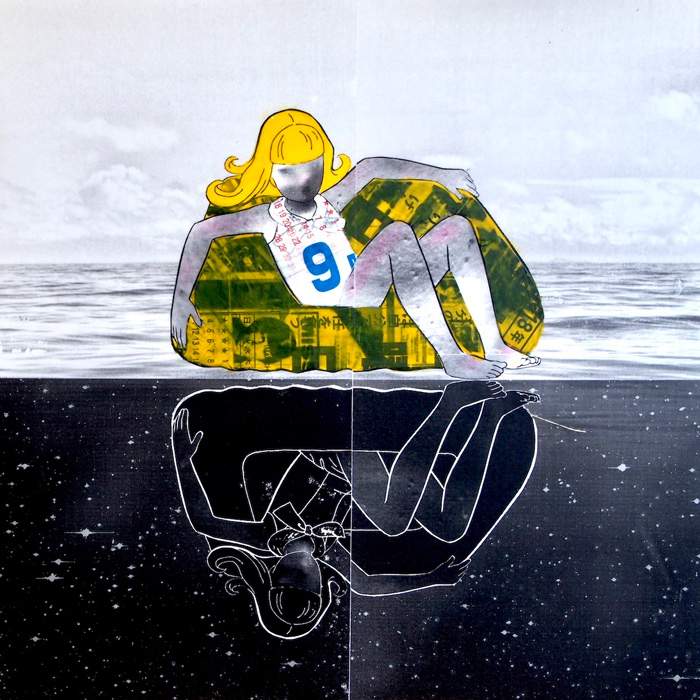 Stephanie Todhunter received a BA from Bowdoin College and did postgraduate work at the University of Minnesota. Her work was recently exhibited at the Kathryn Schultz, Maud Morgan, Galatea, and Abigail Ogilvy Galleries, and in the AREACODE Art Fair and Boston International Fine Art Show. She was awarded the Mozaik Future Art Award in 2020 by Mozaik Philanthropy Los Angeles and Artist of the Year 2017 by the Cambridge Art Association.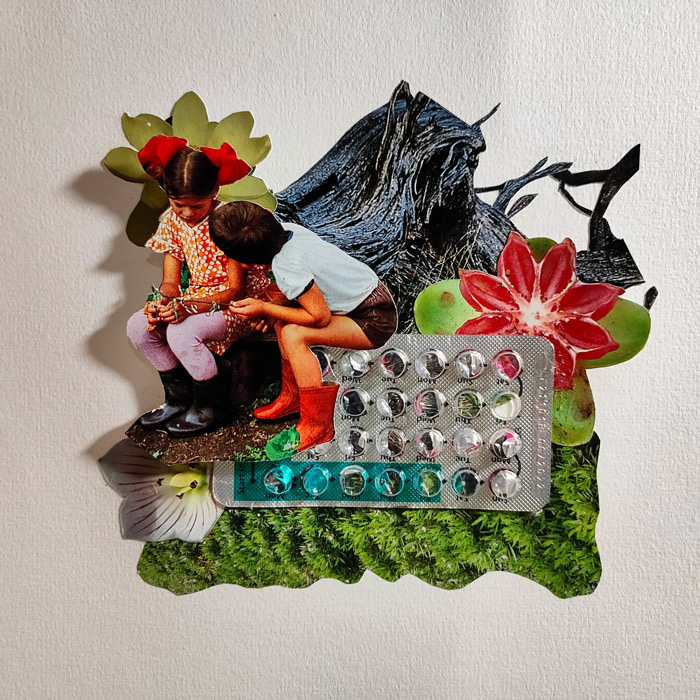 Susana Belen lives in Australia, but she was born in Chile, in a family very inclined to artistic talents. Knowing that her life was irretrievably linked to art, but still trying to figure it out how, she decided to study a Bachelor of Theory and Art History, from where she came out with top honors, but with a great existential void. After a couple of years of denying everything related to the artistic world and its meaning in her life and in society, collage appeared as a revelation; what she had always been looking for, had been always there: the desire to connect the remnants left in this world by different cultures, at different times and in various formats, with the aim of externalizing how intimate a work that exposes and re-exposes experiences taken from their original context can become. In 2021, after working with collage for almost two years, she decided to start showing her work to the world, getting selected for different exhibitions and publications in Spain, Italy, Mexico, USA, Chile, Peru, Venezuela and England.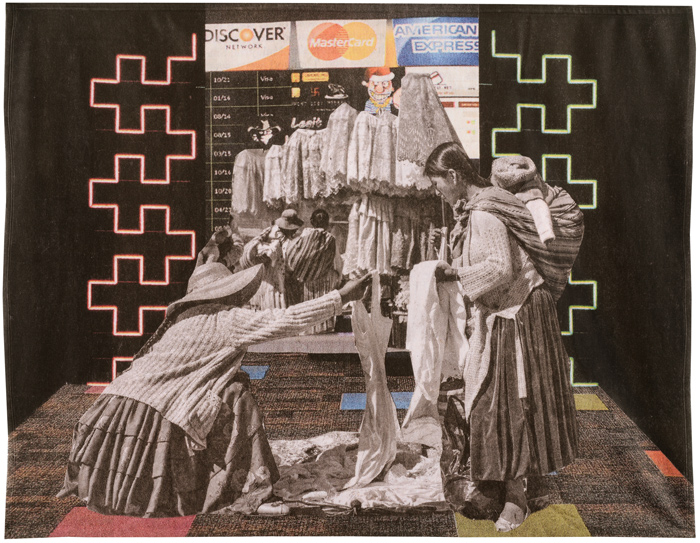 Penny Mateer, artist/activist, works with textiles and recycled materials. Mateer's art is rooted in quilting and embroidery traditionally thought of as "women's work." Drawing from this rich history of creating functional objects intended to provide warmth and comfort, she uses fabric as her primary material because it is both recognizable and relatable. Her work centers on social, political and economic issues with the goal to spark thought and discussion. As a daily practice Mateer works in newspaper collage to mark history and to pay homage to photojournalists and the important role of newspapers in our democracy. She also organizes Pole-2-Polls, an on-going community-made public fiberart project that promotes voting. Mateer has received numerous awards including Best of Show Fiberart International 2016 and was an artist-in-residence at MASS MoCA. Her work is in the Pittsburgh Public School System collection. She was co-director of Knit the Bridge, a community-made public art project installed on the Andy Warhol Bridge in Pittsburgh. Mateer lives in Pittsburgh, Pennsylvania.
---
FACULTY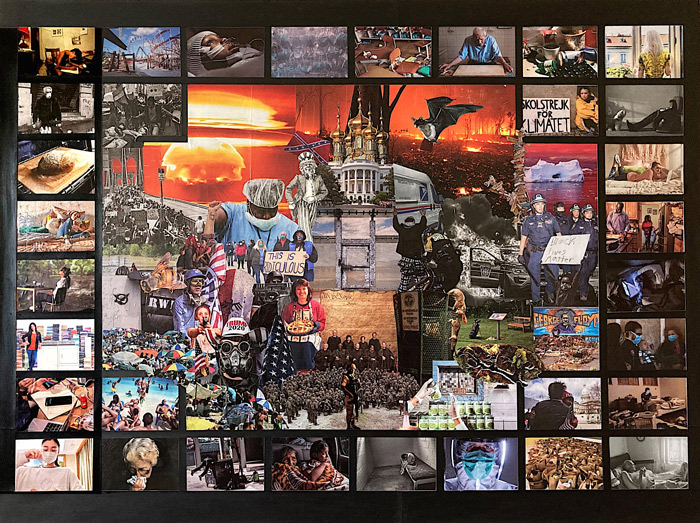 G.E. Vogt
G.E. Vogt's entry into the visual arts stemmed out of her original training as a performance artist and director, highly focused on social and political themes. In order to create the physical performance art she was interested in, she would gather "found" materials from as many arts as possible until the performance pieces became living collages, each telling a visceral story to their audiences. The unique ability of collage to use the juxtaposition of complementary and contradictory elements in order to explore a multi-faceted theme is what drew Vogt to working in collage exclusively. This characteristic of incorporating any medium, material, or found object into telling a complex narrative is what makes it one of the ideal art forms in which to create work about complicated social and political issues. Since 2017, she has exhibited in various group shows across the U.S. In 2019, Fresh Paint Gallery held a major exhibition of Vogt's work and she spoke on the "Women In Collage" panel at the annual Kolaj Fest New Orleans. Most recently, she has begun curating the SoPoCollage page to showcase other artists who specialize in social & political collage, and participated in Kolaj Institute's Money Money Collage Residency. Her works have continued to explore many of the themes she has been interested in since her performance work and which have become increasingly relevant – the unmanageable socioeconomic gap, the various forms of inequality prevalent in the U.S, and the toxicity of our political climate.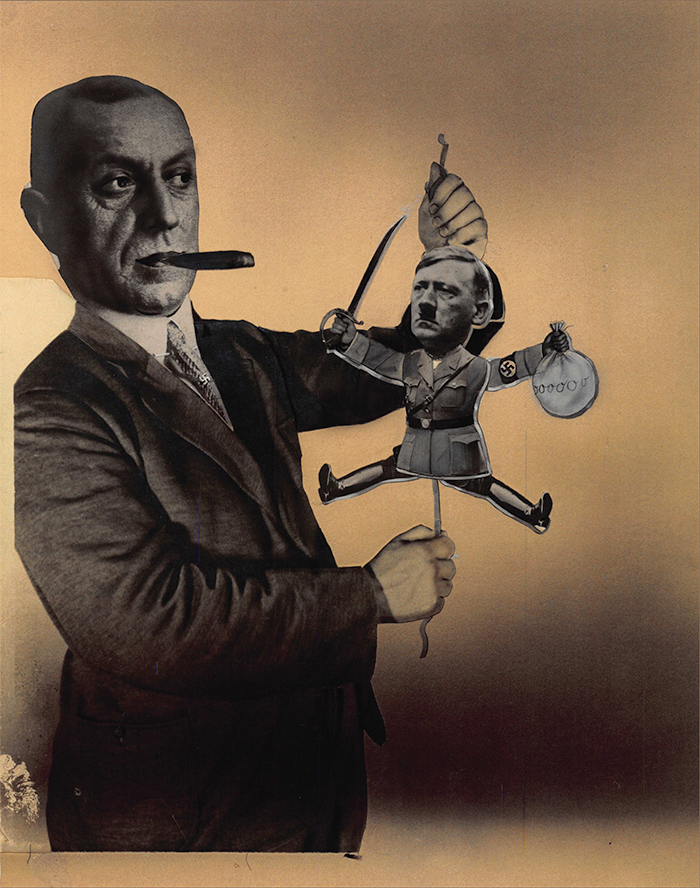 John J Heartfield
Red Burns, the founder of NYU's multimedia program, described John J Heartfield as "a wonderful blend of the technical and the artistic, a musician with a keen appreciation for the visual arts." John received a Tisch School of the Arts award "for pioneering work in interactive media." John is the paternal grandson of the groundbreaking Dada artist and graphic design genius, John Heartfield. With the artist Lance Hansen, John is writing a graphic novel focusing on his grandfather's cinematic life. The first chapter, The Night the Nazis Came to Murder My Grandfather, appears online and in print in The Nation Magazine (April 12, 2021). A chapter regarding German Dada's turbulent years will be available soon. An accomplished musician and songwriter, John has brought together a group of brilliant musicians for One Hand!, an upcoming international multimedia event to encourage voter participation. You can find out more about John's words and music at JohnHeartfield.com. John curates The John Heartfield Exhibition (JohnHeartfieldExhibition.com). In 2009, he built the exhibition to increase his grandfather's recognition and renown. The Heartfield Exhibition continues to grow beyond the most optimistic expectations. Today, it features world-class contemporary collage artists. Events worldwide ask Professor Heartfield to give his interactive presentation, Art As A Weapon. Audiences are particularly delighted to hear stories about his grandfather's fascinating personality and anecdotes from when John enjoyed vacations with his grandfather in Europe.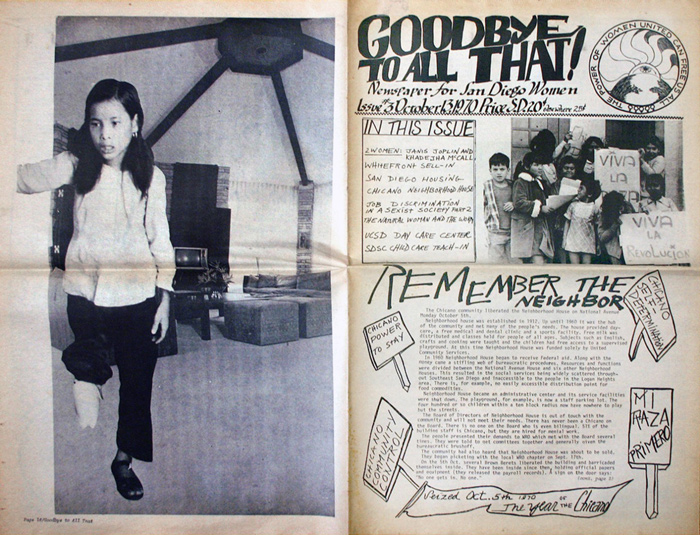 Wendy Ann Parker
Wendy Ann Parker is an art historian currently teaching at Iowa State University. A Vermont native, she moved to the Midwest to do her graduate work at the University of Iowa, home of the International Dada Archives. Wendy's research is centered on activist art, and her MA Thesis examined the political collage/photomontage work of Dada artists including John Heartfield, Hannah Höch, Raoul Hausmann, and Kurt Schwitters. She is currently finishing a doctoral dissertation focusing on more contemporary artists, particularly Martha Rosler. Wendy is especially interested in how activist artists reach their intended audiences and feels that in today's culture of visual sophistication, collage is arguably the most potent medium for communicating those messages.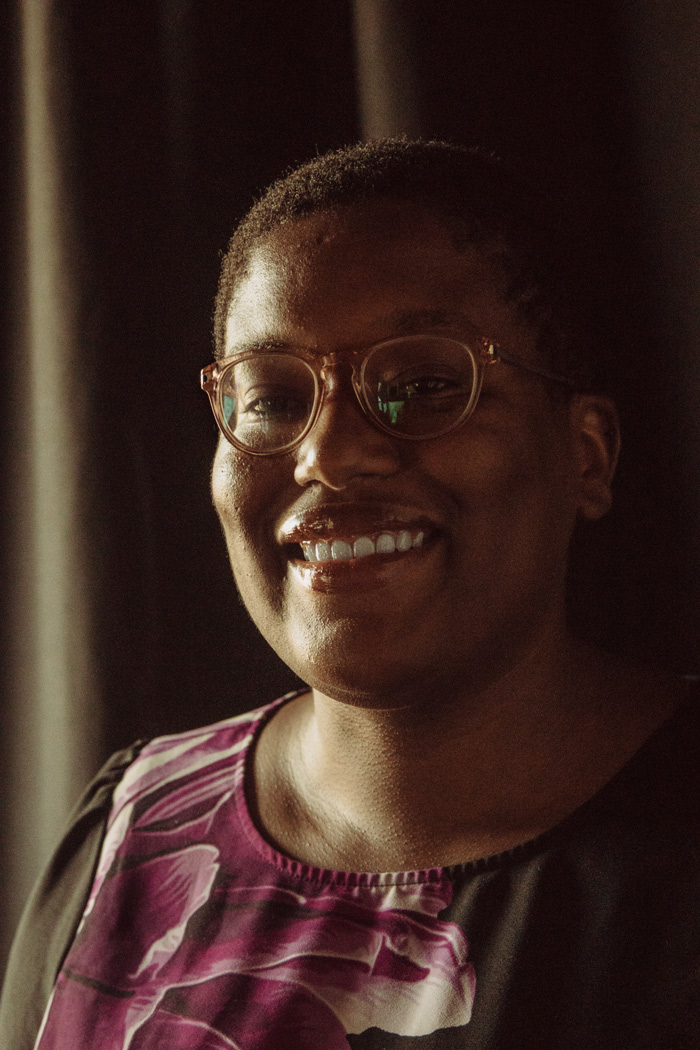 Teri Henderson
Teri Henderson is a Baltimore based independent curator, staff writer, and the founding director of the Black Collagists Arts Incubator. Henderson holds a Bachelor of Science in Psychology from Texas Christian University. She formerly held a curatorial internship at Ghost Gallery in Seattle, Washington. Henderson previously served as the Art Law Clinic Director for Maryland Volunteer Lawyers For The Art and is currently on their board of directors. Her written work has been seen in: All SHE Makes, Justsmile Magazine, Kinfolk Travel, and the St. James Encyclopedia of Hip Hop Culture. Her work as co-director of WDLY addresses shrinking the gap between the spaces that contemporary artists of color inhabit and the resources of the power structures of the art world through the curation and artistic production of events. She is also the Gallery Coordinator for Connect + Collect Gallery. In her work as a staff writer for BmoreArt she highlights the voices of Black, brown, queer and non-traditional artists and creatives. In the Fall of 2020 Henderson started Black Collagists, an arts incubator designed to research and collect the work of Black collage artists internationally.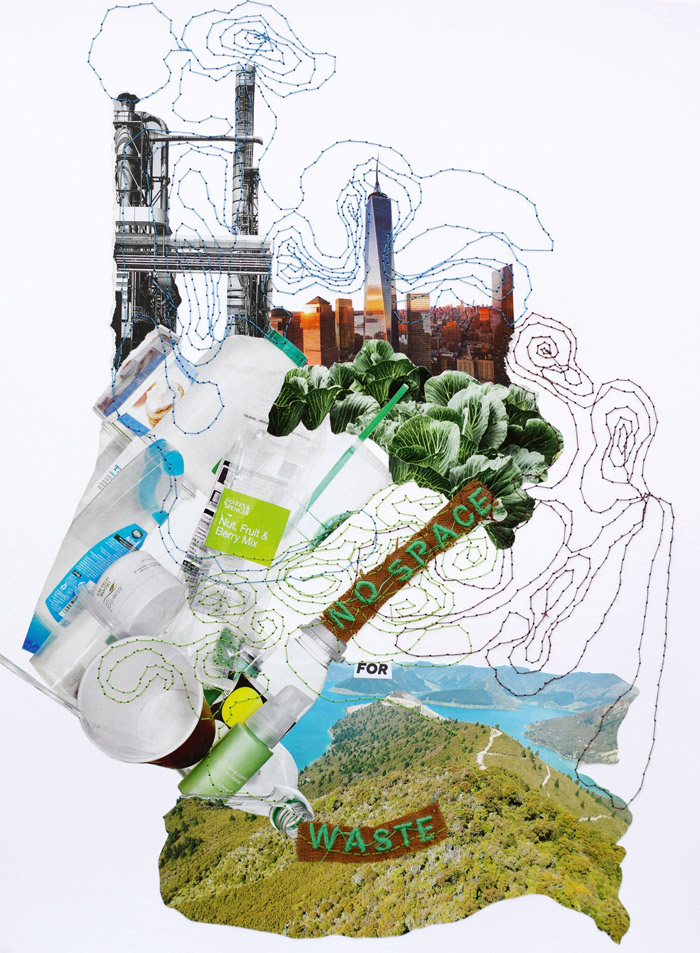 Liucija Dervinytė
Liucija Dervinytė, currently living in Vilnius, Lithuania, is a visual artist and culture manager, a co-founder of Ideas Block cultural organisation and Arttice digital cultural networking platform. She studied visual arts and painting in M.K.Čiurlionis Art School in Vilnius, and received her BA in Textiles from The University of Edinburgh. Through her creative practices Liucija explores the field of sustainability and the role of arts, culture and community in supporting the exchange of ideas and knowledge, raising awareness of human impact on the ecosystems, current environmental, social and political issues. Liucija's artworks are inspired by natural structures and the ideas of interconnectedness. She works with collage, watercolor and embroidery. Sometimes these techniques intertwine or are used separately, informing one another and expanding on the similar ideas or visions. In addition, her collages become covers for her handmade notebooks and embroidery is used in refashioning second-hand clothing.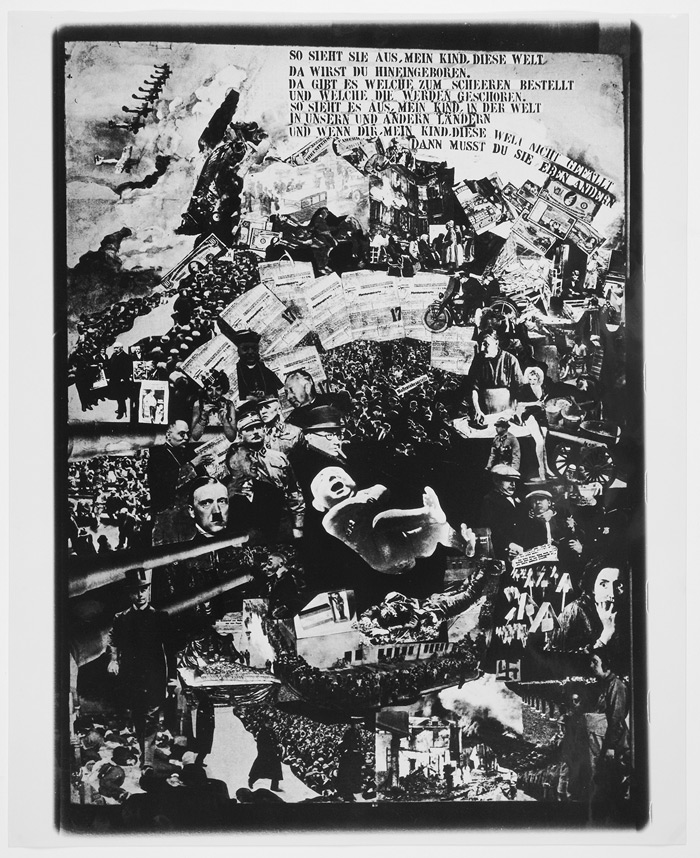 Ginger Sedlarova
Ginger Sedlarova considers herself both a collage artist and a storyteller. Sometimes her work is a short story, sometimes it's a novel. But it's always surreal, full of observations about the absurdity of daily life or conversations with the cities she's lived in, visited and loved. Her practice grew from her love of making photo collages in her former career as a graphic artist on daily newspapers in Canada and on magazines in Central Europe. She first discovered Friedl Dicker-Brandeis' collages at a show of German and Austrian art of the 1930s at the Neue Gallery in New York and was in awe of Dicker-Brandeis' use of composition and imagery and her bravery. A Beatlemaniac, Sedlarova lives in Burnaby, British Columbia with her husband and two rescue cats. Her work has appeared in galleries and online shows in Canada, the U.S. and Europe.
---
ORGANIZERS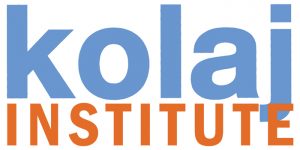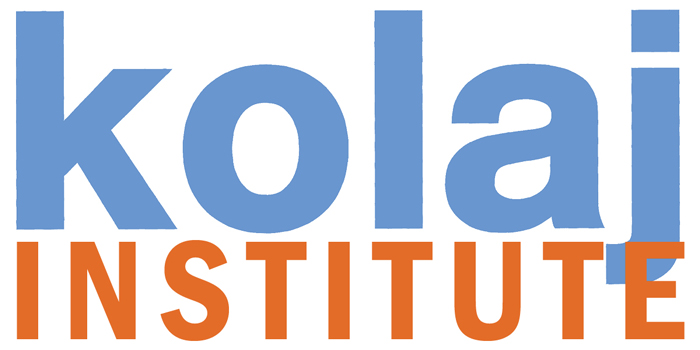 ABOUT KOLAJ INSTITUTE
The mission of Kolaj Institute is to support artists, curators, and writers who seek to study, document, & disseminate ideas that deepen our understanding of collage as a medium, a genre, a community, and a 21st century movement. We operate a number of initiatives meant to bring together community, investigate critical issues, and raise collage's standing in the art world. WEBSITE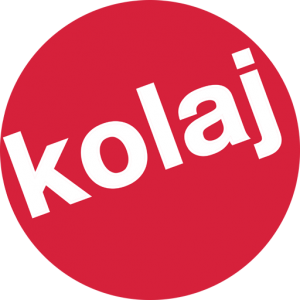 ABOUT KOLAJ MAGAZINE
Kolaj Magazine is a quarterly, printed, art magazine reviewing and surveying contemporary collage with an international perspective. We are interested in collage as a medium, a genre, a community, and a 21st century art movement. WEBSITE