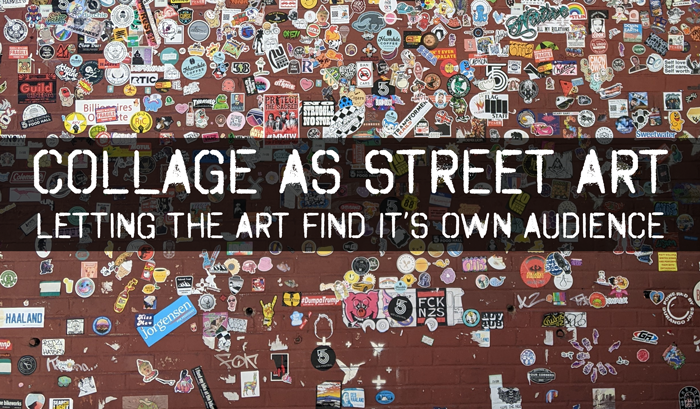 COLLAGE RESIDENCY
Kolaj Institute Announces Artists Selected for the Collage as Street Art Residency
Kolaj Institute is pleased to announce the fourteen artists selected to participate in the Collage as Street Art Residency, July 2021. In this 4-week, project-driven collage residency, artists will delve into the history, methods and major artists of the "street art" movement with a particular emphasis on collage. Participants will endeavor to put some of those methods into practice, taking their collage art out into the streets. Documenting the entire process will be integral to the project, as the resulting work will be published in a Kolaj Street Krewe book to be announced at a later date.
Leading the residency is Lance Rothstein, aka FANCLUB 13, who has been creating street art for over 20 years in over 25 US cities and 31 European cities. Rothstein writes, "I consider my work to be a bit like archaeology, collecting the discarded items from people's everyday lives and rearranging them in new relationships. Then I usually send them back out to the streets in this new form, with a new purpose. I look forward to continuing my personal scavenger hunt, finding little trashy treasures and combining them into intricate relationships for people to come across on the streets."
Each week, collage artists will join in an online session where we'll highlight the work and methods of several established artists. We'll discuss new techniques and strategies, with topics such as Placement, Materials, Visibility, Message, and Legality. Each week, we will challenge participants to get their work out onto the streets, document the process, and share it with the group the following week for discussion and critique. During the residency, at least one additional guest Street Artist will discuss their methods and experiences with the group.
Some of the concepts addressed during the residency include: What is Collage and what isn't Collage? What are your artistic goals? How can Street Art add to your artistic process? Who is your audience? How/Why/Where should it be seen? Where should you put it to achieve the audience you want? Do you want to remain anonymous? How is this affecting your own consideration of the artworks? How does Street Art differ from more traditional forms of art exhibition? Letting go of your artwork and letting the artwork find its own audience.
PARTICIPATING ARTISTS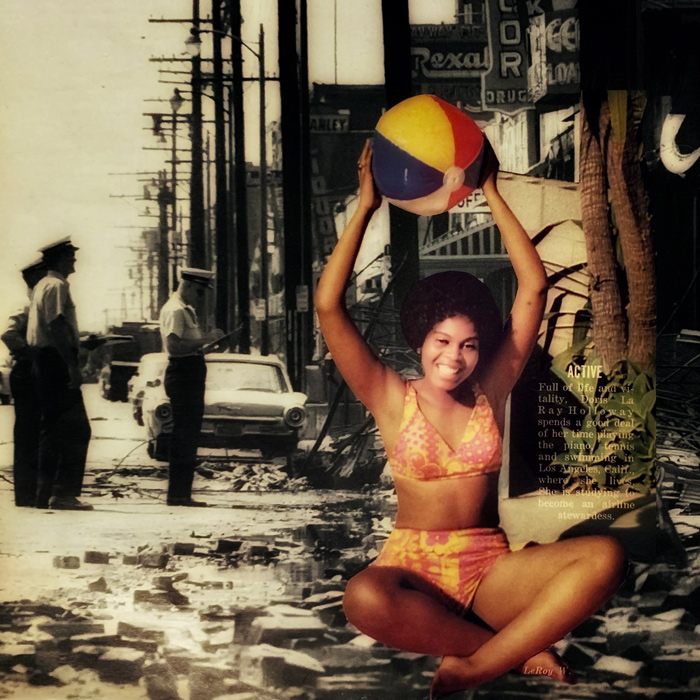 Alicia Saadi is a multi-disciplinary artist whose current focus is collage. Born at the end of a turbulent era, her work often references the social unrest whose aftermath colored her childhood, as well as the stereotypical images of womanhood that prevailed then. Alicia holds a degree in art history which informs her content, while her studio practice is largely self-taught. She resides on the east coast of the U.S. and has exhibited her work regionally.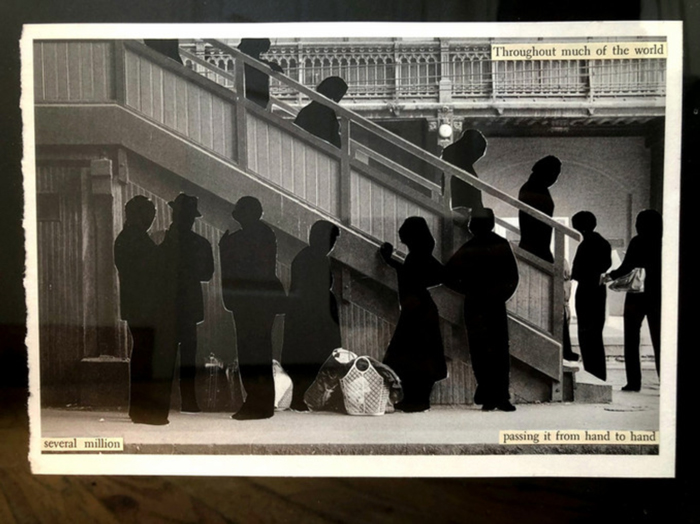 Anna Parisi is an Afro-Brazilian interdisciplinary visual artist, writer, and curator who works primarily with sculpture, performance, and video as mediums. She provokes, invokes, and evokes cathartic experiences through her practice, allowing space for self-reflection, vulnerability, and healing. She received a BA in Communications and Filmmaking from the Pontifícia Universidade Católica do Rio de Janeiro (PUC-Rio) and an MFA in Fine Arts from Parsons, The New School of Design in New York. Her work has been presented in The United States, Brazil, and Europe. She is the recipient of the Leslie Lohman Museum Artist Fellowship (2020) and the Taller Creative Capital (2019). Anna has presented her work at EFA Project Space, [.BOX] Videoart project space Milan, The Anya and Andrew Shiva Gallery at John Jay College of Criminal Justice, The Hunter East Harlem Art Gallery, La Galleria La Mama, UrbanGlass, The Bureau of General Services, Smack Mellon, Westbeth Gallery, Artigo Rio, Musée D'Elysee in Lausanne, amongst others.
Brittany DiMauro is a New York City based collage artist who uses discarded materials to create intricate visual works that delve into complex issues regarding the malleability of the mind and its exploitation through the advent of celebrity, consciously using iconography sourced from both contemporary and ancient works of art to further evidence and support this theory. The practice of collage art has been a serendipitous journey for the New England born artist who spent their youth in the eighties and nineties as an outsider in an insidiously homogeneous environment where they learned early on to rely on resourcefulness and creativity as a means of personal liberation and relatability to the world. After coming to New York in 2006 DiMauro worked in various roles of film production, ultimately deciding that the pathway to purpose was through total commitment to the materialization of their own works of art rather than the facilitation of others'. Paper and glue are the only materials used throughout the artists' collections with the exception of the Canvas Series which diverges slightly from the more typical pieces that are built using the motif of a picture frame as the composition's anchor. More recently DiMauro has brought their work outside, enlarging the original collage and giving it a new home in the wild using her own method of wheatpasting. Their work can currently be seen in Brooklyn, NY and Hoboken, NJ.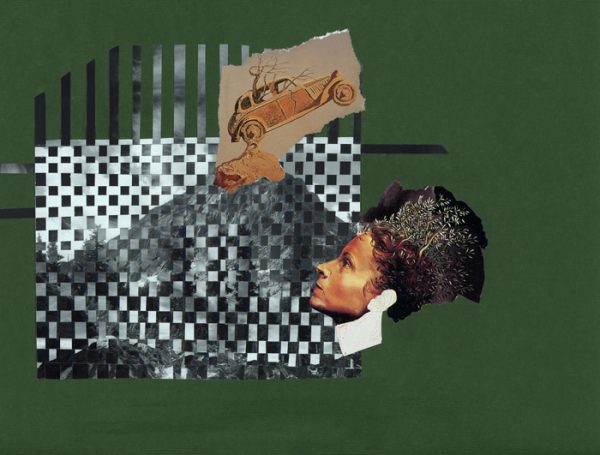 Celia Crane is a collage artist, writer and independent curator who left a decades-long marketing career in 2019 to concentrate on creative work. In April 2020 she created Vayo, the first dedicated collage gallery in Rochester, New York. Since then she has collaborated with hundreds of collage artists from around the world to expand the public's knowledge and appreciation of the collage medium. Invigorated by the materiality and potentiality of scraps, Crane creates her offbeat analog collages from the vast supply of printed material and ephemera she amassed over a lifetime of collecting. Her work has been published by Cut Me Up, Kolaj, and Hınç magazines as well as by Paris Collage Collective, Collage Lab and Fragmented Collective. In summer 2020, her collage It's Hard to See the Picture When You're Inside the Frame became a permanent part of the historic Kanyer Art Collection.
Declan Morrell is an Irish artist living in New York City's Lower East Side and making art under the name of Foxito since 2015. Foxito's hand crafted socially engaged collage practice emanates from his childhood love for graffiti, punk rock music and fanzine culture and the paper politics of cut and paste collage making. Declan has 22 years of experience in the world of rock and pop music and in the specialized fields of Music Publishing and Studio Recording. Foxito has had his work in several group exhibitions including "Wash Your Hands" (virtual gallery), Woodward Gallery, Manhattan 2020, "Winter Grand Salon", Greenpoint Gallery, Brooklyn 2018, and "Visiting Death", The Plaxall Gallery, Long Island City. October 2019.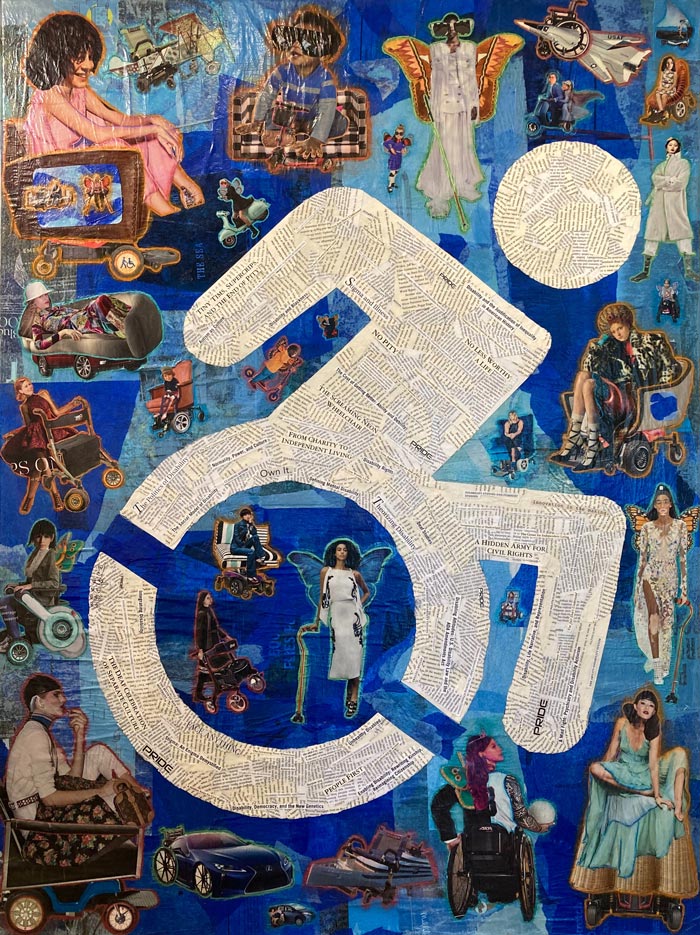 Emily Tironi was born and raised in Cambridge, NY in 1996. She was born with a muscle disease causing weakness and fatigue and the use of a wheelchair for long distances. She enjoyed all types of art since childhood and grew up entering her art in the Washington County Fair. Throughout high school, she loved art class and used drawing, painting and collage as an outlet for her struggles and a way to express herself. After graduating high school in 2014, she attended SUNY Adirondack and pursued a degree in media arts. Here, she discovered photography and began to photograph nature around her. In 2016, several of her photos were published in SUNY Adirondack's literary magazine, Expressions. She also received SUNY Adirondack's Parnassus Award in Graphic Arts. She graduated and transferred to CUNY School of Professional Studies in 2016 to pursue a degree in Disability Studies. While studying disability in cultural and societal aspects, she began to use her experiences as a person with a disability in her art. Studying Frida Kahlo in college, Emily was inspired by her surrealist style and expression of disability and self in her work. She was inspired to do larger, more layered works after taking an online workshop with outsider artist, Anne Grgich. She combines layered paper images and bright colors to create complicated pieces with unique messages. Her collages have been shown at area galleries and published in art publications. Her work was selected for the 31 Women exhibit at the Sedona Arts Center and she was part of the Emerging Artists 2020 exhibition at Limner Gallery in Hudson, NY. In August 2020, Emily had her first solo exhibition at Southern Vermont Art Center in Manchester, Vt. Throughout the pandemic, she has participated in several online artist residencies and exhibitions. Emily currently lives in Cambridge, NY and works on her collages daily.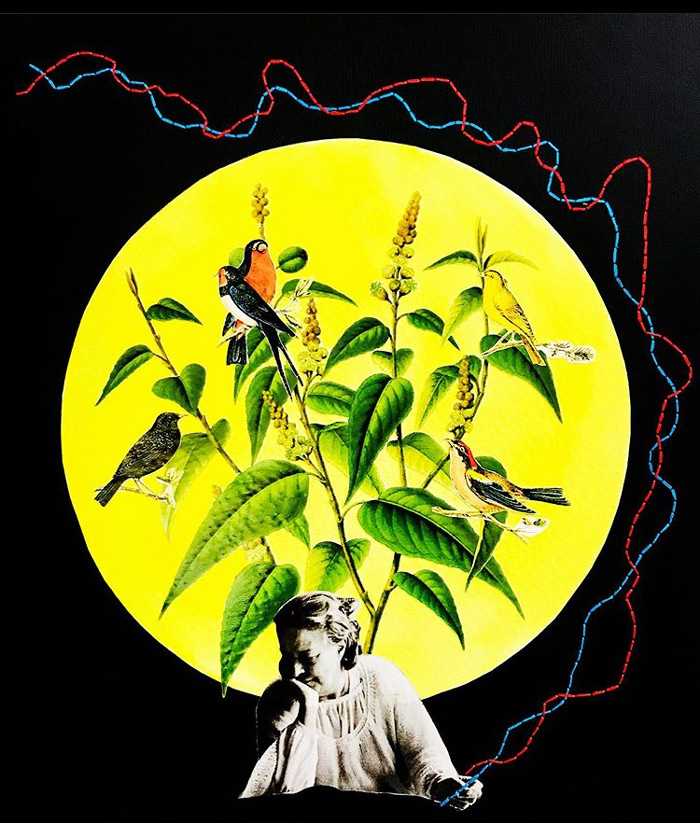 Gabriela Gutiérrez is a community psychologist, university professor, counselling centre coordinator and current expressive arts-therapist trainee from Peru. She is an amateur collage artist & dancing, drawing, embroidering, singing, poet enthusiast. Gutiérrez has taken various courses, workshops and seminars dedicated to explore a wide range of disciplines regarding the arts and social sciences, so as to incorporate them into her work in the academic setting and community intervention projects. Gutiérrez's interest in collage is oriented to work with young people and adults in the education and healthcare sectors through participatory methods, integrating other artistic techniques, in order to promote self-care, gender violence awareness and most recently, help through the grieving process due to the loss of a loved one as a consequence of the COVID-19 pandemic. Gutiérrez writes, "I believe in the power of the arts for therapeutic and learning purposes, and I am motivated to demonstrate this by conducting qualitative and arts-based research that can contribute to the development of social policies in Peru both in rural and urban contexts."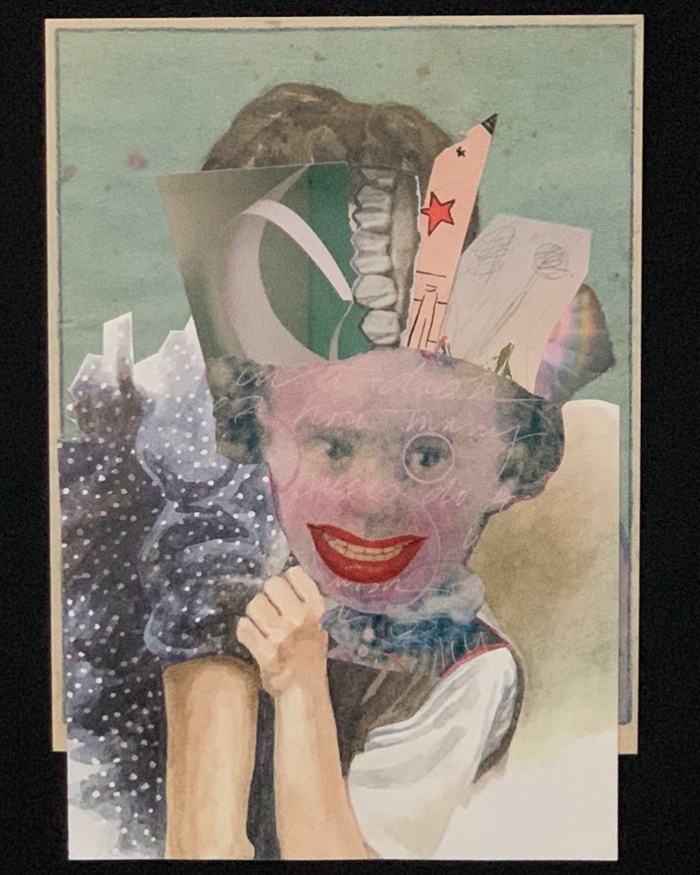 Janet E Gold has been an artist and an art educator in South Florida for over 35 years, with the last 15 years being at the Art Institute of Fort Lauderdale. She holds a Masters Degree in both Education and Fine Arts, and has won national awards including the $15,000 South Florida Cultural Consortium Fellowship, twice (1999,2008). Gold has also won two CIP Grants with 6Hands Collaborative (The Book Project: Speaking Volumes/2020 and The Art of Collaborative Art/2016). She is a member of several art groups including the prestigious National Association of Women Artists/New York, past board member of the Coral Springs Museum of Art, National Collage Society (signature member), and founding member of the 6Hands Collaborative. Gold's collages have been published in the Vintage Holiday Collage Book on Amazon, National Collage Society Calendar, Artistonish International Magazine, and Exhibitzone Magazine, just in the last 6 months. In her long and illustrious career she has been an artist, Reggae photographer, writer, playwright and curator.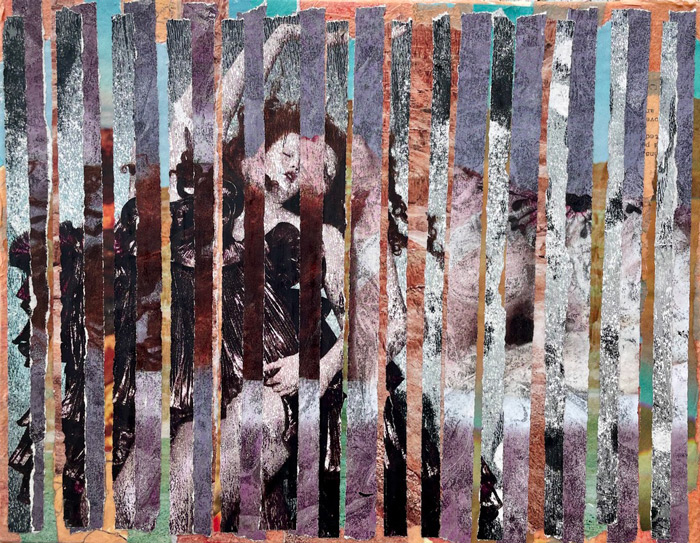 Michele Taber is an artist in transition. Taber had been a prolific painter in oil and cold wax, practiced daily, and participated in group, individual, and juried shows. Her paintings had been included in juried shows up and down the east coast including New York and Washington D.C. Taber was riding high up and until she started noticing her skin changing. After a 5-year-odyssey of wrong turns and misdiagnoses, Taber learned that affliction was psoriasis and its trigger was trauma to the skin. Taber's painting practice was recursive, she built up and took down layers of paint by scrapping, dissolving, and rolling crumpled paper into the surface. It was, at times, aggressive, physical and demanding. Taber writes, "I totally lost myself in it. It was also trauma-inducing and I knew I had to step away. I began looking for another medium to express my ideas. I (re)discovered collage." The more Taber has been practicing the more she has realized how collage encompassed primal emotions not found in painting like the fun of the hunt, thrill of a great acquisition, and the angst of letting go of a good find. She also found it a good fit to her work which has been process-focused. In all of Taber's work, you can see the start, middle, and end. She strives for novels, not summaries. She's drawn to the lack of perfection that says a person made this, not a machine, and, to the patina of age. Taber was born and raised in the quiet suburbs of upstate NY and currently resides in Harrisburg, PA.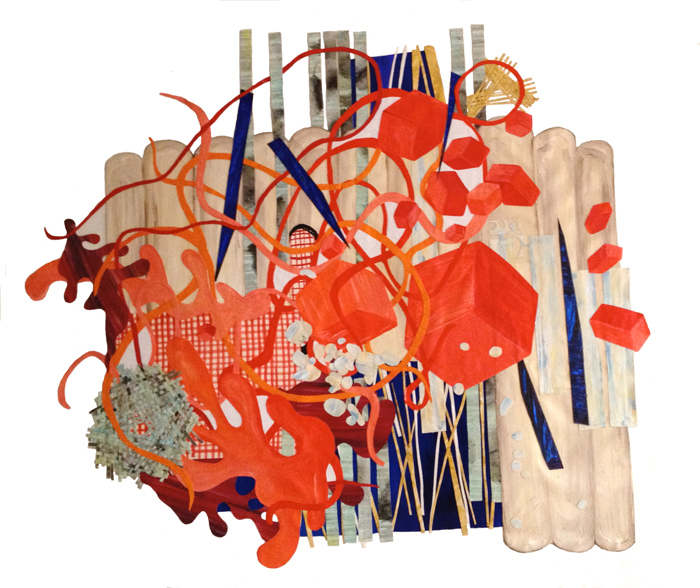 Before Miriam Ancis was an artist she was a rabbi, but she never believed in God. Now she experiences faith every day through art. Originally from California, Ancis graduated from U.C. Berkeley in History then studied to become a reform rabbi. Mid-way through the program, Ancis realized she was an artist. While continuing with the rabbinic program part-time, with an academic focus on the anthropology of visual symbols, she also enrolled in sculpture classes at the Parsons School of Design. After ordination, Parsons accepted her into the MFA program. The next phase of her life intertwined personal change (marriage and children) with professional pursuits (sculpting, performing life cycle events, teaching, creating an online museum for kids and teens). Over time, because Ancis' affiliations and commitments had taken her far afield from rabbinic work, she let that title go. Ancis now works exclusively as an artist. Early in her career, the In Khan Gallery in SoHo represented Ancis and gave her a solo and two-person show. In addition to appearing in group shows and being in private collections, she was awarded a residency in Paris through the Fantasy Foundation and, in 2016, at the Sam & Adele Golden Foundation. In 2019, Ancis was granted a ceramics residency in Lima, Peru with Cotto Design. Most recently, she has been in two and three person shows at 490 Gallery, Chashama, NYC and the Cleveland West Arts League. Her work has been featured in Sculpture.org, Tupelo Quarterly and art and design publications.
Scott Eric Williams is an award winning artist (Andrew Mellon Fellowship 2019) and youth educator from Cape Town, South Africa. Williams is educated via an alternate curriculum structured through residencies such as Joule City – Cape Town (2013), Openlab -Free State Art Festival, Bloemfontein, South Africa (2016) and Situate Lab, Tasmania (2018). He has exhibited and performed at The Free State Art Festival, Gallery MOMO, Geumgang Nature Art Biennale, ICA online Fellowship, UCT Michaelis & the Gallery of the University of Stellenbosch, amongst others. As a founding member of the collective Burning Museum he has exhibited at The Centre for African Studies – University of Cape Town, Brundyn+, Kunsthaus Dresden and on the streets of Cape Town. His other work includes Youth Facilitation at The District Six Museum and others, as well as writing for various print & online platforms. Currently Williams is a Masters candidate at The University of Stellenbosch researching socially engaged forms of youth arts education within the informal sector.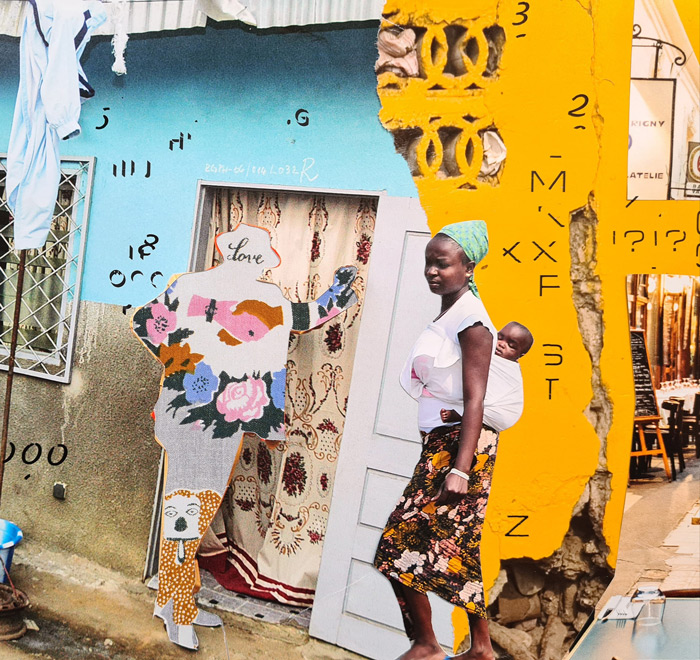 It was an aha-moment for Simone Löhndorf, when she realized that there actually is a common thread weaving through the different aspects of her life. This thread is to do with meaning. Meaning making, meaning interpretation, and meaning in context. As a cognitive linguist, Löhndorf studies how meaning is made with language, how concepts are used, and how meaning is not stable, but changes with context. As a collagist, she is engaging with exactly the same process, only with images, instead of words. We human beings are meaning makers. Whatever we encounter, we try to make sense of it. Most things that meet our ears and eyes, however, are conventionalized messages, which do not require much conscious effort on our part, to interpret. That is good, as it is economic. It makes it possible for us to communicate quickly and effortlessly. Taking concepts out of their conventional context and intentionally or unintentionally create unexpected meanings, to draw attention to unconventional, yet highly meaningful content is one of the purposes of Art. Whether this meaning is concrete or abstract, whether created with words, tones, or pictures, is less important. In Löhndorf's collages, she often focuses on human experience and human emotion. Collage making is a highly intuitive process for her, where she plays around with juxtaposing contrasting elements. Löhndorf does this both visually by using color and size, and conceptually, for example, by using materials from different time periods. Sometimes the meanings created are funny, sometimes serious. Sometimes they are transparent and sometimes they are opaque. Those things are for the viewer to decide. Three of her collages are represented in the Kanyer Art Collection.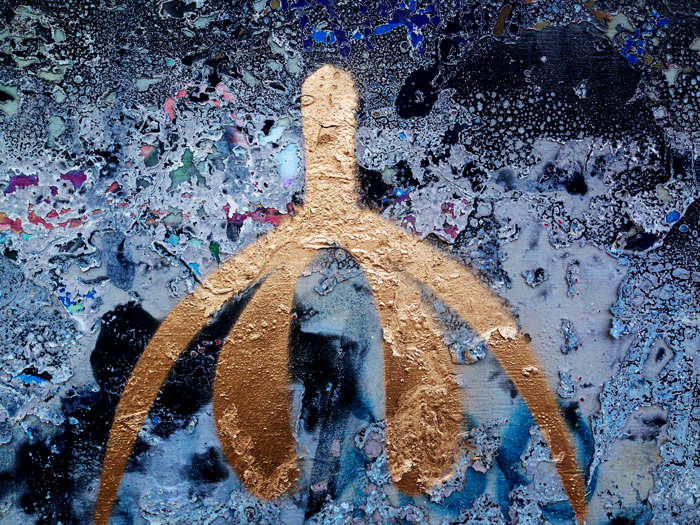 Sophia Wallace is a mixed media artist who is transforming the way we talk about embodiment. Best known for her viral project CLITERACY, her artworks intervene in the weaponization of gender, as it is used to deny rights to girls, women and people with vulvas.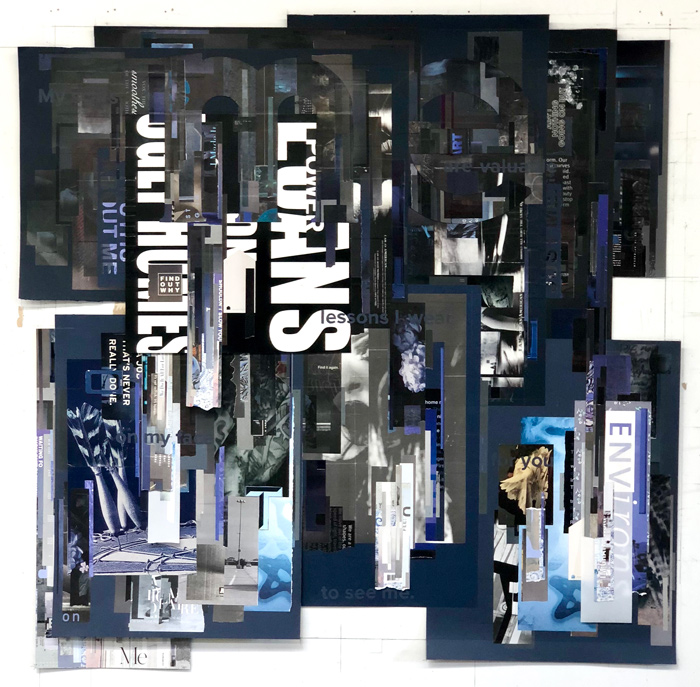 Tm Gratkowski received a BS and a BFA from UW. After attending the School of the Art Institute of Chicago and the Hochschule fur Angewandte Kunst in Vienna Austria, Gratkowski moved to LA and received a MA from the Southern California Institute of Architecture. Gratkowski's work has been featured nationally and internationally in museum galleries and many of the top art fairs. Since moving his studio practice to LA. full-time in 2008 Gratkowski has been exhibiting continuously and has produced several major gallery shows and museum exhibitions since. He is currently working on an upcoming solo museum exhibition curated by Howard Fox which will open sometime in 2023. His work has been featured in several printed catalogues, articles, interviews, and online publications including Artillery Magazine, Pulse Magazine, Art Ltd, and Art Voices Magazine among others. His work is in the collection of many important private and corporate collections in the US.
---
FACULTY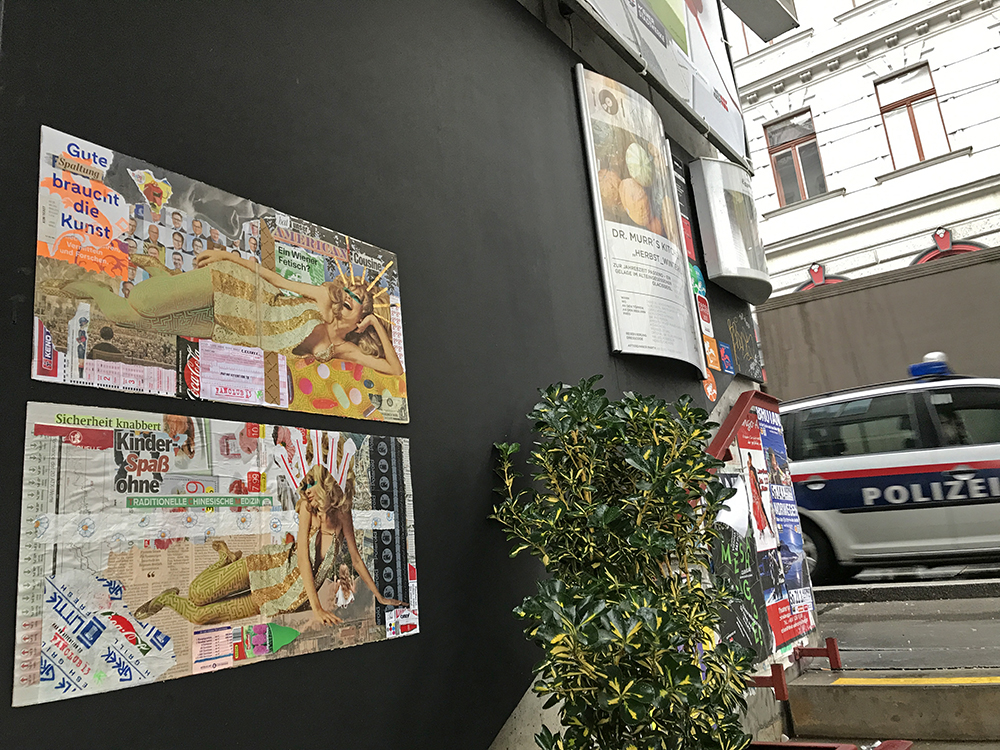 Lance Rothstein
"FANCLUB 13" is the street art collage persona of Lance Rothstein. He has been making collages with trash and found objects, then leaving them out on the streets since 2010.
A professional photojournalist by trade, he's worked for many major newspapers and publications throughout the US and Europe, but he returned to his art school roots after moving to Belgium with his wife in 2009 and dove headfirst into producing several forms of Street Art. "I began leaving my little collage pieces everywhere I traveled, mostly working with objects found on the streets of the cities I visited, and making the artworks late at night in my hotel room before posting them up on the street the following day."
Rothstein prefers the dubious methods of posting street art and mail art, but has also had some more traditional exhibitions. His artwork has been shown in many local Belgian and Florida galleries, but also in Brooklyn, Detroit, Chicago, Pasadena, Pittsburgh, Atlanta, New Orleans, London, and Paris. His work has been featured in Kolaj Magazine, Be a Pal magazine, Unfamiliar Vegetables, and Circulaire 132. Works of his are also in the permanent collection of the Doug + Laurie Kanyer Art Collection in Yakima, Washington as well as The Schwitters' Army Collection of Collage Art at MERZ Gallery in Sanquhar, Scotland, and the Postcards for Democracy traveling collection by Mark Mothersbaugh and Beatie Wolf, opening first at the Bob Rauschenberg Gallery in Fort Myers, Florida.
The Performa/Printed Matter NYC 2015 Chelsea exhibition, "Please Add to and Return to Ray Johnson", also included one his works, as did the 10th Anniversary "A Book About Death" exhibition at the Islip Art Museum in New York.
Rothstein first attended Kolaj Fest New Orleans in 2018, and helped run Kolaj Fest New Orleans workshops as a presenting artist in 2019, and was a panelist for the Kolaj LIVE Online session, "Public Space, Street Art, and Collage: Kolaj Street Krewe" in July 2020. Additionally, he teaches collage workshops at the Morean Arts Center in St. Petersburg, Florida, where he runs the photographic darkroom, and teaches photography to adults and teens.
---
ORGANIZERS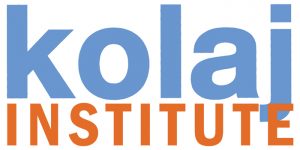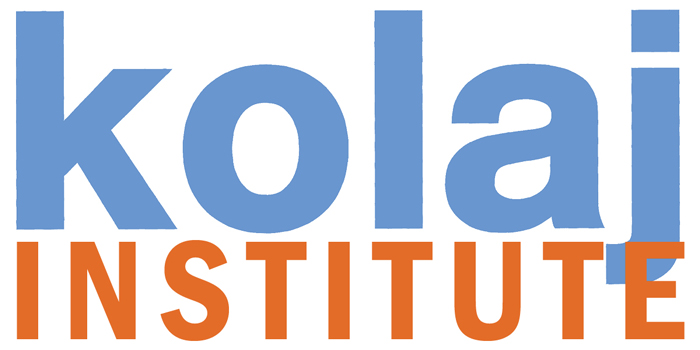 ABOUT KOLAJ INSTITUTE
The mission of Kolaj Institute is to support artists, curators, and writers who seek to study, document, & disseminate ideas that deepen our understanding of collage as a medium, a genre, a community, and a 21st century movement. We operate a number of initiatives meant to bring together community, investigate critical issues, and raise collage's standing in the art world. WEBSITE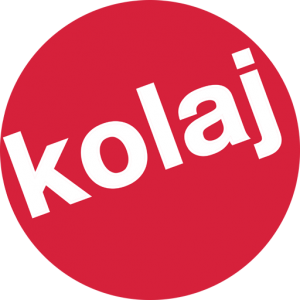 ABOUT KOLAJ MAGAZINE
Kolaj Magazine is a quarterly, printed, art magazine reviewing and surveying contemporary collage with an international perspective. We are interested in collage as a medium, a genre, a community, and a 21st century art movement. WEBSITE