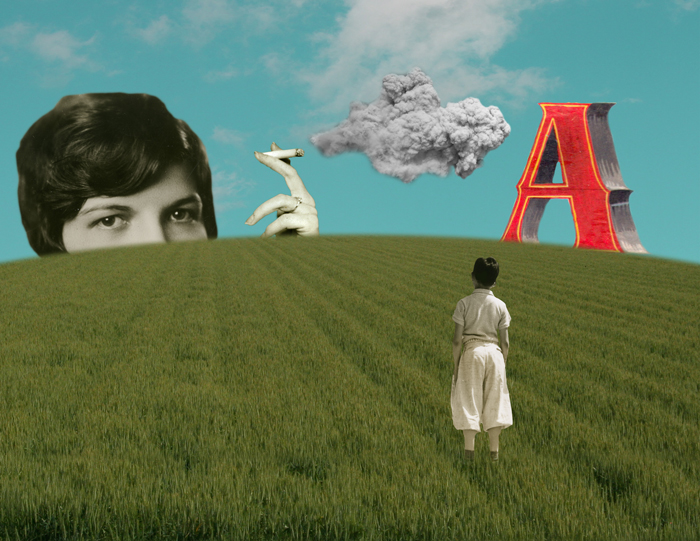 KOLAJ INSTITUTE NEWS
Collage in Motion Fellowship
Kolaj Institute Fellowships are year-long projects where curators, writers, or academics take on multifaceted projects that produce exhibitions, programming, or publications. Fellowships are focused on a particular area and include detailed outputs. Kolaj Institute is pleased to announce that Laurie O'Brien has been awarded a 2022 Fellowship focused on Collage In Motion.
Laurie O'Brien is a multi-disciplinary artist working with video, installation and animation. She is the creator of the Peephole Cinema, a "miniature cinema" collective with satellite projects in three cities: San Francisco, Brooklyn and Los Angeles. Her animations and video installations have been exhibited in numerous galleries nationally and internationally, such as the Ann Arbor Film Festival, Studio des Ursulines in Paris, the Library of Congress, Union Docs in Brooklyn, and the San Francisco International Airport. She is a Princess Grace Award recipient and her films are represented by Light Cone in Paris. O'Brien holds an MFA from CalArts and is an Associate Professor of Visual Media in the Photography Department at Rochester Institute of Technology. She currently resides between New York and San Francisco.
During the Fellowship, O'Brien will undertake a number of projects that develop and deepen our understanding of Collage in Motion, an evolving category of contemporary art. "Collage in Motion is a shared aesthetic of using found (still) images as material (as opposed to moving or hand-drawn images) to create films both short or long," writes O'Brien. "Many of the included artists use the term collage to describe their motion work. The artists make work that is shown in experimental and animation film festivals, in galleries and museums, in the commercial realm designing short motion work for brands and for social media." Throughout the Fellowship, O'Brien will work to redefine our understanding of the medium.
Kolaj Magazine's Editor and Publisher Ric Kasini Kadour remarked, "We created the Fellowship program at Kolaj Institute because we recognized that some subjects demand a deeper, longer inquiry. We are interested in topics where ideas and artforms intersect in such a way that challenges existing hierarchies." O'Brien's investigation of Collage in Motion reveals a creative landscape where multiple worlds are coming together. Animated gifs on social media, video works exhibited in a gallery, films screened at a festival, each of these manifestations have something to tell us about how collage is making its way into the world and yet, this practice has received little critical attention by those outside niche communities who have been nurturing the practice for decades. Our hope is that through this fellowship, a broad view of these communities will emerge and the artists and makers who put collage in motion will receive the recognition they deserve."
The Collage in Motion Fellowship is made possible with the support of members of Kolaj Institute's Silver Scissors & Golden Glue Societies who make a monthly contribution that supports residencies, fellowships, publications, and traveling programs while receiving a piece of the collage community to their mailbox each month. LEARN MORE
Collage in Motion Directory
Since January 2022, O'Brien has worked with Kolaj Institute Coordinator Christopher Kurts to develop a directory of artists working in this space. Kolaj Institute's Collage in Motion Directory is a tool for organizing and cataloging artists who work in the medium of motion collage. Its audience includes the general public as well as independent curators, art venues, and writers. The mission of the Directory is to create more visibility, community, and historical understanding of the medium, and to create a future traveling program of screenings and opportunities. We hope to inspire more still image collage artists to explore motion in their work and that we find each other in an increasingly digital world. During the Fellowship, O'Brien will be curating the Collage in Motion Directory as a way to set the standard and provide historical context for the medium. The Directory has opened submissions for artists that want to be included after the Fellowship ends.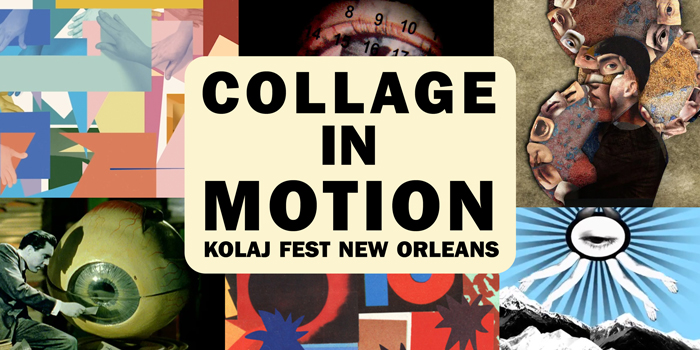 Film Screening
As part of Kolaj Fest New Orleans, on June 16th, 2022 at The Broad Theater, O'Brien will debut the "Collage In Motion Film Screening", a 90-minute program that introduces the world of contemporary collage in motion. The program celebrates a range of moving image collage approaches from the pioneers of experimental collage films to extremely short motion work of just a few seconds viewed as looped GIFs. The screening will highlight artists who have been making collage films for decades, such as Lewis Klahr, who uses comic books as material, and Janie Geiser's films, with her mysterious narratives and beautiful textures. Many other magnificent experimental collage film pioneers will be screened whose work ranges from abstract to narrative, music videos and conceptual work. Collage motion GIFs that have blossomed in the age of social media are also featured with the delightful and extremely short work of New Orleans-based Erik Winkowski and Italian Giuseppe Ragazzini. The evolution of collage motion work that is faster and shorter is commentary on our shrinking attention spans. The program includes hand-made collage techniques as well as digital collage films. Among the short films and excerpts being shown are works by Janie Geiser, Lewis Klahr, Erik Winkowski, Giuseppe Ragazzini, Jodie Mack, Lisa Barcy, Miwa Matreyek, Laurie O'Brien, Osbert Parker, Rob Carter, Winston Hacking, Jeremy Rourke, Lauren Flinner, Lei Lei, and more!
The "Collage In Motion Film Screening" is available to travel and those interested in bringing the program to their own community may do so by sending an email to Kolaj Institute.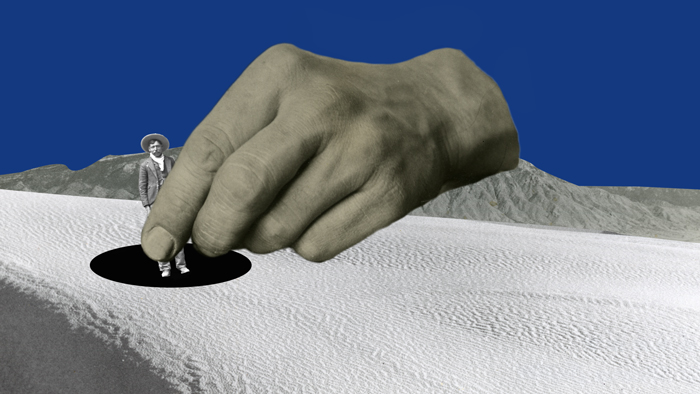 New Film Debuts
As part of her fellowship, O'Brien worked with Kasini House's Art Meets History initiative, 516 ARTS, and the Albuquerque Museum Photography Archives to produce an original 3:40 minute collage animation. The Hand uses historical images from the Photography Archives to illustrate how humanity is impacted by accelerated technical progress. "Adam Smith, the father of economics, introduced the concept of The Invisible Hand in 1759, as a metaphor of an invisible force that moved the free market economy," wrote O'Brien. "In his extremely influential model, accumulated self-interest is the primary mechanism that keeps our society whole, fulfilled and creates a natural equilibrium. In my film, the force of the hand has a visible, destructive and divisive relationship to the land, the earth and human beings." The film asks us to reconsider the notion of technology as one synonymous with progress and to reflect on the cost of turning individual decision making over to algorithms and digital processes. "We are trending toward a world that desires 'more exits'—no obligate ties to the land, place, job or personal identity and in this way, we begin to enter into the spiritual realm." 21st Century technology promises us boundless access to knowledge, freedom from the burdens of ownership, and convenience designed to give us more time to do other things, but, as O'Brien asked, "But at what cost? Are we really released and free?"
The film is on view as part of "Technologies of the Spirit", June 11th to September 3rd, 2022, at 516 ARTS in Albuquerque, New Mexico. Each of the artists in "Technologies of the Spirit" weaves elements of 20th century art and culture into contemporary artworks that invite the viewer to contemplate their place in the landscape and their role in society. At the heart of each work is a rethinking of old ways of making one's way through the world. The exhibition is curated by Ric Kasini Kadour and Alicia Inez Guzmán, PhD.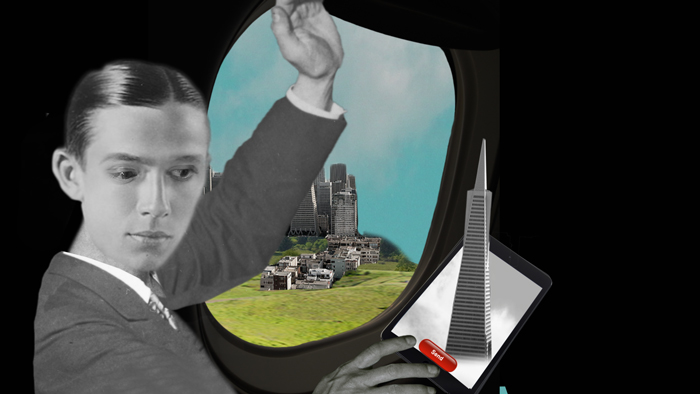 Future Articles in Kolaj Magazine
As part of the Fellowship, O'Brien will contribute two articles to future issues of Kolaj Magazine. A first-person essay in Kolaj 36 will recount her own discovery and production of collage in motion. In Kolaj 37, O'Brien will share a State of the Medium that touches upon its history, contemporary practice and future challenges.