Kolaj is a quarterly, printed magazine about contemporary collage.
We are interested in how collage is made, how collage is exhibited, and how collage is collected. We bring together critical reviews and essays with artist profiles, event highlights, and articles on collage collecting, exhibiting, and making. Kolaj is published in Montreal, Quebec by Maison Kasini.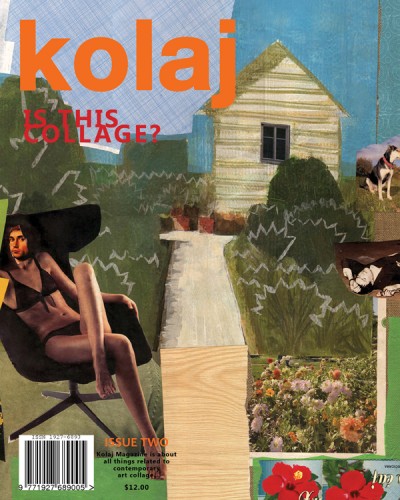 ISSUE TWO
Is This Collage?

Editor
Benoit Depelteau
Contents
Kolaj editor Benoit Depelteau asks, "Is this collage?"
Ric Kasini Kadour tells how Venezuelan collage artist Alejandro Otero brought modernity to his country.
News & Notes gives updates on five collage shows in the USA and Canada.
Kolaj editor Benoit Depelteau investigates collage
as process with artist Emmanuel Laflamme.
Billy Mavreas' "Collage Today & Everyday" explores collage culture.
Cory W. Peeke talks with four collage artists about their love of vintage materials.
Edvard Derkert comments on urban postering as an act of collage.
Ariane Fairlie presents an artist profile of
Jessica Korderas, who makes collages in resin.
Müge Akçakoca reviews "Cut & Paste" at Gallery Ilayda in Istanbul, Turkey.
Cory W. Peeke reviews the artist catalogue Implications: John Hundt.
Ric Kasini Kadour reviews Matthew Cusick's
"The Mind Is Its Own Place" at the Pavel Zoubok Gallery.
Carolina Chocron shows us her studio.
Portfolios from collage artists:
Sejma Prodanovic, Belgrade, Serbia
Marty Gordon, Seattle, Washington, USA
Caro-Ma, Paris, France
Kieran Sperring, Shropshire, England, United Kingdom
Virginia Fleck, Austin, Texas, USA
and the latest Cut-Out Page!
SUBSCRIBE OR ORDER AN ISSUE

CANADA
(Canadian dollars)
Send an email to info@kolajmagazine.com
to receive an announcement of future publications.
Or follow Kolaj Magazine on
FACEBOOK