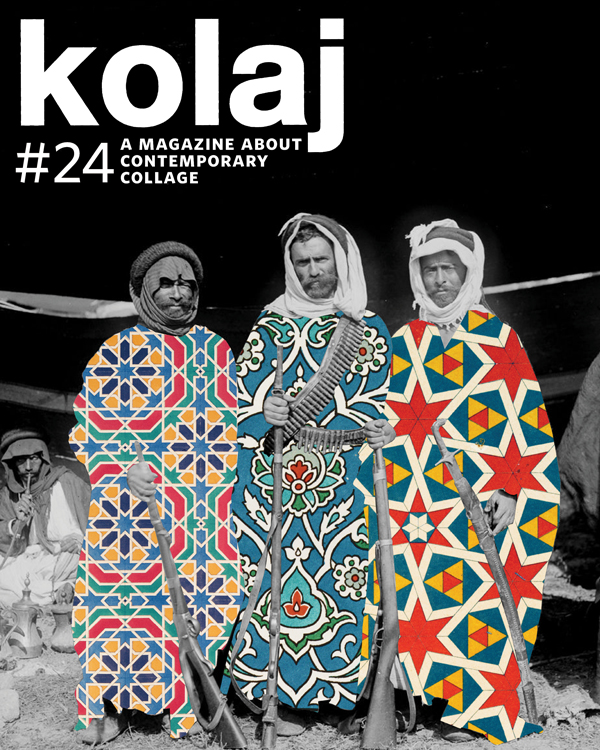 Inside the Issue
Our goal with every issue is that Kolaj Magazine is essential reading for anyone interested in the role of contemporary collage in art, culture, and society. Kolaj #24 is no different.
In the issue Editorial, Ric Kasini Kadour writes about the divide between contemporary art and society. "We need to work ourselves out of this corner and rebuild our relationship with society-at-large. One way we do that is to make art that is meaningful to our neighbours."
A collage by Cairo, Egypt's Beya Khalifa is on the cover and a portfolio of her work is in the issue. She confronts western notions of "Orientalism" by collaging historic Bedouin photographs with geometric patterns found throughout the Middle East. The issue features additional Artist Portfolios from Dresden, Germany; Boston, Massachusetts; Belo Horizonte, Minas Gerais, Brazil; and Moscow, Russia.
In our round of news about collage, we report on a postcard project from the Edinburgh Collage Collective, a critical new book from Matthew Craven, artists working on a Museum of Contemporary Collage in Denmark, and the photomontage that won Best in Show at Louisiana Contemporary.
Maeve Hanna reviews Vancouver artist Marcia Pitch's four hundred collaged faces on round wooden disks.
Silvia Cuello gives us a report on how collage is faring in Latin America's landlocked nation, Bolivia.
And Laurie Kanyer explains the brain chemistry of collage. She writes, "When an artist creates a collage, they use areas of the brain and body systems that calm the body and tap into creative problem solving…Transforming a visual piece into a higher form beyond its original intent, as in a collage, is more recreational than imagined.
Ric Kasini Kadour explains why Danielle Krysa's new art book, A Big Important Art Book, Now With Women, makes him jealous.
Bouncing between Oaxaca, Mexico and Sydney, Australia, Steve Tierney worked with photographer Tanja Bruckner to make his own source materials using his own body…That performative act resulted in a brilliant series of collage that boldly investigates gender.
Newburgh, New York artist FonSomething makes Collage Magnet Packs but also muted mythological creatures of the fifth mind.
Chicago-based Julia Arredondo's Self-Assembled Collage Packs are just one part of her Anarcho-Capitalism driven art practice which also includes poetry, 'zine making, Latin American folk healing, conceptual commercialism, punk, botanica, and Avon sales. She's a force!
The issue's Cut-out Page comes from Alison Kurke who writes, "Cutting, pasting, composing, using different materials are soothing and attention-absorbing pastimes, and collage is perfectly suited to my life-long love of and constant search for paper and ephemera of all types." Oh we feel you!
And as always, a Kolaj Artist Directory & Collage Books.
Already subscribed? Don't worry, you will be receiving your copy by 1 December 2018.
SUBSCRIBE OR ORDER A COPY

(US dollars)

(Canadian dollars)