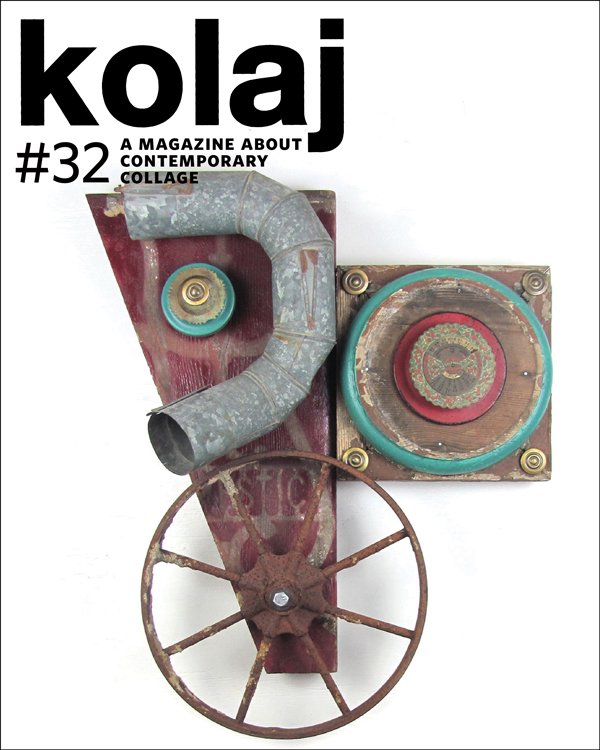 ABOUT THE ISSUE
In the issue's editorial, Ric Kasini Kadour writes, "I often find myself saying, Collage is powerful magic. The collage community often feels like we are off in our own private corner of the art world. We excel at sharing that collage magic with each other. How can we do better sharing it with the rest of the world?"
In answer to that question, we report on how JRC's The Seaside Fleet is making its way to New York City; how New Orleans collagist Simon Blake used collage in a Crystal Hot Sauce Campaign; and Peter Blake's collage on Macallan Whisky Bottles.
Three Wheel by Tim Harper is on the cover of Kolaj #32. A detail of a collage work by Myriam Dion that reflects on the Notre Dame Cathedral fire is on the back. Artist Portfolios by these artists appear in the issue.
Celia Crane tells us how collage is taking the stage in the Web-based Interactive Art Project TELEPHONE. She writes, "An encouraging and inspirational arts and culture story written over the course of an unprecedented international health crisis, TELEPHONE is not only an impressive body of ekphrastic artworks, but a single collage of collaborative ideas expressed by a thousand artists from every corner of the Earth."
Michael Koppa finishes Les Cocobopros, a collaborative artist book with Lisa Chun, Gary Ortman, William Cody, Musta Fior, Flore Kunst, Francine Martin and Rhed Fawell.
Rod T. Boyer asks us to "Mind the Gap" in a compelling essay about collision and context in haiku and collage.
Ashley Pryor Geiger reviews the Improbable Ascents of Brasilia, Brazil artist iuri kothe.
Madeleine Rhondeau considers the public and private performance in the collages of Old Lyme, Connecticut artist Rebecca Steiner
Laupahoehoe, Hawaii artist Martha Chong joins a noble tradition of artists tempted by the surreal mysticism of Saint Anthony.
Elyana Shamselangeroodi and Ric Kasini Kadour investigate how Charlottesville, Virginia artist Sharon Shapiro's collage paintings help us remember recreational segregation in the United States
Allan Bealy interviews Warsaw collagist and festival maker Anna Kłos, the creative force behind Retroavangarda.

ARTIST PORTFOLIOS
Brittany M. Reid
Rochester, New York, USA
"I let my childhood memories, experiences as a queer, Black woman, and life as a mother dictate much of my work. The themes I present ask the viewer to consider humans' complicated relationship with nature, the macrocosm vs. the microcosm, and the power of the female experience."
Craig Upson
Berkeley, California, USA
"I break this new composition into value regions—and create a map that will guide the collage assembly process."
Jude Broughan
Brooklyn, New York, USA
"Late capitalist culture runs counter to contemplation, promoting in its place a reckless onward rush; these places stand for the value of pausing to reflect and form relationships, whether conceptual, emotional, or both."
Myriam Dion
Montreal, Quebec, Canada
"The precise organization and the camouflage of the traces create a reversal of the traditional use of collage in the history of art."
Tim Harper
Midlothian, Virginia, USA
"My very favorite thing is to show a piece at a gallery and have someone tell me what kind of story they see."
Kolaj Magazine relies on our subscribers. Their support of this magazine keeps us going and makes it possible for us to investigate and document collage and to promote a deeper, more complex understanding of the medium and its role in art history and contemporary art.