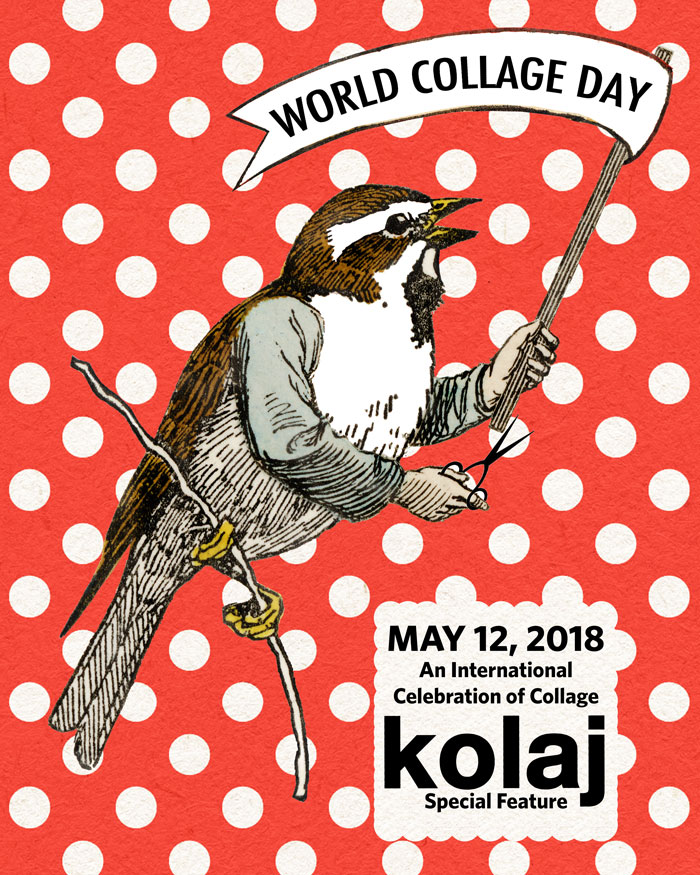 In honour of World Collage Day on May 12, 2018, Kolaj Magazine is releasing a special edition for World Collage Day. The edition has Cut Out Pages, artist profiles, and stories about collage. Also available is an enamel pin designed by Michael Pajon featuring the World Collage Day image.
World Collage Day, May 12, 2018, is an opportunity for people to come together around collage in their own communities and to connect to the world digitally using the hashtag #WorldCollageDay. See what's happening in your town or create your own event.
LEARN MORE ABOUT WORLD COLLAGE DAY
INSIDE THE SPECIAL EDITION
In his Editorial, Ric Kasini Kadour tells the story, "A Funny Thing Happened on the Way to This Special Edition". With a passion for print and a love of old books, Michael Pajon makes dense compositions and he is the 2018 World Collage Day Poster Artist. 
We present inspiration and cut-out pages from an international roster of artists:
"From Where I Am" is series of collage by Jessica Oreck that combines wanderlust, collecting, and a fascination with detritus. Class of '61 is a collage by Jade Legault, who uses dada-esque elements to manifest levity. Danielle Cole's advice for the travelling collagist is that "we must find our allies".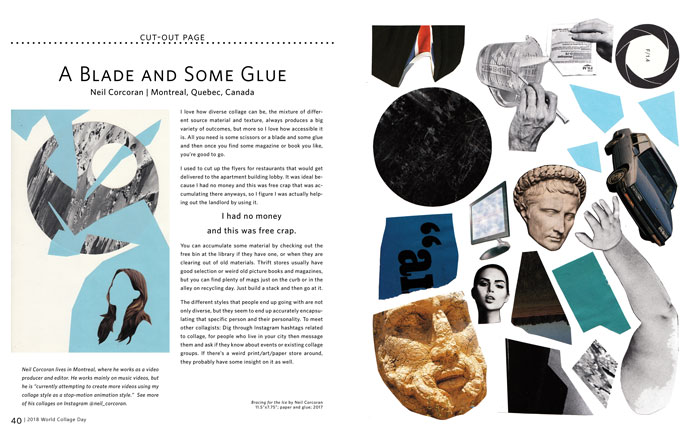 Donnalynn Chase speaks to the collision of synchronicity and intention in collage making. The verkstad of John Kieltyka's youth was also a place of community. A gift of a pair of red scissors from her artist mother confirmed Carla Ayala as a collagist. Ben DiNino's advice to collagists: Start with what you love.
Kathy Johnson sees an endless supply and variety of materials for collage. Afraid of wasting interesting materials collected at thrift stores and garage sales, Sara Willadsen finally began collaging her large collection of ephemera. Chilean journalist started collaging as a psychomagic act.
Fanclub13 uses trash and found objects, the magic of torn gum wrappers, to hand-cut and paste collages and then he leaves them out on the street for people to find. Alicja Kieczka writes, "Collage is a mix of youth, freedom and a tiny drop of cockiness, and tastes especially delicious when not treated seriously."  Shona Chornenki gets lost in the process. Sometimes she just collects and cuts. Other times, she sorts and catalogues.
Nancy Dominique's advice to a young collagist: "Practice with the images you can find in your daily life." Janice McDonald remembers the first time she experienced being able to create her own reality on the page. As she says, "One thing led to another." Look around you: "There's so much collage material around our day to day environment that you can use for free," says Jean Edwards. Neil Corcoran gets his materials from weird art stores, thrift shops, and the free bin at the library and makes his collage with a blade and some glue.
The World Collage Day Special Edition is a love letter from collagists.