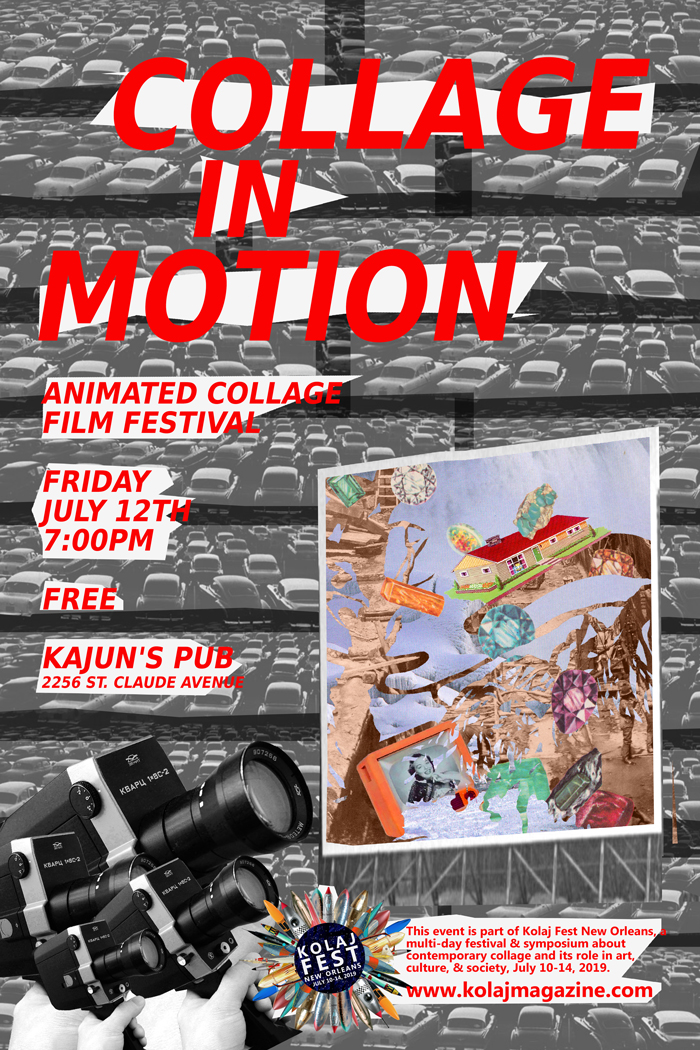 AT KOLAJ FEST NEW ORLEANS
Animated Collage Celebrated with Film Screening and Workshop
Kolaj Fest New Orleans continues its history of celebrating collage in animation. The 2019 edition of the festival will present "Collage in Motion", a film festival of animated collage at Kajun's Pub on Friday, July 12th, 7PM with karaoke to follow.
"Collage in Motion" is curated by independent filmmaker and collage artist Lisa Barcy whose animated work has been screened internationally at film festivals. Barcy teaches animation at DePaul University in Chicago, Illinois. She has been awarded the Director's Citation twice at The Black Maria Film Festival, and Best Animation at both the Chicago Underground Film Festival and The Ann Arbor Film Festival, and also created the music video Anonanimal for Andrew Bird and Thomas Comerford.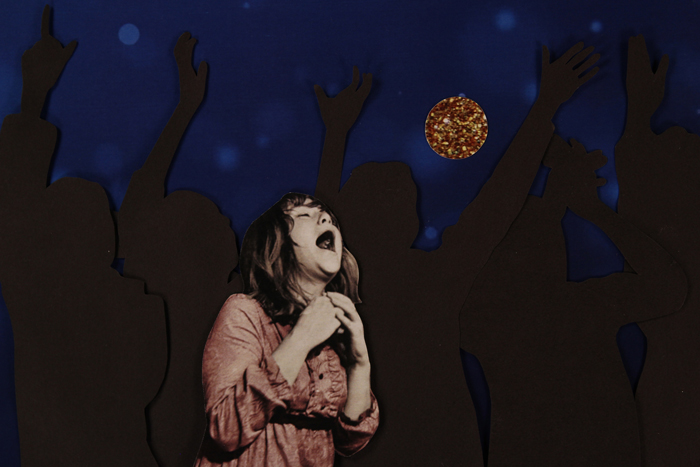 Drawing from an international collection of artists, Barcy has assembled a remarkable line up of collage animations. Hold Tight by London-based artist Jessica Ashman explores the importance of Carnival across the United Kingdom and how its celebrations provide an important lifeline to heritage and identity for younger generations of the Black Caribbean diaspora in Britain. "The night shift begins with a musical history lesson sung by a chubby skunk," in Jo Dery's In Echoes of Bats and Men. Dery is Associate Professor of Film Studies at Keene State College in southern New Hampshire.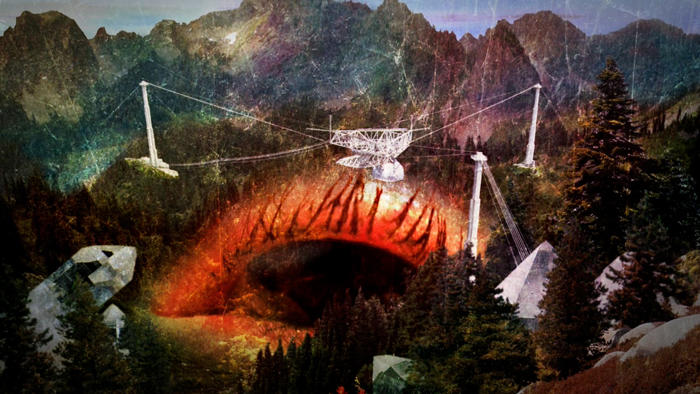 Confidence Game by Oakland, California-based Kathleen Quillian sheds light onto the motivations, methods and impact of those who use persuasion and deception to bring about personal gain. Lumerance by Miwa Matreyek tells the "voyages of an egg, boldly going where no egg has gone before." The Los Angeles, California animator, designer, and performer is a co-founder and core-collaborator of the multi-media theater company, Cloud Eye Control. Arithmetic by Brooklyn and Rochester, New York artist Laurie O'Brien animates a story by Richard Brautigan. O'Brien is the filmmaker behind the "Peephole Cinema", a multi-city project that screens short films through a dime-sized hole available to the public 24 hours a day.
A number of the films to be screened underscore animated collage's role in music videos. We Are Fighting You Now by Chicago-based Gretchen Hasse is a music video for Ami Saraiya & the Outcome, who Tony Sarabia at WBEZ/NPR Chicago describes as "globally-influenced, pop-leaning songs [that] seem caught in some otherworld where old-world pop meets the ethereal meets cabaret–and gets performed in a café somewhere in the lush European hillsides…" Springtime Old Man by Tokyo-born, Berlin-based Hoji Tsuchiya is the music video for Uri Nakayama's album "Majorova".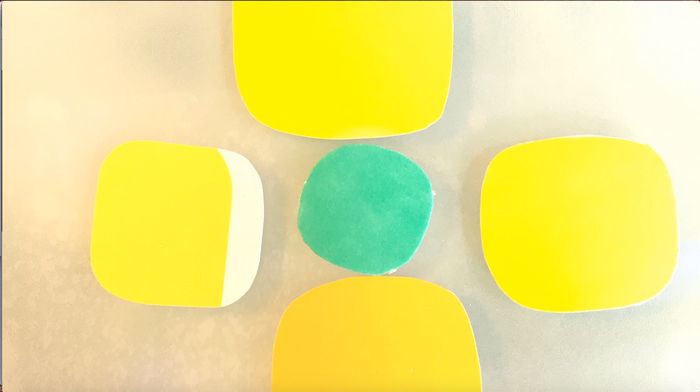 Some of the films are experiential in nature. Altered Footage-Bricks Building Bricks is one of a series of experimental shorts employing clear 16mm leader and found plastic packaging to generate frenetic textural fields of color and movement by Chicago-based professor, freelance animator, puppet maker, and independent filmmaker Matt Marsden. In the short animated film Tombolo, Chicago-based Paloma Trecka explores rhythmic repetitions of color and patterns. The materials used are hand-cut pieces of paper packaging and old LP album covers.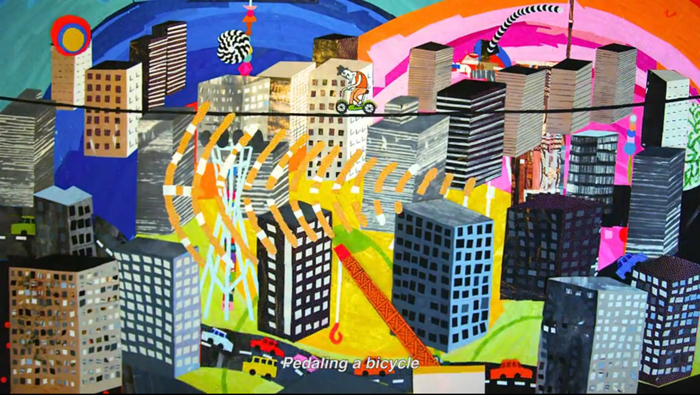 In addition to the film festival, Kolaj Fest New Orleans, Lisa Barcy, Paloma Trecka and Laurie O'Brien will host a screening, demonstration and a workshop at Antenna Gallery during which participants will have the option to create their own animated collage that will be shown at Kolaj Fest New Orleans Surreal Salon on Saturday evening. After Kolaj Fest, these sequences will then be uploaded to YouTube and Vimeo on a channel created for this event.
Collage has a long history with animation, from Lotte Reiniger's silhouette animations from the 1920s and 1930s to the surrealist films of Joseph Cornell to Terry Gilliam's wacky introductions to Monty Python's Flying Circus to the array of commercials that use collage to tell a story. Animation provides collage artists a different way to tell stories and potentially opens new paths to sharing their work. Kolaj Fest New Orleans pays homage to the rich history of collage in animation with a film screening and workshop.
About Kolaj Fest New Orleans
Kolaj Fest New Orleans is a multi-day festival and symposium about contemporary collage and its role in art, culture, and society, July 10-14, 2019. Visit the website to learn more, see an overview of the program, and register to attend. Kolaj Fest New Orleans would not be possible without the support of Press Street, Ogden Museum of Southern Art, LeMieux Galleries, Mystic Krewe of Scissors and Glue, Antenna Gallery, Kolaj Magazine and Kasini House. Kolaj Fest New Orleans is made possible through a generous gift from Laurie and Doug Kanyer. WEBSITE

Images (top to bottom):
from Confidence Game by Kathleen Quilian
from Lumerance by Miwa Matreyek
from Tombola ;41 by Paloma Trecka
from Springtime Old Man by Hoji Tsuchiya