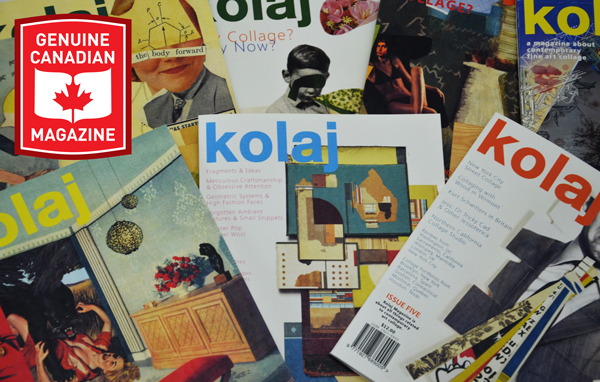 Kolaj Magazine is now a "genuine Canadian magazine".
Maison Kasini, the publisher of Kolaj Magazine, is pleased to announce that the magazine has been accepted into Magazines Canada, a national trade association of over 370 Canadian-owned magazines.
"Over the past two years, we have been slowly building Kolaj Magazine into a sustainable, thriving publication," said publisher Ric Kasini Kadour. "Kolaj's acceptance as a member of Magazines Canada is an acknowledgement of how we are maturing as a magazine. This next step is an important one."
Partnering with Magazines Canada will help Kolaj Magazine will grow its readership.
Magazine Canada's distribution service will allow Kolaj to to double its circulation and triple the number of retailers stocking the magazine. Membership in the association also gives the magazine a voice in Canada's magazine publishing industry and expertise that will support Kolaj's continued growth.
"We started Kolaj Magazine because we love collage and believe collage artists are saying something important about contemporary life," said Kadour. "We are excited to shine a light on this medium with a larger audience."
About Kolaj Magazine
Kolaj Magazine is a quarterly, printed magazine about contemporary collage. We are interested in how collage is made, how collage is exhibited, and how collage is collected. We bring together critical reviews and essays with artist profiles, event highlights, and articles on techniques and materials. We provide quality exposure for contemporary collage art. Kolaj is published in Montreal, Quebec by Maison Kasini.
About Magazines Canada
Magazines Canada is the national trade association representing Canadian-owned, Canadian-content consumer, cultural, specialty, professional and business media magazines. French and English member titles offer a wide range of topics including business, professional, news, politics, sports, arts and culture, leisure, lifestyle, women and youth, made available on multiple platforms. The association focuses on government affairs, services to the advertising trade, circulation marketing and the development of career skills for and the recognition of excellence among the people who work in Canada's magazine media.