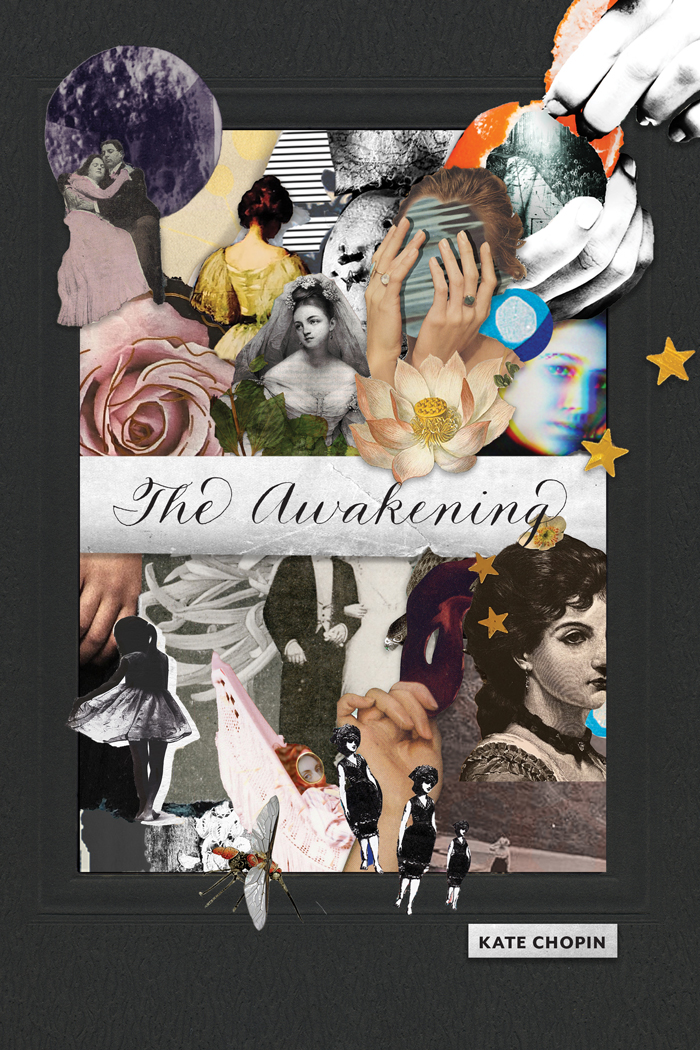 NEW PUBLICATION
The Awakening by Kate Chopin, illustrated & interpreted by contemporary collage artists
Set in New Orleans, Kate Chopin's 1899 novel, The Awakening, touches on 19th century feminism, identity, and societal themes.
The Awakening focuses on Edna Pontellier, an upper-class New Orleans woman, torn between expectations and desires. In the beginning of the novel Edna appears to live in a semi-conscious state, trapped in the mundane aspects of her life. As the story evolves, she encounters new people and experiences that create an awakening shift within her. Edna begins to view her world differently, and through this lens new relationships emerge while others become strained. In the end, Edna realizes that even if she has her own desires she is still trapped by her societal role.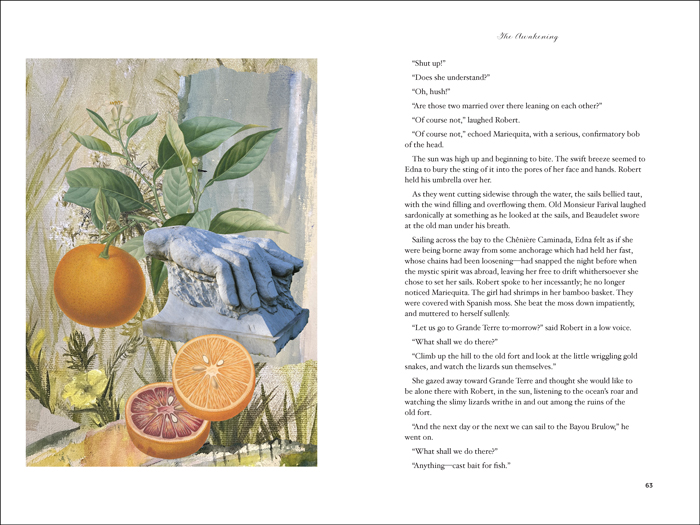 The themes the story raises are still relevant today, such as: What does it mean to be a woman? What are the expectations that society puts upon women? Are we bound to what we are born into? What does it mean to transform? What does patriarchy look like today?
Under the art direction and creative leadership of Nancy Bernardo and Christopher Kurts, a dozen international collage artists collaborated to illustrate the book. Working as a group, the artists analyzed the story, discussed themes, uncovered symbols, and asked questions to visually interpret this seminal feminist text for a 21st century audience.
The book is published by Maison Kasini Canada in partnership with Kolaj Institute. "Kolaj Institute engages in these projects and publishes these books because we feel that collage can help us make sense of these vintage texts for a 21st century world," writes Ric Kasini Kadour. "While widely read as a proto-feminist text, The Awakening is rooted in the fin-de-siècle mood of modernism, world-weariness and self-indulgence. The Awakening's treatment of gender, race, and class is worthy of 21st century reflection. Our hope is that the collage illustrations in the book inspire new thinking by its readers."
CONTRIBUTING ARTISTS
Jose Sampaio (São Paulo, Brazil) | Leslie Bellavance (Ada, Michigan, USA) | Dimas Melfi (Catamarca, Argentina) | Elizabeth Castaldo (Peekskill, New York, USA) | Caroline Rochon-Gruselle (Montreal, Quebec, Canada) | Isabella Madeira (Rome, New York, USA) | Rebecca Aloisio (Victor, New York, USA) | Dominique Elliot (Ellabell, Georgia, USA) | Mercedes Cueto (Sudbury, Ontario, Canada) | Rosemary Rae (El Cajon, California, USA) | Anne Sutherlin (Denver, Colorado, USA) | Grace Kominsky (Rochester, New York, USA) | Lesley Finn (Guilford, Connecticut, USA) | Jennifer Price (Macon, Georgia, USA)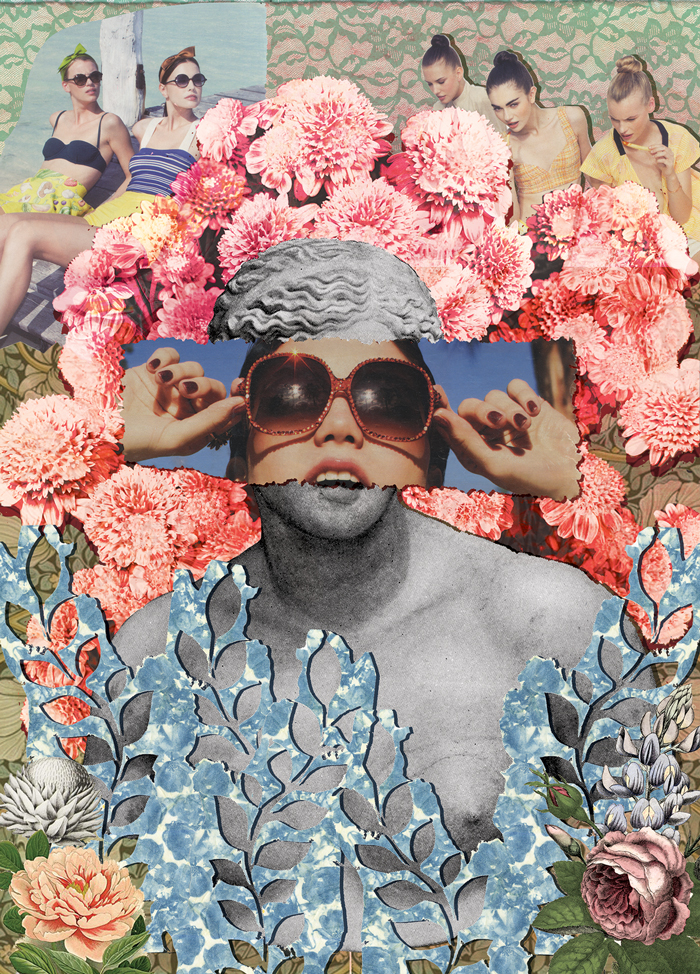 The Awakening at Kolaj Fest New Orleans 2023
MINI-EXHIBITION
Selections from the project are on display at The Domino, 3044 Saint Claude Avenue in New Orleans in June 2023. Nancy Bernardo will speak about the artwork in the book at 6PM on Friday, 9 June 2023.
OPENING EVENT
Nancy Bernardo will read from the book at the Vapors & Papers, Gin & Glue: A Collage Show & Tell on Friday as part of Kolaj Fest New Orleans a multi-day festival and symposium about contemporary collage and its role in art, culture, and society, 7-11 June 2023. Vapors & Papers, Gin & Glue is the Collage Show & Tell event, featuring readings, stories, demonstrations, and, always, collage making, takes place at The Domino, 3044 Saint Claude Avenue in New Orleans' Bywater neighborhood. Learn more at the Kolaj Fest New Orleans website, HERE.
The book is available for pre-order at Kasini House ARTSHOP. (Orders will ship in late June.) Those wanting a copy sooner may visit the Collage Art & Book Market on Saturday, 10 June 2023, 1PM to 5PM at Cafe Istanbul in the New Orleans Healing Center at 2372 St Claude Avenue. Part of Kolaj Fest New Orleans, the Collage Art & Book Market is an opportunity for the general public to meet artists and publishers and to take in the rich and diverse cultural production of the international collage community.