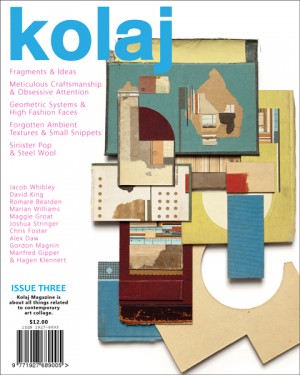 Contents
Kolaj editor Benoit Depelteau talks about fragments and ideas in collage
Billy Mavreas explores the textures & plans of resonance of collage artist Jacob Whibley.
Benoit Depelteau talks with Uncanny Artist owner Laura Stanziola.
Cory W. Peeke sits down with California artist David King.
Ric Kasini Kadour visits the Sinister Pop show at the Whitney.
We visit Marian Williams in her studio.
And much, much more