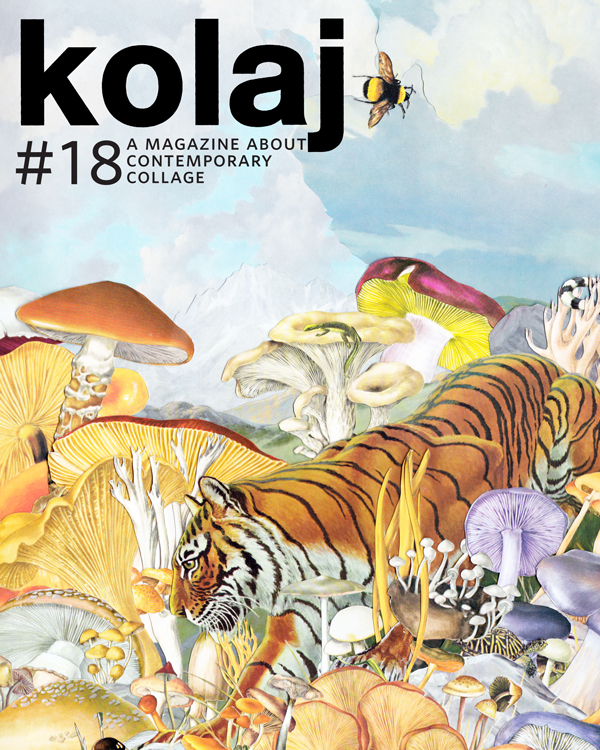 Kolaj #18 delivers a look at the wonderful world of contemporary collage: the people who make it and the people who love it.
INSIDE THIS ISSUE
A detail of Michael Tunk's Tigress graces the front of Kolaj #18. Faltage 33 by Collage N is on the back cover. We include Artist Portfolios of these two artists along with collage by Janina Anderson, James Shay, and Dana Robinson in the issue.
In his editorial, Kolaj Editor Ric Kasini Kadour writes:
"The sense of community surrounding collage is a source of strength. And now, more than ever, we need to acknowledge that and welcome others into this beautiful collective."
-Kolaj #18 Editorial
In this issue's News & Notes, we report on Collage artist RR Vagnini's Cardboard Jungle series; Robert Rauschenberg at Tate Modern; a line of collage-themed T-shirts; and the 20th Anniversary of National Collage Society's Small Format Exhibit.
Tania Mundell interviews London-based portrait artist Nick Gentry about his collage compositions.
Laurie Kanyer tells us how the emotional need for small muscle movements led to her becoming a collage artist. "Collage would use the small muscles of my hands to pace the hormones streaming through my body," she writes.
Catherine Mellinger writes, "Collage allows mothers to take the stories they are presented with in the media and reshape and reimagine their narrative" in her article about the Postpartum Therapeutic Arts Group she created that uses collage to ease postpartum depression.
In Collage Taxonomy, Ric Kasini Kadour explores the concept of Collage Painting.
We review the exhibition "Dispersal" at Rainmaker Artist Residency in Portland and open up some of the mail art on view. We also review of Niko Courtelis' book of postage stamp collage and Susanna Lakner and Bernd Reichert's collage book, Venus & Mars.
Etty Yaniv combed through London's Frieze Art Fair to bring us a report on collage in the international art scene. "Viewing the exhibits with a wider interpretation of the medium in mind, collage turned out to play a substantial role at the fair."
And as always, a Kolaj Artist Directory.
Already subscribed? Don't worry, you will be receiving your copy by the end of January.
SUBSCRIBE OR ORDER AN ISSUE

(US dollars)

(Canadian dollars)