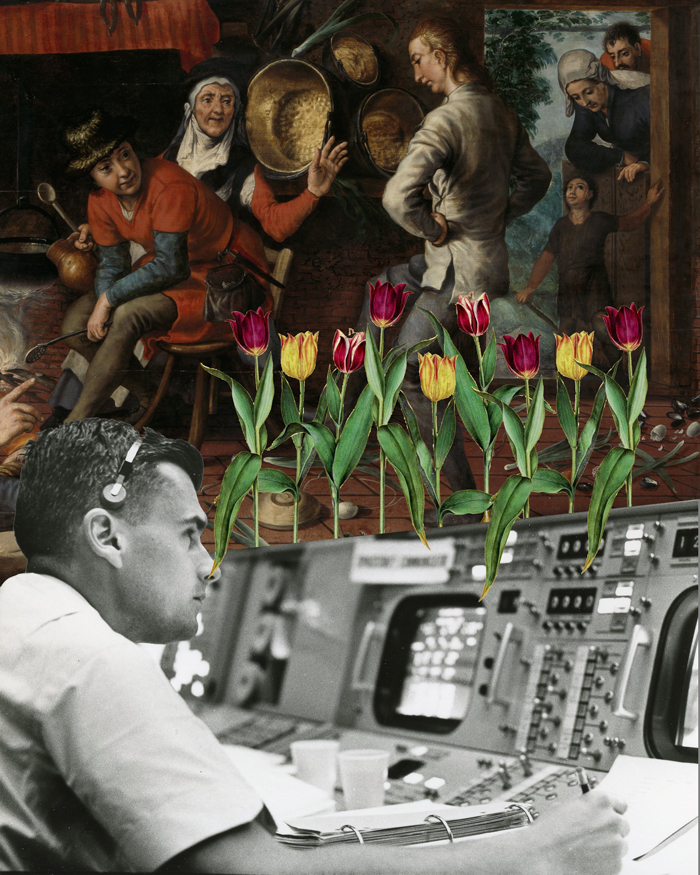 WORLD COLLAGE DAY SPECIAL EDITION
A Funny Thing Happened
on the Way to This Special Edition
Commentary by Ric Kasini Kadour
Putting together the World Collage Day Special Edition was a unique and edifying experience for me. Our mission with Kolaj Magazine is to explore how collage is made, how collage is exhibited, and how collage is collected; to investigate role collage plays in contemporary visual culture and provide quality exposure for contemporary collage art. As an art writer, I am interested in art objects, the how and why they came to be and the impact they can have on a viewer. Were I to be completely honest, the artist as a person is not my primary concern. The viewer is. I care about the impact art can have on individuals and on humanity in general. The artist, their idiosyncrasies, habits, and lifestyle matter to me only in as much as they inform, perhaps, a viewer's experience of the artwork they are creating. This is the ethos from which I write and edit the magazine.
---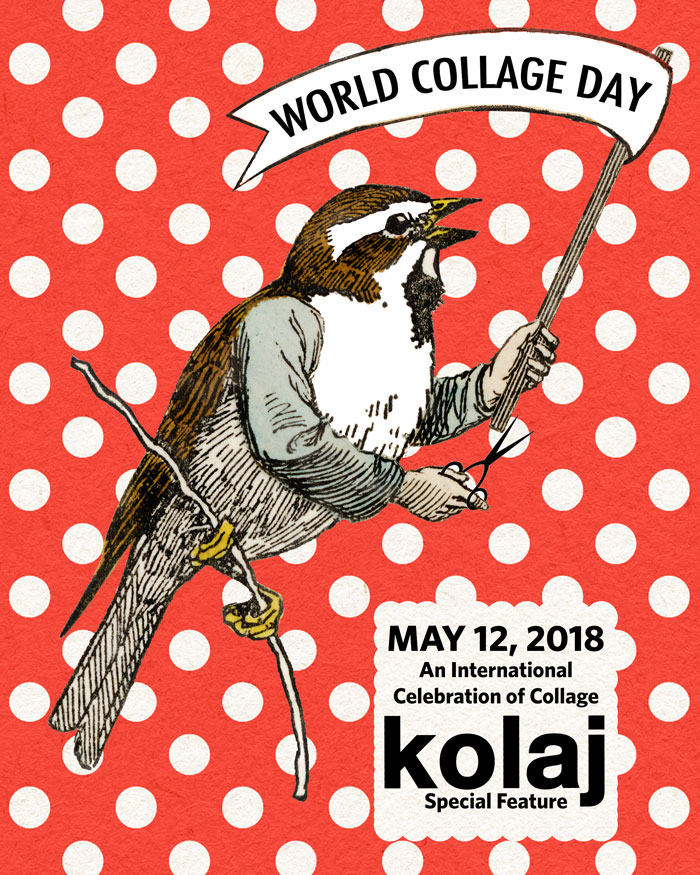 In honour of World Collage Day on May 12, 2018, Kolaj Magazine is releasing a special edition for World Collage Day. The edition has Cut Out Pages, artist profiles, and stories about collage. The World Collage Day Special Edition comes with an enamel pin designed by Michael Pajon featuring the World Collage Day image, a World Collage Day Poster, five World Collage Day postcards, five Collage Artist Trading Cards and some other goodies to get you in the spirit of World Collage Day.
---
A funny thing happened on the way to this Special Edition. We issued a Call to Artists asking for Cut-Out Pages. We thought it would be interesting to focus not on complete work but on the materials that collagists use to make their artwork. The submissions were abundant and generous, but we narrowed the number to a dozen or so that presented a coherent and compelling collection. I knew nothing of the artists submitting the pages we selected. I sent each of them some questions that I thought would inform my writing about them: How did you get into collage? What do you love about collage? What advice do you have for people just starting to collage? And I requested some examples of their collage. I intended to write a brief description about each artist to accompany their Cut-Out Page.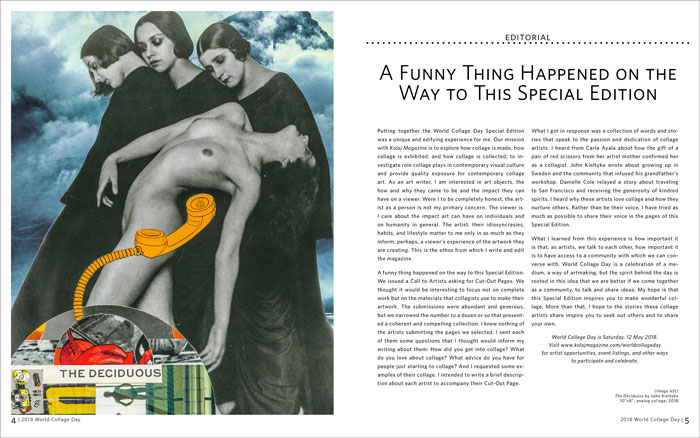 What I got in response was a collection of words and stories that speak to the passion and dedication of collage artists. I heard from Carla Ayala about how the gift of a pair of red scissors from her artist mother confirmed her as a collagist. John Kieltyka wrote about growing up in Sweden and the community that infused his grandfather's workshop. Danielle Cole relayed a story about traveling to San Francisco and receiving the generosity of kindred spirits. I heard why these artists love collage and how they nurture others. Rather than be their voice, I have tried as much as possible to share their voice in the pages of this Special Edition.
What I learned from this experience is how important it is that, as artists, we talk to each other, how important it is to have access to a community with which we can converse with. World Collage Day is a celebration of a medium, a way of artmaking, but the spirit behind the day is rooted in this idea that we are better if we come together as a community, to talk and share ideas. My hope is that this Special Edition inspires you to make wonderful collage, More than that, I hope to the stories these collage artists share inspire you to seek out others and to share your own.
GET YOUR COPY: World Collage Day Special Edition
World Collage Day, May 12, 2018, is an opportunity for people to come together around collage in their own communities and to connect to the world digitally using the hashtag #WorldCollageDay. See what's happening in your town or create your own event. Learn more at HERE.
Images
Line Up Your Tulips & Dance
from the series "Mission Control"
by Ric Kasini Kadour
15″x12″; collage; 2017
(in page spread):
The Deciduous
by John Kieltyka
10"x8"; analog collage, 2018