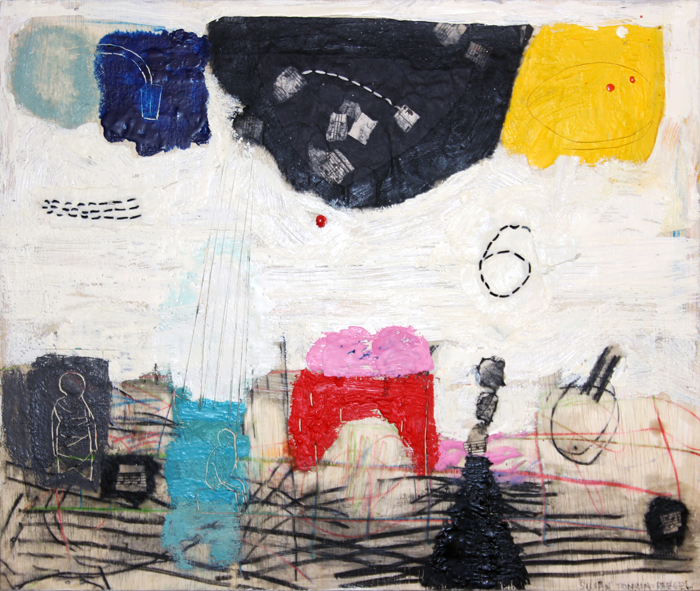 "Collage, etc." at Gallery 21Ten in Sacramento, California, USA
Exhibition Review by Nancy Flagg
"Collage, etc.", hosted by Gallery 21Ten in Sacramento, California, drew together 33 artists from across Northern California between 5 June and 6 July 2013. The collages interacting in the gallery were created by established, emerging, and not-yet-known artists hailing from the San Francisco Bay Area to the Sierra Nevada foothills.
Curator Robert Ray conceived of the exhibition two years ago. He visited open studios and exhibitions to find artists who use the principles of collage in their work. The show included traditional collage, sculptural assemblage, and photomontage. Ray's goal was for the pieces to interact visually and engage in dialogue with each other. After installing the works in the gallery, he waited a day before looking at the layout again and then adjusted it to improve the interplay between the pieces. For example, Ray placed Dennis Parlante's Stripes in view of Leslie Burleson's Game Theory because both used neutral colour palettes that allow the dominant black lines in each to come forward.
Stripes, reminiscent of a Kurt Schwitters collage, contains layered fragments of materials, such as stamps, ink writing, and packaging materials. The piece makes a viewer curious about what appear to be messages from far-away lands. Each scrap is in muted tones and quietly arranged into a vertical, mostly rectangular shape.
In contrast to Parlante's hushed mood, Laura Caron's untitled collage is a pinkish-red, vivid portrait of a woman. At a distance, the portrait looks like a painting, but on closer inspection, many fragments that create the complete image become visible, such as a cut-out of a person's face placed near the woman's ear.
Across the gallery from Caron's piece is Pick Six by Susan Tonkin Riegel. Tonkin Riegel was one of this year's artists-in-residence at the de Young Museum in San Francisco. She is known for using symbols and numbers in her work to capture bits of her dreams. Pick Six contains such items as floating fragments of musical notes, a black volcano shape spewing a musical score, dots and dashes, a red arch, a small human outline and a stitched number six. The Caron and Tonkin Riegel pieces share a colour palette, though Tonkin Riegel's has less of dominating colour presence. Both works invite the viewer to speculate on the artists' inner thoughts.
By comparison, Carol Dalton's powerful Sandy's Way appears clear in its reference to Hurricane Sandy. The work includes seemingly random bits of material, such as found metal, a scrap of corrugated cardboard and a painted outline of a boat hull, all of which Dalton brings together, much like the flotsam and jetsam left behind in the aftermath of a destructive storm.
The exhibition showcased a broad variety of styles and artists in a cohesive and compelling way.
Gallery 21Ten is part of the Sacramento Art Complex. Located in the heart of Sacramento's thriving midtown and hub of the popular Second Saturday Art Walks, the complex also includes micro and loft galleries, twenty-six artist studios, and an outdoor sculpture garden. The complex is owned and managed by Michael Key since 2012.
This review appeared in Issue 5 of Kolaj Magazine. To get your own copy or to subscribe, visit http://kolajmagazine.com/content/subscribe.
---
INFORMATION
Gallery 21Ten & The Sacramento Art Complex
2110 K Street
Sacramento, California 95816 USA
(916) 476-5500
Hours:
Wednesday-Saturday, 11AM-5PM
Second Saturday of each month, 11AM-9PM
Image:
Pick Six
by Susan Tonkin Riegel
15″x18″
encaustic collage, including stitching, wax, ink, paper scraps, music scores
2013
Image courtesy of Gallery 21Ten, Sacramento, California