FROM KOLAJ 28
Going Big: Wardell Milan at DeCordova Sculpture Park and Museum
Can a sculpture park show collage? The DeCordova Sculpture Park and Museum did.
In the seventy years since it opened, the museum has become one of the preeminent sculpture parks in the nation with over sixty works situated across thirty lush acres of woodlands and lawns. DeCordova maintains its commitment to contemporary, site-specific installations through a robust curatorial program. In 2019, the exhibited a monumental collage outdoors by New York-based artist Wardell Milan.
This article appears in Kolaj 28 and is part of the series, "Going Big." Over the next year, Kolaj Magazine is publishing a series of articles that investigates the strategies and approaches artists use to go big, increase the scale of their work, and engage with the larger art world.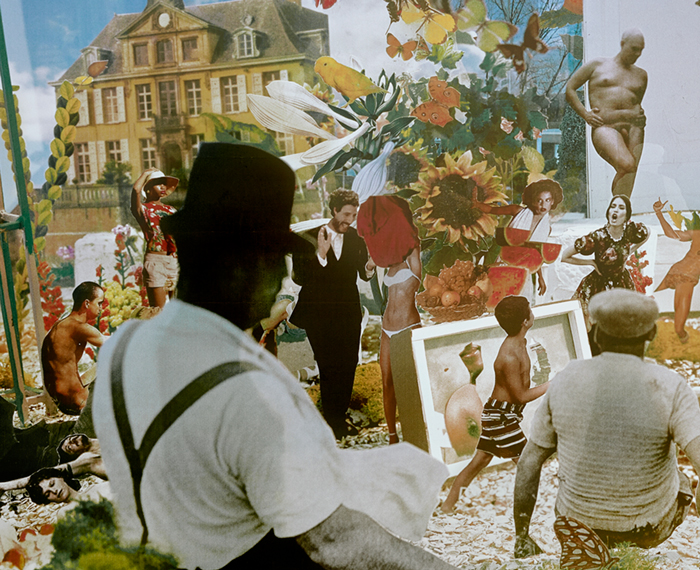 Milan's is concerned with the nature of beauty, the performance of gender, and marginalized bodies. To create his work, Milan builds and photographs dioramas with found imagery and other props. DeCordova curator Sarah Montross writes, "Milan excels at crafting scenes of disarming beauty and strangeness that initially seduce viewers, but then induce deeper reflection as concerns of gender and sexuality, race and ethnicity, surface."
To see the complete article, SUBSCRIBE to Kolaj Magazine or Get a Copy of the Issue.
Wardell Milan studied photography at the University of Tennessee and Yale University. His work is held in the collections of The Art Institute of Chicago; Museum of Contemporary Photography, Chicago; Denver Art Museum; Brooklyn Museum, New York, Hessel Museum of Art, Bard College; The Museum of Modern Art, New York, The Morgan Library & Museum, New York; The Studio Museum in Harlem, New York; Whitney Museum of Art, New York; UBS Art Collection; Daniel and Florence Guerlain Contemporary Art Foundation, Paris; Hall Art Foundation; and San Francisco Museum of Modern Art. Originally from Knoxville, Tennessee, Milan lives and works in New York City. Learn more at wardellmilan.com.
Established in 1950 and located just twenty miles west of Boston, deCordova Sculpture Park and Museum is dedicated to fostering the creation and exploration of contemporary sculpture and art through a dynamic slate of rotating exhibitions, innovative learning opportunities, a constantly changing landscape of large-scale, outdoor, modern and contemporary sculpture, and site-specific installations.