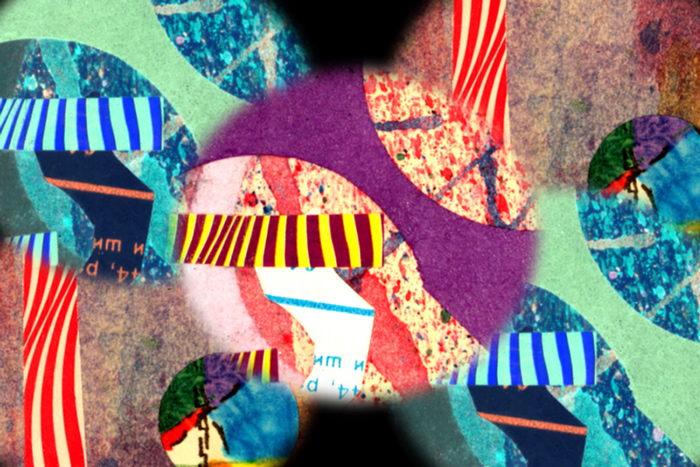 COLLAGE ON VIEW
Collage Summer
at 516 ARTS in Albuquerque, New Mexico, USA
online, 9 May-Summer 2020
As part of its Museum From Home initiative during the COVID-19 pandemic, 516 ARTS presents a series of online collage exhibitions and programs, starting 9 May 2020 for World Collage Day. As they grapple with the changing landscape of COVID-19, 516 ARTS' summer programs will continue to evolve in response to the times.
ONLINE EXHIBITION
Collage in Motion
9 May-Summer 2020
Collage animation has a long history, from Lotte Reiniger's silhouette animations from the 1920s and 1930s, the surrealist films of Joseph Cornell, Terry Gilliam's wacky introductions to Monty Python's Flying Circus to the array of commercials that use collage to tell a story. Animation provides collage artists a different way to tell stories and opens new paths to sharing their ideas. Guest curator Lisa Barcy (image above) has assembled a diverse line-up of animations for "Collage in Motion" including: Jessica Ashman, Jo Dery, Gretchen Hasse, Matt Marsden, Miwa Matreyek, Laurie O'Brien, Kathleen Quillian, Paloma Trecka, Hoji Tsuchiyaone of her own films. View the exhibition at www.516arts.org/collageinmotion.
---
ONLINE EXHIBITION
Cut Up or Shut Up!
9 May-Summer 2020
516 ARTS (re)presents "Cut Up or Shut Up!", a group of collage animations curated by Bryan Konefsky for their 2008 collage exhibition, "Alchemy". This international collection of collage films spans 70 years, and includes several of the "first wave" of collage animators who did this experimental work before the Internet. The program focuses on the cut-and-paste aesthetic. The title "Cut Up or Shut Up!" is based on a 1972 text of the same name by William S. Burroughs and Brion Gysin, in which the authors explored a cut-up technique of writing that they first popularized in the 1960s. Konsefsky says, "Collage films represent a profound sense of the cinematic in that they foreground ways in which disparate sounds/images are sutured together to create moving image stories." View the exhibition at www.516arts.org/cutuporshutup.
---
INFORMATION
516 ARTS
516 Central Avenue SW
Albuquerque, NM 87102
(505) 242-1445
Hours:
Tuesday-Sunday, Noon-5PM
(NOTE: Due to COVID-19, 516 ARTS is temporarily closed to visitors.)