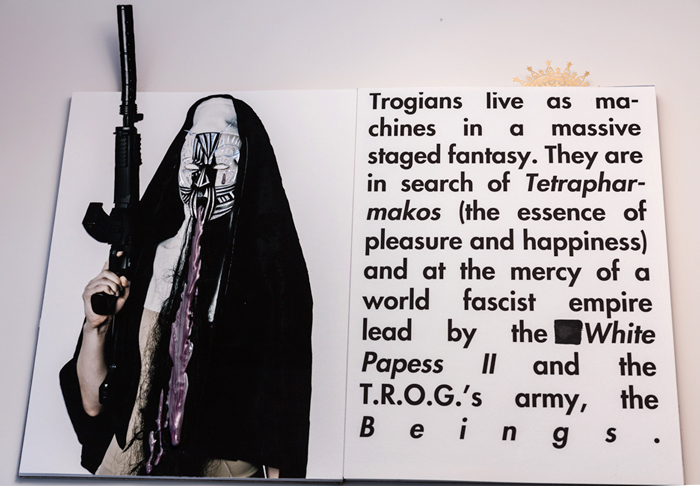 Elektra KB at BravinLee programs in New York City
Exhibition Review by Elizabeth Hazard
BravinLee programs presents artist Elektra KB's exhibition "There Are Women at the Gates Seeking a New World" in the New York gallery's project room (22 May-28 June 2013). The exhibition showcases a combination of the artist's new works on paper, photography and pages from her two books The Theocratic Republic of Gaia Book I and Book of the Cathara Insurgent Women.
Through a mixture of artistic mediums, Elektra KB creates a mythical world wrought by the oppression of women, guerrilla warfare, the ideals of radical politics and an overall portrayal of human barbarity, which the feminist artist admits plays a central role in most of her work. The insurgent women represented in pieces such as The Procession in Colonized Territory and The Journey (both made of pigment prints on canvas, fabric, felt, thread) showcase the women of this fictional civilization standing bravely, holding brightly coloured weapons in a state of clear defiance. The artist points out in the notes accompanying the exhibit that these are not dangerous weapons, however, as they only shoot out rays of light.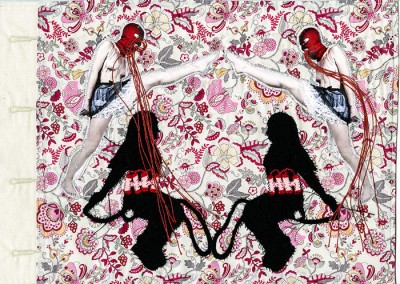 Revolution and rebellion play an integral role in the works on display. The name of the exhibit itself is a play on words taken from an essay that applauds the use of revolutionary art in everyday life. Elektra KB's artwork is filled with symbolism and meaning. Each photo, drawing and felt collage piece that defines her work is a powerful manifestation of a make-believe world she first created in her own childhood as a way to find order in a lonely world.
Born in the Ukraine and raised in Colombia, the only child knew her passion for art an early age. She was fascinated with philosophy and Plato. She began creating what she calls a "dictatorship of illusion" she then named "The Theocratic Republic of Gaia." Now New York-based, artist has grown from this childhood world. Through her work she continues to create and expand on this mythical society in order to illustrate her powerful worldviews and undeniable passion.
This review appeared in Issue 5 of Kolaj Magazine. To get your own copy or to subscribe, visit http://kolajmagazine.com/content/subscribe.
---
INFORMATION
BravinLee programs
526 West 26th Street, Suite 211
New York, New York 10001 USA
(212) 462-4404
Hours:
Tuesday-Saturday, 10AM-6PM
Image (top):
from The Theocratic Republic of Gaia Book I
by Elektra KB
12"x19.5"x2"
pigment prints on canvas, fabric, felt, thread
artist book: 20 single sided fabric pages and fabric cover
2012
Image courtesy of BravinLee programs
Image (centre):
untitled 11 from artist's book
by Elektra KB
12.5″x17.25″x3″
mixed media on paper
artist book: 22 pages, accordion-bound with hard cover
2013
Image courtesy of BravinLee programs