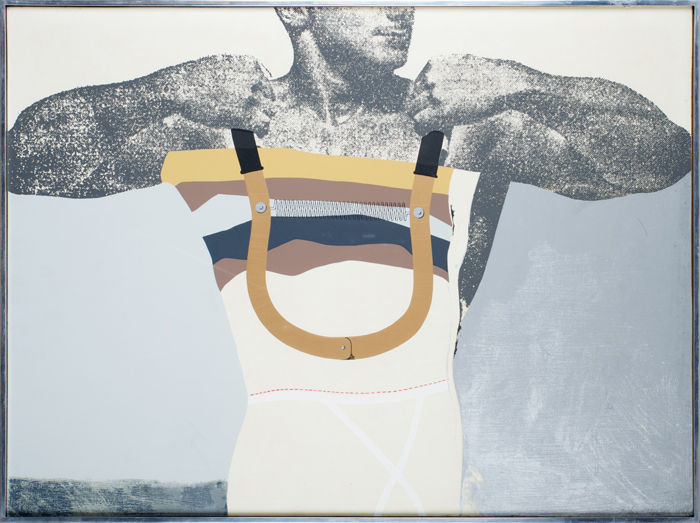 15 June-29 September 2013
"Modern British Collage and its Legacy"
Pallant House Gallery presents an exhibition exploring the role of collage in the trajectory of modern British art, through works in the gallery's own collection. The work includes collage, prints, and paintings by artists such as John Piper, Ben Nicholson, Eileen Agar, Nigel Henderson, Richard Hamilton, Peter Blake, and John Stezaker.
The exhibition begins with work by the British avant-garde, who used collage as a means for developing their own variation on international modernism and abstraction in the 1920s and 30s. The work of The Independent Group, which emerged in the post-war period, is also examined, including work by Nigel Henderson (Screen (1949-1960)) and Eduardo Paolozzi, who is known for his BUNK collages created for the inaugural meeting of The Independent Group in 1952. These works were assembled from magazines given to the artist by American ex-servicemen and referenced fashion, car design, domestic goods, film, and science fiction.
Richard Hamilton's work focused on the power of advertising and the ubiquity of images in mass media. This exhibit includes his painting and related screenprints for Adonis in Y-Fronts.
Pop Artists such as Peter Blake and Colin Self are represented. John Stezaker, known for his "Dark Star" collages, brings the exhibition to the present with a 2012 work acquired for the collection.
(adapted from the gallery's press materials)
---
INFORMATION
Pallant House Gallery
9 North Pallant
Chichester, West Sussex PO19 1TJ United Kingdom
(01243) 774557
Hours:
Tuesday-Saturday, 10AM-5PM
Image:
Adonis in Y-Fronts
by Richard Hamilton (1922-2011)
screenprint
1963
Wilson Loan, 2006
Copyright Estate of the Artist
Image courtesy of Pallant House Gallery