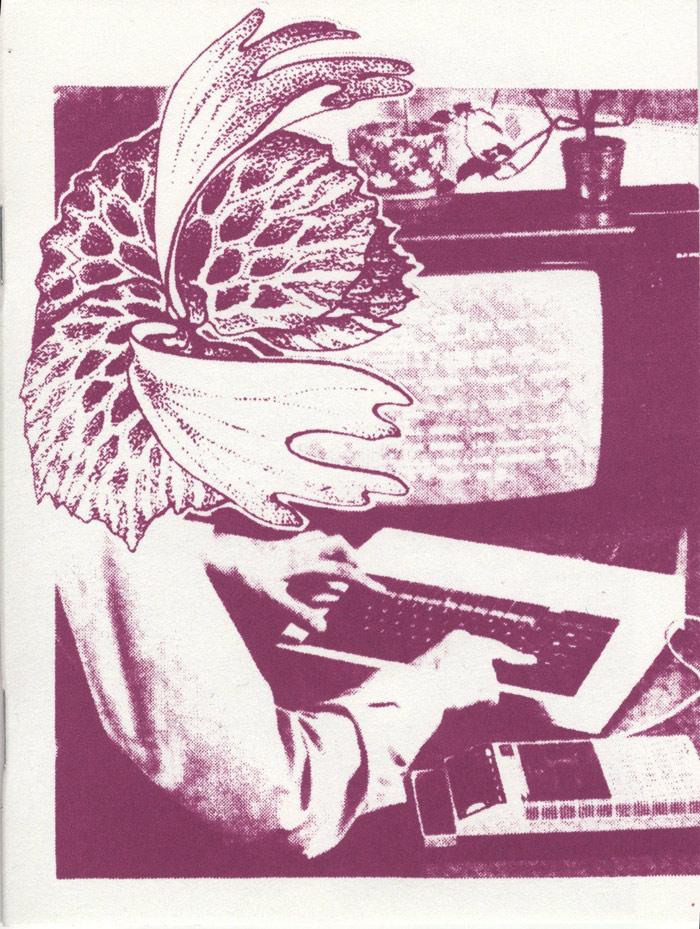 FROM KOLAJ #21
Two New Titles by Musta Fior
The prolific French collagist Musta Fior continues his brisk productivity this year with the release of 'zines.
Fior teamed up with Swedish-French artist duo Anna Hellsgård and Christian "Meeloo" Gfeller, a.k.a Re:Surgo!, to produce Ersnt on Skype, a limited edition, 16-page, two-colour silkscreen featuring Fior's collages of a human with a plant head at work at his computer, using an adding machine, or staring at an antiquated radar. "The images present an outdated and surpassed technology," explained Fior.

Earlier this year, Fior published an eponymously titled 'zine with Les Crocs Electriques, a dynamic, hyper-active publishing project from Paris. Les Crocs Electriques publishes a new book every three days and markets them in packs of 10. Fior's 40-page 'zine presents a series of collage where the body is used "as a simple object of decoration inside an outdated furnished environment." The artist explains, "The cut-out bodies, taken out of their photographic context, or extracted from the arms of a partner, are thus placed in images of a catalog of furniture and decorations…These shapeless bodies, having lost all form of life, haunt places usually described as living rooms."
This news and notes item appears in Kolaj #21. To see the entire article, SUBSCRIBE to Kolaj Magazine or Get a Copy of the Issue.
To see more of Musta Fior's work, visit his webpage, blog, Tumblr, Facebook, and Twitter.
To purchase Fior's 'zine from Les Crocs Electriques (motto: "One book every three days; 100 books a year"), visit their website or Facebook page.
To see and purchase the work of Re:Surgo! and Hellsgård & Gfeller, visit Beuys on Sale HERE.
Image (top):
from Ersnt on Skype
Image (centre):
Le coin repos japonaise by Musta Fior
from Musta Fior