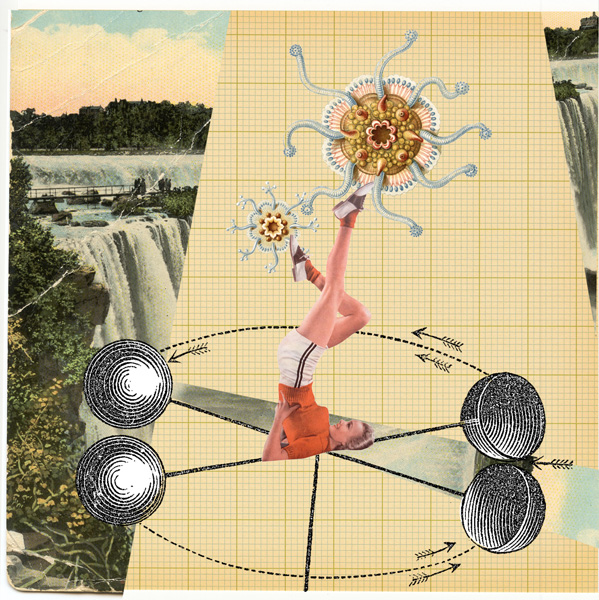 In Issue 8, Ric Kasini Kadour profiled and interviewed Nancy Bernardo, a collage artist and graphic design instructor based in Rochester, New York, USA.
Kadour writes:
The traditional cut and paste work, What Do I Really Want?, uses a 1950s advertisement as a point of departure. A woman in an apron pulls a boxed pie out of a stuffed freezer. The composition is reinforced with spears of blue technical drawings that slice and cut through the work. Letters running up the backside of the woman spell out "full." A giant baby points at her.

These works exemplify themes that reappear in Bernardo's collages: womanhood and identity. The "Awakening Series" exhibited at Loyola is a reflection on Kate Chopin's 1899 book, The Awakening. An early feminist work, The Awakening was one of the first American novels to focus on the experience of women. Considered a precursor of modernist literature, Chopin's novel tells the story of a woman who breaks from conventional familial and social life in 19th century New Orleans and begins to pursue her own interests and desires. With quotes from the text, a collection of vintage postcards from Niagara Falls, and a host of digital graphic elements, Bernardo's "Awakening Series" presents a visual commentary to Chopin's novel that could just as easily pass as illustration for a book jacket as it does as a piece of fine art.
To read the entire profile and interview, purchase Issue Eight or SUBSCRIBE to never miss an issue.
Image:
(above)
I Heart Exercise by Nancy Bernardo
8"x8.25"; vintage magazines, computer; 2012
(below)
What Do I Really Want? by Nancy Bernardo
7.5″x9″; vintage magazines, glue; 2012
Images courtesy of the artist