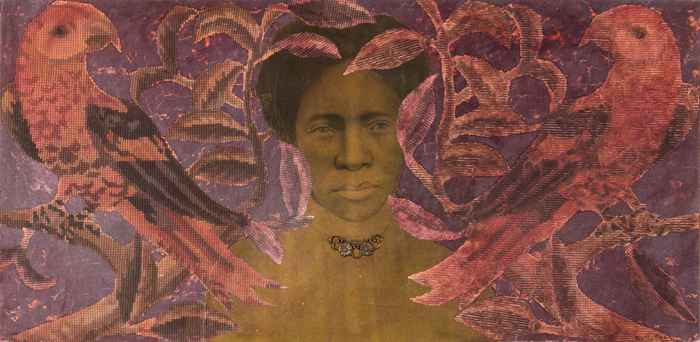 COLLAGE ON VIEW
Hopes Springing High: Gifts of Art by African American Artists at the Crocker Art Museum in Sacramento, California, USA
18 February-15 July 2018
The Crocker Art Museum has installed an exhibition of recent acquisitions and promised gifts of art by African American artists. The title of the exhibition takes its name from the poem "Still I Rise" by acclaimed poet and civil rights activist Maya Angelou. As in Angelou's poem, the museum honours the strength and resiliency of African Americans, elevating their voices and highlighting their contributions to art and the Museum's growing collection. The exhibition presents thirty-one artworks by twenty-three prominent African American artists, the majority of whom worked from 1950 to the present day.
This exhibition was the subject of a News and Notes item in Kolaj #22. We wrote, "Collage figures prominently with works by Romare Bearden, Faith Ringgold, Betye Saar, and Allen Stringfellow. Assistant Curator Christie Hajela said, 'Many of the works in the show address the social or political inequities of history, as well as the challenges of today. And, as the exhibition title suggests, the works are often meant as agents of change.'"
Among the other artists represented in the exhibition are Beauford Delaney, Hayward Ellis King, Evangeline Juliet "EJ" Montgomery, Sam Gilliam, Elizabeth Catlett, Norman Lewis, Richard Mayhew, Alison Saar, Alma Woodsey Thomas, and Mickalene Thomas.
This News & Notes item appeared in Kolaj #22. To see more, SUBSCRIBE to Kolaj Magazine or Get a Copy of the Issue.
---
INFORMATION
Crocker Art Museum
216 O Street
Sacramento, California 95814 USA
(916) 808-7000
Hours:
Tuesday-Wednesday, 10AM-5PM
Thursday, 10AM-9PM
Friday-Sunday, 10AM-5PM
Image:
Woman with Two Parrots
by Betye Saar
12″x24.625″
mixed media collage on paperboard
2010
Crocker Art Museum, gift of Emily Leff and James Davis III, 2017.67.7
© Betye Saar/Roberts Projects, Los Angeles, California