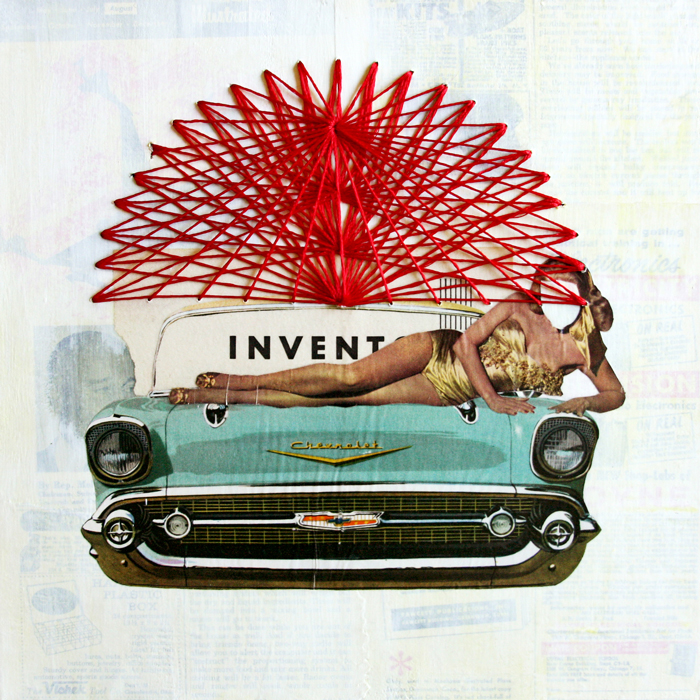 "The Threads of Perception" by Benoit Depelteau
As you know, people meeting for the first time usually introduce themselves and exchange customary courtesies. This ritual also includes certain questions about their life, family and career. In my case, that last aspect directs the conversation to teaching, art making and my involvement with this publication. I like to take advantage of this situation to discover peoples' perceptions regarding collage, but sometimes I'm disappointed.
''A magazine about collage, that's fantastic! I know someone making beautiful collages with his vacation pictures. It's so beautiful, you should show his work in your magazine.''
The references people often have are scrapbooking and kids' crafts, activities accessible to nearly anyone. The fact that collage might be perceived by some as ''only images stuck onto paper'' has often led to an association with the world of craft rather than fine art. Yes, to glue images together can be aesthetic or useful, just like knitting, sewing or ceramics, but it is not merely enough to make it art.
But that perception gap is understandable since the line between fine art and craft is sometimes hard to draw. Kolaj's editorial team has felt the need, in some cases, to conduct additional research to be sure to understand the intention underlying the creation of some work. Because that intention, along with the artist's statement, is what makes art.
Over time, especially in the last decade, collage artists have worked hard to change that perception and distance their work from craft. Among other things, they clarified their statements and increased the sophistication of their presentations to convince gallerists and collectors that collage was indeed fine art material.
Today, collage is more visible in galleries and even museums; and the proximity to craft is not as problematic as it used to be. In fact, a rising number of artists are presenting collage work that incorporates thread, fabric, scrapbooking papers, and even Plasticine.
In this issue, we present some of these refreshing artists who re-appropriate materials generally associated with craft. They all have distinctive practices and statements, but, through the use of embroidery, knitting or sewing, they play with the medium's codes and conventions to evolve the language of collage.
PURCHASE ISSUE FIVE | SUBSCRIBE | FACEBOOK
Image:
Inventors
by Tyler Varsell
12″x12″
paper, acrylic and embroidery thread on canvas
2012