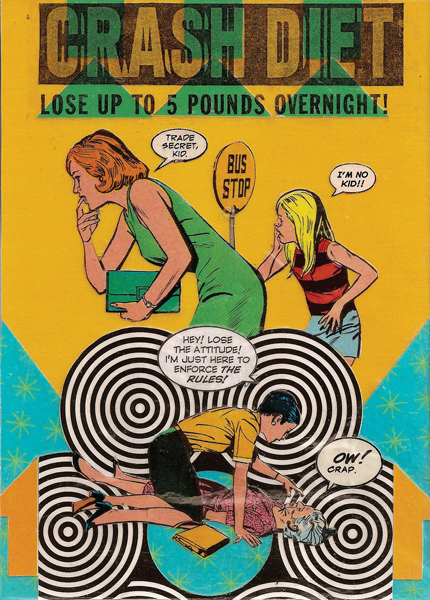 SEATTLE, WASHINGTON, USA
Marty Gordon is a former minister who lives in Seattle with his wife, Sarah, who is also an artist and a costume designer. He has exhibited his art nationally and internationally and is featured in the recent publications Masters: Collage and Look Up Here: 5 Years of NW Urban and Contemporary Art.
A portfolio of Gordon's collages appears in Issue Two where Ariane Fairlie writes,
Marty Gordon uses comfortingly familiar vintage imagery to ask discomforting questions of himself and of his viewers. He uses a direct and witty aesthetic to confront broad issues of religion, culture, gender, and a wide variety of other contemporary issues.
To read more about Marty Gordon, purchase Issue Two or SUBSCRIBE to never miss an issue.
See more of Marty's work on his blog, "What Would Jesus Glue".
Image:
Crash Diet
by Marty Gordon
7″x5″
Collage made from vintage Boy's Life magazine, vintage children's encyclopedia, Xerox transfer on packing tape, comic books and colored paper with Golden Gloss Medium on mat board
2012