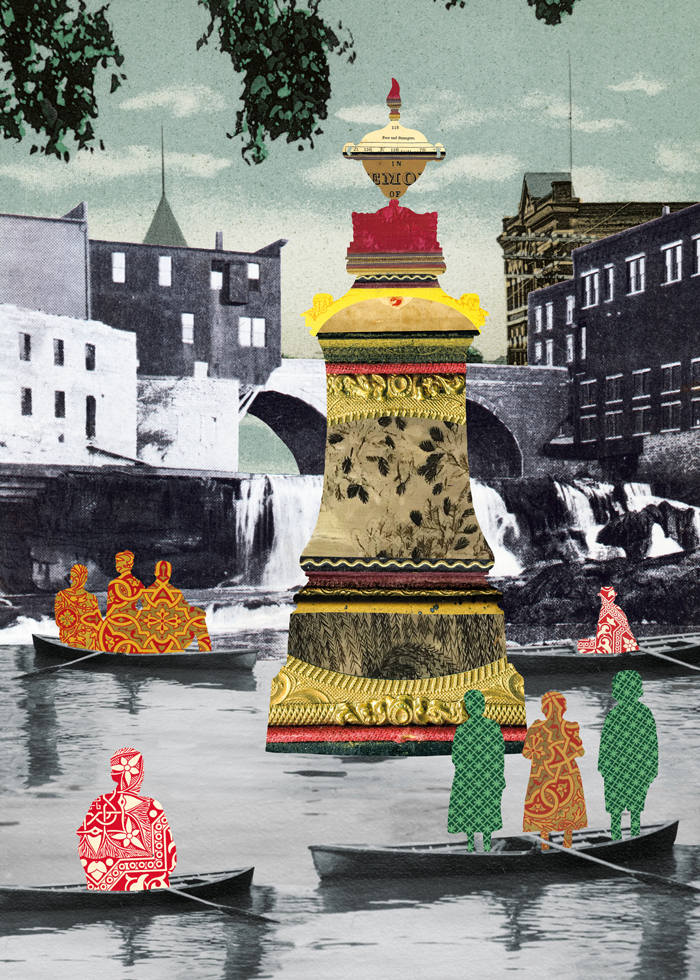 COLLAGE ON VIEW
Artists in the Archives
at the Henry Sheldon Museum of Vermont History in Middlebury, Vermont, USA
2 September 2022-7 January 2023
Opening reception and book launch: Friday, September 2, 2022, 5-7PM
Local history museums, archives, and collections are vital to building healthy communities and to anchoring our understanding of the world around us in the place where we live, work, and play. Collage artists have unique skills that are particularly useful in our historical moment. They understand that something beautiful, something meaningful can come from chaos; that destruction is easier than creation, which takes patience, precision, thoughtfulness, and intuition. What happens when we bring those two groups together?
"My initial apprehension over how effectively far-off artists can engage the historical archives of a small Vermont community was melted away by their keen and sympathetic exploration of our materials," said Garcelon-Hart. "The prevailing threads that seemed to ignite the group was their compassion for the omitted or ignored in the collections, and their cognizance of interconnection between humans, the environment, and the natural world. Clearly, the empathy factor is what bonds communities across borders, cultures, and times."
On the occasion of the 50th anniversary of the Stewart-Swift Research Center, the Henry Sheldon Museum of Vermont History invited an international network of collage artists to engage with historic material in the archive and to create a folio of collage prints that reflect on the idea of community in a 21st century world. The prints will be on exhibition at the Museum from September 2nd, 2022 to January 7th, 2023 and the subject of a book published by Kolaj Institute.
An Opening Reception and Book Launch will take place at the Henry Sheldon Museum on Park Street in Middlebury,Vermont at 5-7PM on Friday, September 2nd, 2022.
Under the curatorial direction of Kolaj Institute Director Ric Kasini Kadour and with the support of Stewart-Swift Research Center Archivist Eva Garcelon-Hart and Henry Sheldon Museum Collections Associate Taylor Rossini, the Museum engaged with twenty-three artists from seven countries to make twenty-four collage prints referencing history material in the collection.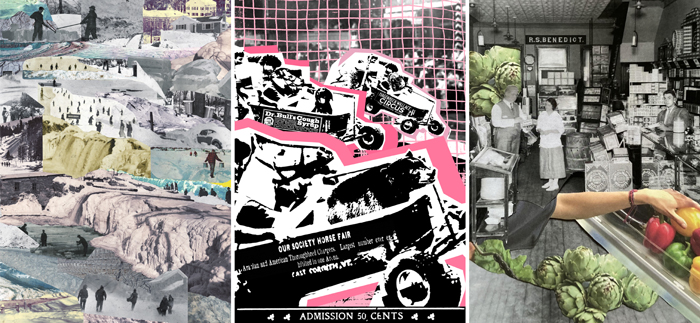 ABOUT THE ARTWORK
How does one create a visual representation of history? Jack Ravi collages the myriad of stories held in the archives as a way of juxtaposing the complex, rich history of remembering with the simultaneous fact of forgetting and obfuscation.
To update an early twentieth century postcard that imagines the future of Middlebury, Anthony D Kelly combines advertisements for Phoenix Clothes, Dexter Shoes, and Otis Elevator Company from the 1970s with a postcard of Main Street Middlebury found in the Stewart-Swift Research Center archives. (This work is in the exhibition, but does not appear in the folio.)
Vicki Scheele's collage is an homage to the community of people who have maintained the Henry Sheldon Museum and the Stewart-Swift Research Center archives throughout its history.
Artists pursued their interest in the lives of women. Using letters of women working at textile mills in the 19th century, At the Loom by Illinois-based artist Alexa Frangos speaks to the experience of being forced to labor away from one's community. Elaine Luther uses a 19th century advertisement for Lydia Pinkham's Vegetable Compound which promised "a positive cure for all female complaints" to draw attention to the historical role women play as healers in the community. A Portrait of Emma Willard by xtine offers a dreamy meditation on the women's education activist's life and philosophy.
Morgan King combines landscape photographs with images from the 1930s and 1940s of women swimming to consider the power water has on a community. King imagines these images in light of Larry Mitchell's 1977 novel, The Faggots & Their Friends Between Revolutions, as a way to think about the lives of queer people in the past. Jeanna Penn used photographs of Louise Manning and the Hayden Family to explore what it means to be a minority in a community. Sheryl Renee Dobson's Flags, Fences, and Faith considers how Vermonters of color navigated community throughout history.
Todd Bartel questions Eurocentric notions of community using an 1859 history of Addison County. In doing this, Bartel asks us to consider how a spirit of Manifest Destiny renders invisible those whose land Europeans "settled".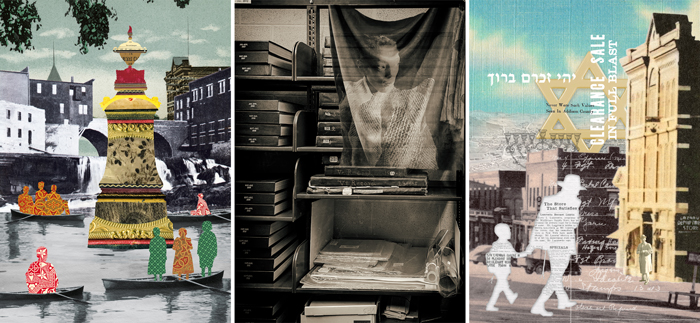 A number of collages focus on what communities are absent in the archive. By projecting and photographing images of women of African-American descent onto the physical storage room of the archive, Carmen Lizardo's collage draws our attention to the absence of Black people in the collection. Seeing "minimal Jewish material in the archive", Ginger Sedlarova hopes to draw attention to what material is there to "inspire the Jewish residents of Middlebury to donate archival materials." Young Shin struggled to find references to Asians in the archives, but a photograph of a retail store got her thinking about the material goods available in the town.
What non-human elements shape our communities? Anika Steppe considers the place of companion animals in communities using photographs of people and their pets found in the archive. Marta Janik was taken with images of trees she found perusing Stewart-Swift Research Center material found in the virtual collection of the University of Vermont's Landscape Change Program. Her collage asks us to think about the role trees play in our communities. When R. Galvan searched the Stewart-Swift Research Center archives for images of men, they found their attention driving to assorted photographs of animals and how people were forming communities around them.
Taken with the many representations of winter in the archives, the collage of Florida-based Allison Spence speaks to the role the season plays in the collective identity of the community.
Combining a 19th century illustration of Merino sheep with advertisements from the 1970s and a photograph of the sky by M. Henry from an 1881 magazine of photography, Anthony D Kelly draws upon Vermont's rich history of sheep herding and textile making to comment on how industries shape communities. (The work appears in the book and the folio, but not in the exhibition.)
Christopher Kurts collages a World War I food rationing poster to draw our attention to the role food plays in building community. Moved by her own experience of the war in Ukraine, Lilya Chavaga considers the social aspects of food by collaging elements of a modern grocery store into a 1900 photograph of R. S. Benedict's Store at 5 Merchants Row.
Nancy Bernardo draws upon early 20th century photographs of maids and laborers at The Breadloaf Inn to highlight unknown women and men who are integral to the infrastructure of a community.
Sharon Shapiro, whose artwork often explores themes of recreation, was drawn to historic postcards that show recreational communities on Lake Dunmore. Ric Kasini Kadour used photographs of Henry Sheldon's playing cards on display in the museum to speak about how communities form around games and play.
Inspired by Henry Sheldon's 1884 Memorial Chair, which is made of wooden fragments with historical significance, Klara Espersen imagines a monument in Otter Creek made of memorial items found in the archive.
About the Curator,
Ric Kasini Kadour
Ric Kasini Kadour, a 2021 Andy Warhol Foundation for the Arts Curatorial Fellow, is a writer, artist, publisher, and cultural worker. Working with the Vermont Arts Council, Kadour curated four exhibits: "Connection: The Art of Coming Together" (2017) and Vermont Artists to Watch 2018, 2019 and 2020. In 2017, he curated "The Art of Winter" at S.P.A.C.E. Gallery in Burlington, Vermont. In 2018, Kadour curated "Revolutionary Paths: Critical Issues in Collage" at Antenna Gallery in New Orleans, which bought together collage artists whose work represents the potential for deeper inquiry and further curatorial exploration of the medium; followed in 2019 by "Cultural Deconstructions: Critical Issues in Collage" at LeMieux Galleries in New Orleans, which furthered the conversation. Since 2018, he has produced Kolaj Fest New Orleans, a multi-day festival & symposium about contemporary collage and its role in art, culture, and society. As Curator of Contemporary Art at Rokeby Museum in Ferrisburgh, Vermont in 2019 and 2020, he curated three exhibitions, "Rokeby Through the Lens" (May 19-June 16, 2019), "Structures" (August 24-October 27, 2019), and "Mending Fences: New Works by Carol MacDonald" (July 12-October 25, 2020). He also curated "Contemporary American Regionalism: Vermont Perspectives" (August 17-October 20, 2019); "Where the Sun Casts No Shadow: Postcards from the Creative Crossroads of Quito, Ecuador" (November 1-30, 2019); and "Many Americas" (August 20-November 27, 2022) in the Wilson Museum & Galleries at the Southern Vermont Arts Center. "The Money $how", co-curated with Frank Juarez, was presented at the AIR Space Gallery at Saint Kate-The Arts Hotel in Milwaukee, Wisconsin (April 10-September 12, 2021). For Birr Vintage Week & Arts Festival in Birr, County Offaly, Ireland (August 13-20, 2021), he curated "Empty Columns Are a Place to Dream", which traveled to the Knoxville Museum of Art in January-February 2022. At 516 ARTS in Albuquerque, New Mexico, Kadour co-curated with Alicia Inez Guzmàn two exhibitions: "Many Worlds Are Born" (February 19-May 14, 2022) and "Technologies of the Spirit" (June 11-September 3, 2022). Kadour is the editor and publisher of Kolaj Magazine. He has written for a number of galleries and his writing has appeared in Hyperallergic, OEI, Vermont Magazine, Seven Days, Seattle Weekly, Art New England (where he was the former Vermont editor) and many others. Kadour maintains an active art practice and his photography, collage, and sculpture have been exhibited in and are part of private collections in Australia, Europe and North America. In January-February 2020, he was artist-in-residence at MERZ Gallery in Sanquhar, Scotland. He holds a BA in Comparative Religion from the University of Vermont. Kadour splits his time between Montreal and New Orleans. www.rickasinikadour.com
About the Henry Sheldon Museum of Vermont History & the Stewart-Swift Research Center
The Henry Sheldon Museum of Vermont History in Middlebury, Vermont, was founded by avid local history collector, Henry L. Sheldon, in 1882, and is considered the oldest community-based museum in the country. The Museum's Stewart-Swift Research Center archives are one of the most significant in the region. In 2022, the Research Center celebrates its 50th anniversary as a designated archival repository in its own right. The collection covers a broad range of subject areas with particular strength in agriculture, art and architecture, industry, religion, transportation, the environment, race and abolitionism, women's and gender studies, recreation, and other topics of local and national significance. www.henrysheldonmuseum.org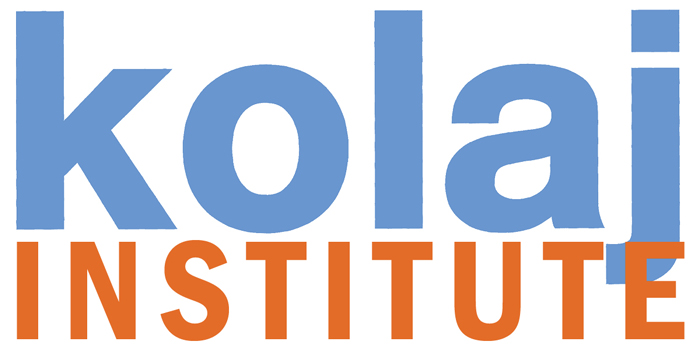 About Kolaj Institute
The mission of Kolaj Institute is to support artists, curators, and writers who seek to study, document, & disseminate ideas that deepen our understanding of collage as a medium, a genre, a community, and a 21st century movement. We operate a number of initiatives meant to bring together community, investigate critical issues, and raise collage's standing in the art world. www.kolajinstitute.org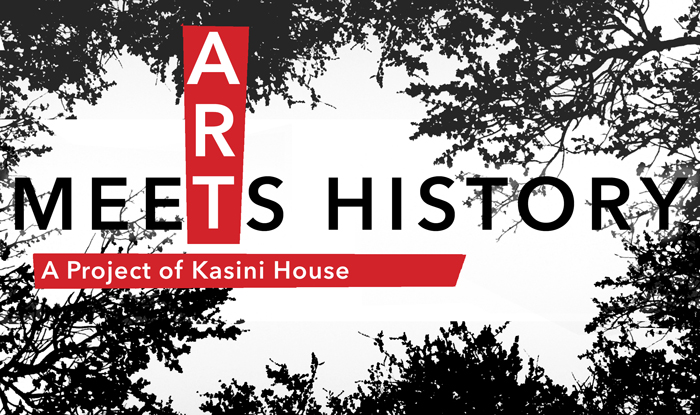 About Art Meets History
Art Meets History is an initiative of Kasini House that works to build connections between contemporary art and history-focused organizations. Symposiums and talks promote the idea and value of art and history working together. Artist Labs and an online directory connects artists and history organizations. With this work, we develop exhibitions, curatorial projects, and publications. Our vision is that artists pick up the unfinished work of history and speak to contemporary civic discourse around social, economic, and environmental issues. www.kasinihouse.com
---
INFORMATION
Henry Sheldon Museum of Vermont History
1 Park Street
Middlebury, Vermont 05753 USA
(802) 388-2117
Hours:
Tuesday-Thursday, 10AM-4PM
Friday, 1-7PM
Saturday, 10AM-4PM