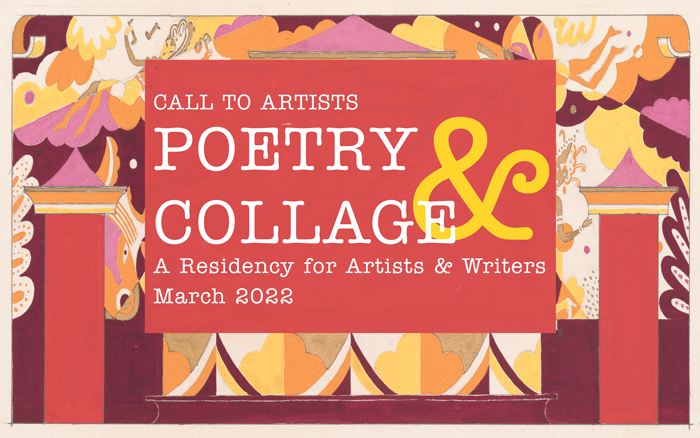 COLLAGE RESIDENCY
Kolaj Institute Announces the Third Round of Artists Selected for the Poetry & Collage Residency
Kolaj Institute is excited to announce the ten artists selected to participate in the third round of the Poetry & Collage Residency.
It says something that in the Poetry Foundation's Glossary of Poetic Terms, "collage" is one of the few visual art terms they define. Perhaps this is because so many poets have also been collage artists. In recent years, we've seen exhibitions from John Ashbery and Marc Strand, whose collage "dates back to his student days at Yale in the 1950s where he studied with Josef Albers, the renowned Bauhaus artist and color theorist, and also Bernard Chaet." Arthur Solway recalled, "Though we were eight thousand miles apart we would have weekly Skype calls, and he was always eager and excited to show me the latest batch of collages he was working on." A 2017 book of Helen Adam's collages, which fellow poet Robert Duncan referred to as "pleasing weird", has sold out. Keith Waldrop, Barbara Guest, John Wieners, Norma Cole, the list is long.
Participants will work together to investigate the intersection of collage and poetry by exploring concepts of found poetry, blackout poetry, collage poems, haikus, centos, response collages, response poems, word scrambles, concrete poetry, scatter collage poems, and other poems and artwork that inhabit this world. Together we will create working definitions and document techniques.
Guest speakers will share their practice, knowledge and experience. Portland, Oregon-based Kevin Sampsell is an editor, publisher, bookstore employee, collage artist, and author. His forthcoming book of collage art and poems, I Made an Accident, is being published by Clash Books. Renée Reizman is an interdisciplinary curator, artist and writer specializing in social practice and civic engagement. Her workshop, "Deconstructing Legalese", uses found poetry to examine contracts and codes imposed upon us by bureaucratic systems, and reconstructs the language to reclaim our personal histories. Rod T. Boyer creates art and poetry under the moniker our thomas, exploring themes of redemption, mystery, and transformation. In Kolaj #32, his article, "Mind the Gap," explored how collage and haiku share similar mechanisms of juxtaposition and disjunction.
In several virtual meetings over four weeks and through ongoing, online discussion, artists will leave the residency with a deeper understanding of the intersection of collage and poetry. Individual participants will each create multiple page spreads that will be included in a forthcoming book of collage and poetry from Kolaj Institute. The pages may be entirely text, entirely images, or some combination of the two.
---
PARTICIPATING ARTISTS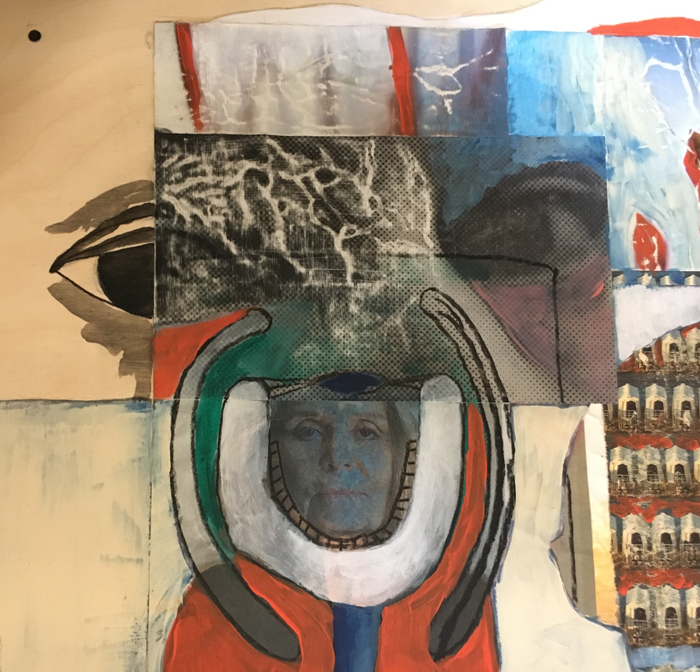 Stacy DeBritz, an educator (adjunct) and multimedia artist with an MFA in painting, is a reader and poet residing in upstate New York. She is fascinated with synchronicity and the interconnectedness of humans/animals, places, objects, and images. She spends her days paying attention, being astonished and as Mary Oliver would request, "telling about it". Born in the Big Sky Country, she relishes in nature, rugged mountains, and sunlight. In the world's oceans, she finds her solace. She continues to educate herself through teaching, inspiring, and developing educational products for underserved populations in K-12. She recently attended Paul Muldoon's Sharon Springs Poetry Festival and workshoped with poet Dora Malech. As a mother of four, she and her husband (educational publishers) have spent years cultivating fertile ground for open-minded thinking, use of language, creative risk, entrepreneurship, and resilience. Currently, she's honing skills in the aversion to resistance. She's a spiritual being reclaiming the inherent goodness and connectedness in all humans.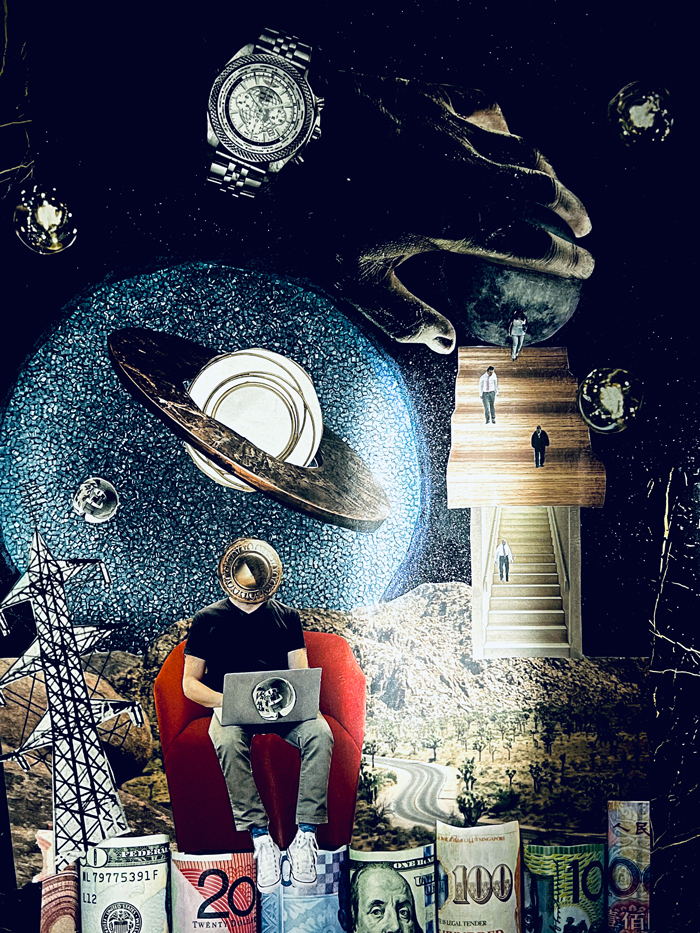 A Brooklyn, NYC resident, Omayma Khayat divides her time between mothering, poetry, art, and working as a print project manager. Her writing tackles the need for questioning oneself, the search for identity, and a place to belong. Her poetry deals with the hard blows of reality and searching for her identity, always being in between two worlds. She delves into the everyday struggles of being an American-Lebanese, a mother, a woman, an Arab, a Muslim, a person of color and the list goes on. In Arabic, her name means young mother or little nation, two heavy-weighted responsibilities, which are present in most of her writing. Her poem Ingredients of Worth had been published in the Brownstones Poets anthology and was commissioned by Jessica Corbin and Bella Voice Singers to be a piece with instrumental music written to it and performed at a concert honoring "Many Voices". She has appeared as a featured poet at various open mic venues including, Tom Kane's Bookmark Bards, The Brownstone Poets, Weather for Media, and When Women Speak. Her poetry has been published in The Brownstone Anthology, Rough Beasts – Indolent Books, Raising Mothers, the NYWC 2020 Journal, After the Clouds the Sun – an ANYDSWPE 2021 Anthology, and The Silent World in Her Vase, among other online and print journals. As a Roots.Wounds.Words alumna, her first non-fiction essay was printed in Radical: An Unapologetic Anthology in 2020.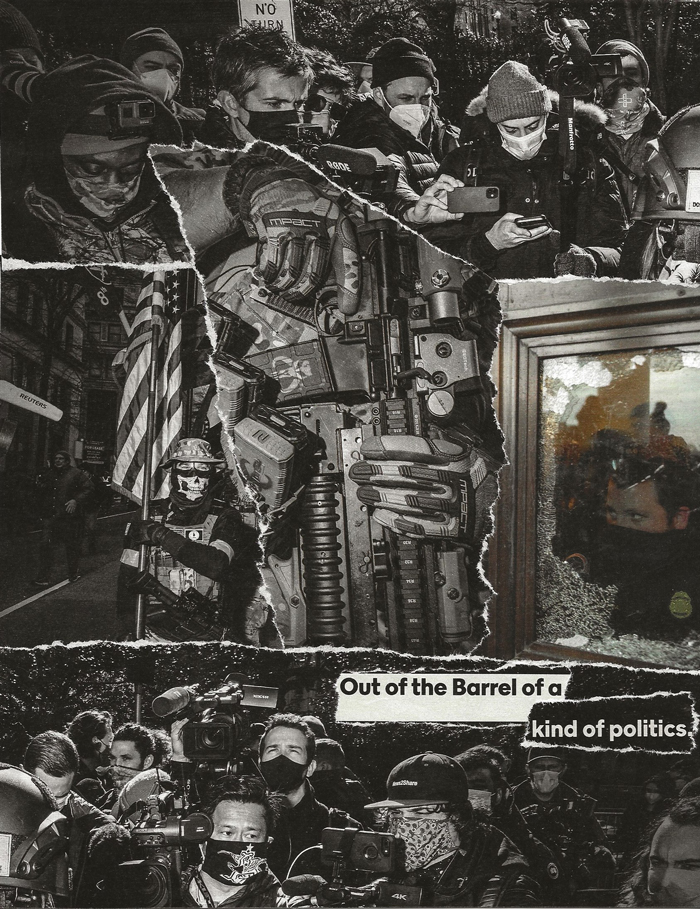 maryhope|whitehead|lee is a multi-disciplinary cultural worker whose practice and process often meet at the crossroads where poetry and collage converge. Because she struggles to express her feelings about the effects of institutionalized, policy-driven, and legally sanctioned violence in her life, and the lives of others, she is grateful to have tools that help her access those feelings through a variety of creative processes. Collage is her go-to when words fail. Whether she is writing a poem, constructing a collage, assembling a hand-made book, designing a zine, stitching a pañuelo, or beading a canvas, her goal is to create compelling images that evoke empathy, thought, and reflection. She is an analog collagist. There's something about handling paper and tools and adhesive that suspends time and transports her elsewhere. There's a kind of alchemy, as well. An initial inspiration may change direction or content or even intention on the way to completion. She welcomes this unpredictability. It's invigorating and deeply satisfying.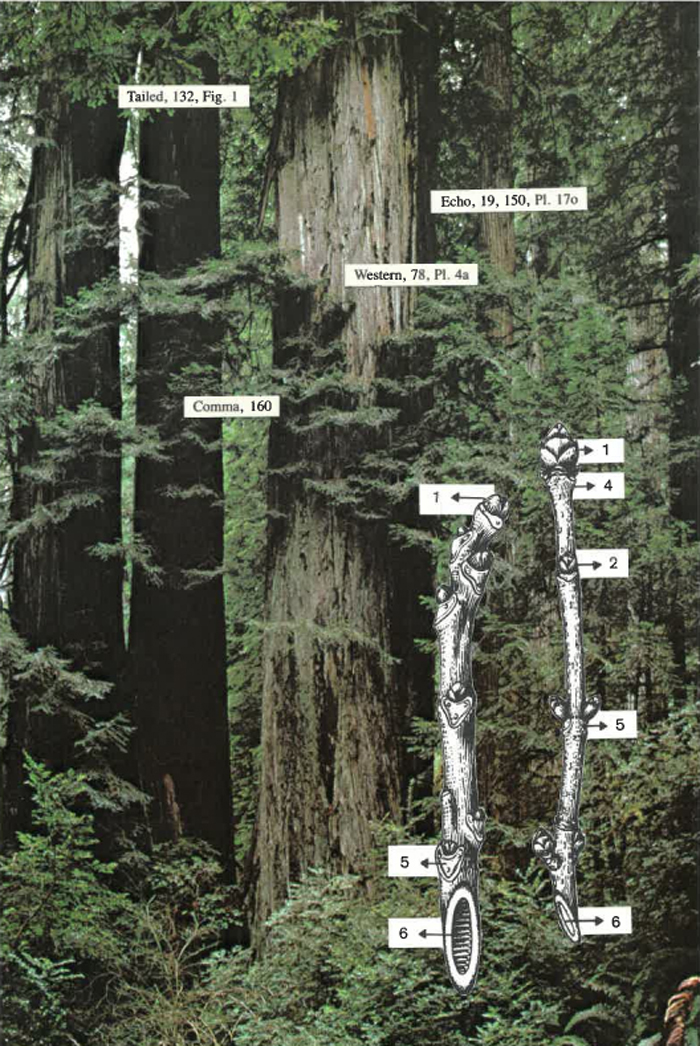 Aimee-Beth Martens is an artist and bookseller from Saskatoon, Saskatchewan. She received her BFA in Studio Art from the University of Saskatchewan in 2015, with a focus in sculpture and mixed media. Her work there earned her Hildebrandt-McCreath BFA Award, the Manjari Sharma Award for Sculpture, and the Bill Epp Memorial Award for Sculpture. She has exhibited work locally in Saskatoon, although in recent years has shifted her energies to publishing and used book dealing, and keeps up a quiet artist practice in her home studio. Since 2019 she has served as the Executive Director of JackPine Press, a small poetry press located in Saskatoon that helps Canadian poets and artists create weird, beautiful, limited-edition handmade chapbooks.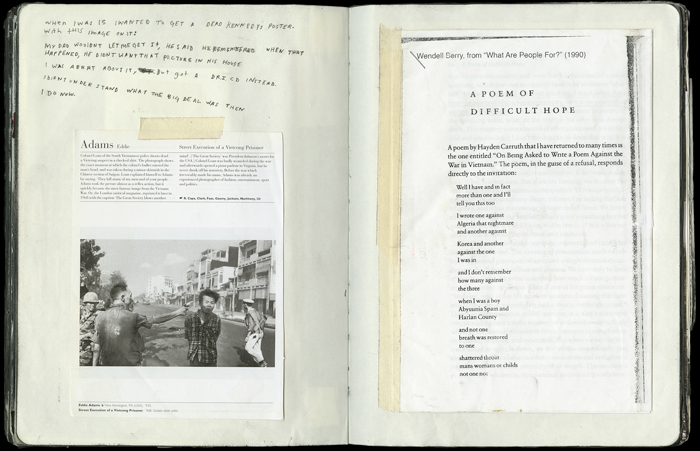 Kelly McGovern is a multimedia artist working in collage, installation, sound, performance, and video. Her work examines concepts of irreversible loss and experiences of physical trauma. At times, these visual references paint moments of hope beyond despair, at others, they reflect failure despite effort. She has shown nationally in several major cities including New York, Philadelphia, Washington DC, Salt Lake City, and Portland Oregon, She has exhibited internationally in Rome, Italy, Hereford, and Edinburgh, UK and her work resides in a permanent collection in Cluj-Napoca, Romania. She received her BFA from Moore College of Art and Design in Philadelphia, Pennsylvania, and received her MFA from the Hallie Ford School of Graduate Studies at Pacific Northwest College of Art in Portland, Oregon. She currently works and teaches in Philadelphia.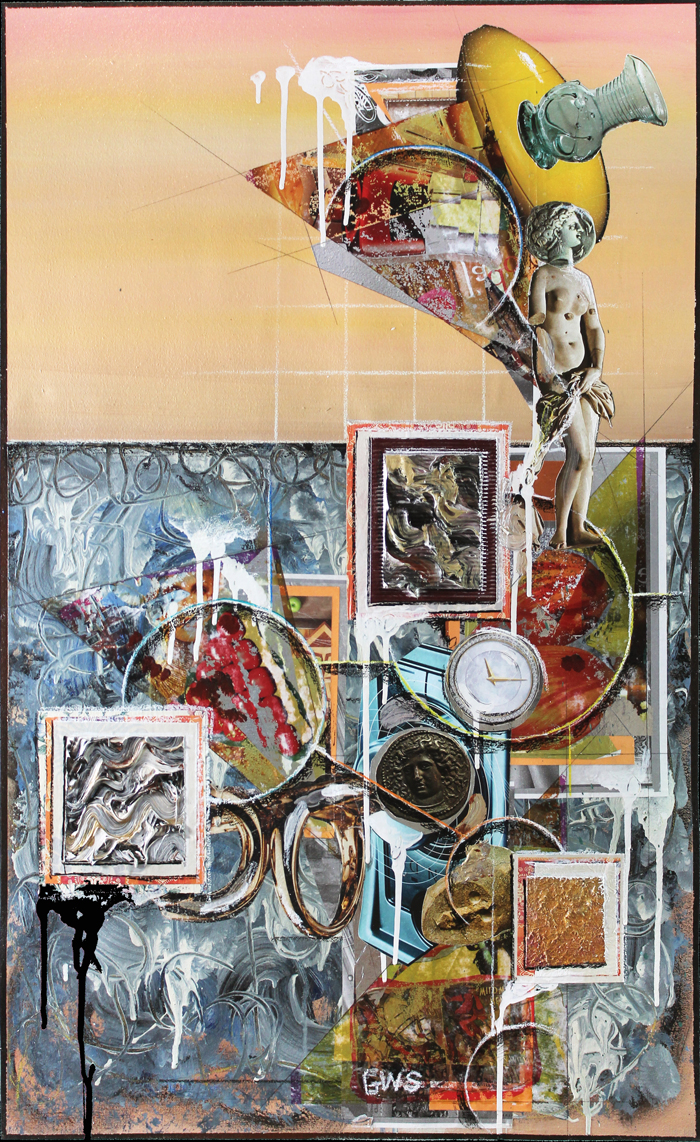 Mixed-media artist Gavin Sewell makes thoughtful, intricate works including collages, wall sculptures, and paintings. Born in Waterville Maine in 1980 into a family of Shakespearean actors, he drew and painted from early childhood as a way of compensating for a severe vision impairment. As an adolescent he apprenticed with Maine artist Alan Bray, attended classes at the Portland School of Art and Colby College, and was affiliated with a collage artists collective in his hometown. After a brief stint in the theater, he read philosophy and classical languages at St. John's College at Annapolis, then moved to New York City to pursue visual art professionally. Stimulated by the city's vibrant creative communities, he studied at the Art Students League of New York and benefitted from the tutelage of artists including Federico Solmi, Jonathan Talbot, and Louise Bourgeois. His work is strongly influenced by canonical artists like Kurt Schwitters, Pieter Bruegel, and the Kienholzes as well as by contemporaries including Fred Tomaselli, Julian Schnabel, and Aurel Schmidt. He has exhibited extensively in the US and Europe including multiple solo shows in New York and California. His work has been recognized and supported by the Durst Organization, a Chashama residency, and NYFA. His pieces are in collections on five continents. Today he and his six-year-old son divide their time between New York, Montreal, and Portland Maine. When he's not in the studio, Sewell enjoys reading, long-distance bicycling, and union organizing and is also an avid home gardener.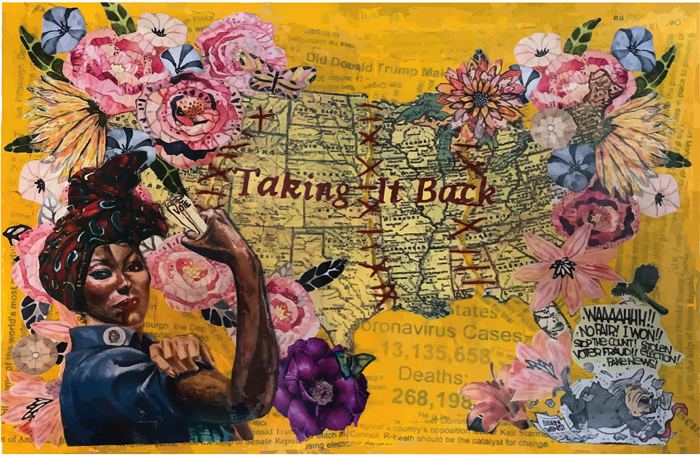 Susan Lee Simpson is an emerging artist, pursuing a creative passion that was sidelined until her recent retirement from an analytic/research career. She is creating primarily in collage and the written word, extending that into book arts. Her work tends to center on social issues and seeks to bring the visual and written arts together in a way that synergizes their power to raise awareness, consideration, and ultimately, movement. She is primarily self-taught but is also pursuing a more formal art education.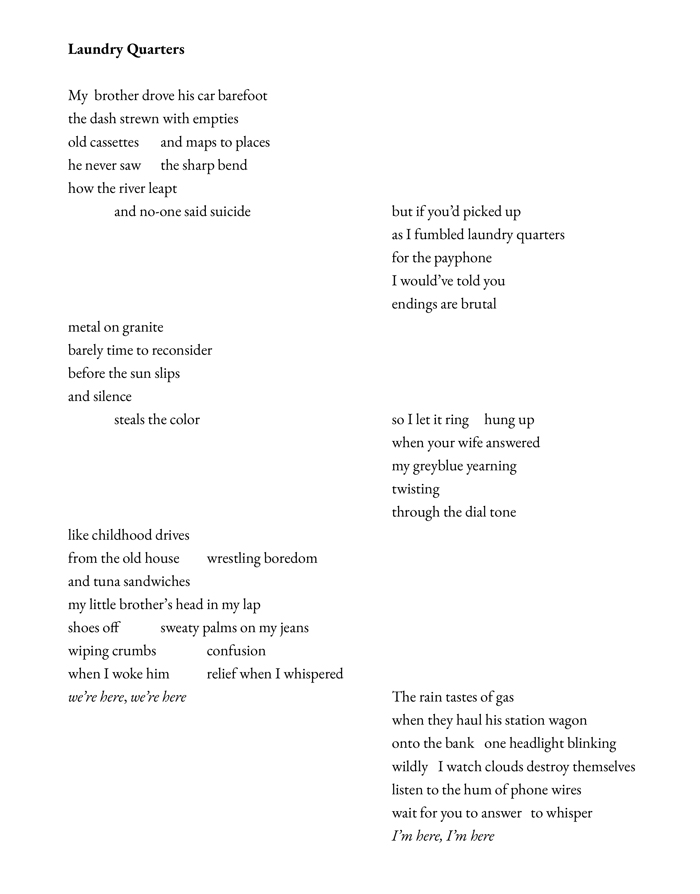 Rebecca Faulkner is a London-born poet and arts educator. Her poems have been published in Solstice Magazine, Smoke Magazine, Wild Roof Journal, Pedestal Magazine, The Maine Review, On the Seawall, Into the Void, and other journals. She was anthologized in the Best New British and Irish Poets 2019-2021, and was a semifinalist for the 2021 Red Wheelbarrow Prize. Rebecca was a 2021 Poetry Fellow at the Saltonstall Foundation for the Arts. She holds a BA in English Literature from the University of Leeds, and a Ph.D. from the University of London. She lives in Brooklyn, New York.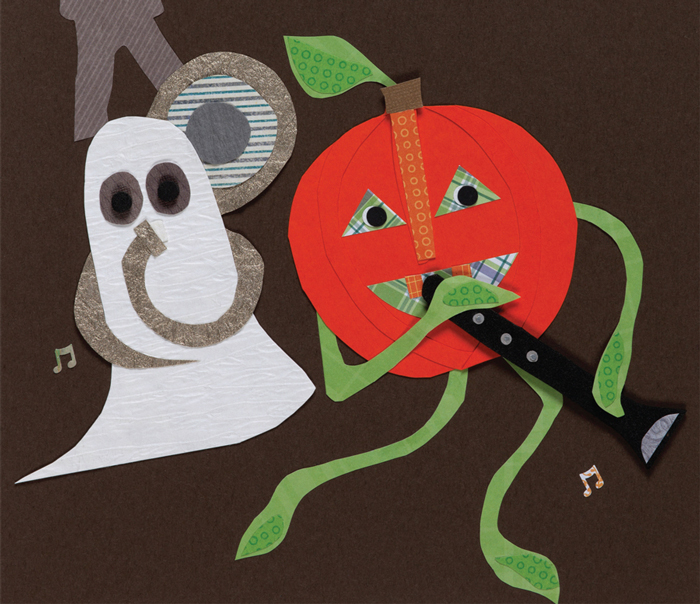 Recipient of the 2017 Louisiana Writer Award, Johnette Downing is a musician, author, cut-paper collage illustrator, and haiku poet with eleven recordings for children and thirty books (board, picture, nonfiction, and haiku). Called the "Musical Ambassador to Children," and the "Pied Piper of Louisiana Music Traditions," Downing has received dozens of awards and has performed concerts for children on five continents. Her latest and upcoming books are Five Little Possums, a singable board book illustrated in felt collage for children, and Singing Waters, A Selection of Haiku, Senryu and Haibun, a collection of over one hundred of her previously published haiku for adults in one volume (one poem received a Haiku International Association Honorable Mention Award in Japan). She has performed concerts at venues such as Grammy Museums, the New Orleans Jazz & Heritage Festival, the Seattle Bumbershoot Festival, and the Porretta Soul Festival in Italy. Her books have been published by Arcadia Publishing, Pelican Publishing, River Road Press, and Baby Buddha Press. Her haiku, senryu, and haibun have been published in journals such as Frogpond, bottle rockets, Modern Haiku, Red Moon Anthologies, and World Haiku.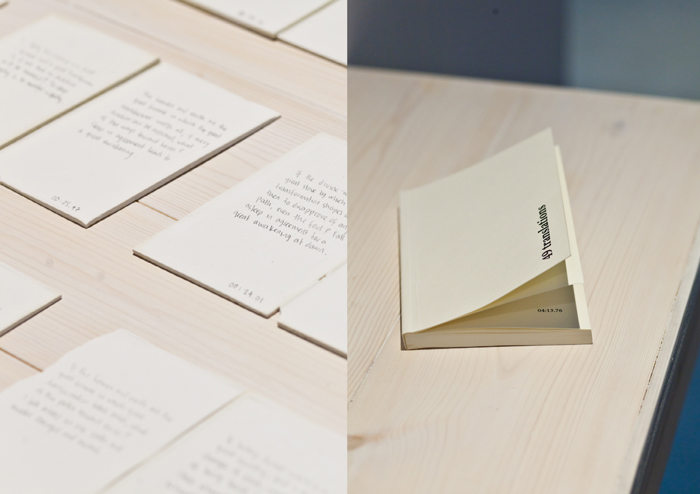 Patrick Blenkarn is an artist and writer working at the intersection of performance, game design, and visual art. His research-based practice revolves around the themes of language, labor, and economy, with projects ranging in form from video games and card games to stage plays and books. His work has been featured in performance festivals, galleries, and film festivals, including the Festival Internacional de Buenos Aires, Banff Centre for the Arts, Risk/Reward (Portland), SummerWorks (Toronto), rEvolver (Vancouver), RISER Projects (Toronto), and the Festival of Recorded Movement (Vancouver). He has been an artist in residence at GlogauAIR (Berlin), Fonderie Darling (Montreal), Malaspina Printmakers (Vancouver), Skaftfell Center for Visual Art (Iceland), VIVO Media Arts (Vancouver), and The Theatre Centre (Toronto). In 2020, he was nominated for Best Projection Design at Toronto's Dora Awards. Upcoming residencies are scheduled for The Arctic Circle, Zaratan, and The Humboldt Forum. Patrick is also the co-founder of and a key archivist for videocan (a national archive for video documentation of performance) and one of the co-creators of the card game, culturecapital. He has a degree in philosophy, theatre, and film from the University of King's College and an MFA in interdisciplinary art from Simon Fraser University and has taught as part of the faculty for performance at Simon Fraser University. His writings on the politics of theatre have been published in Performance Matters, Theatre Research in Canada, GUTS, SpiderWebShow, and Canadian Theatre Review.